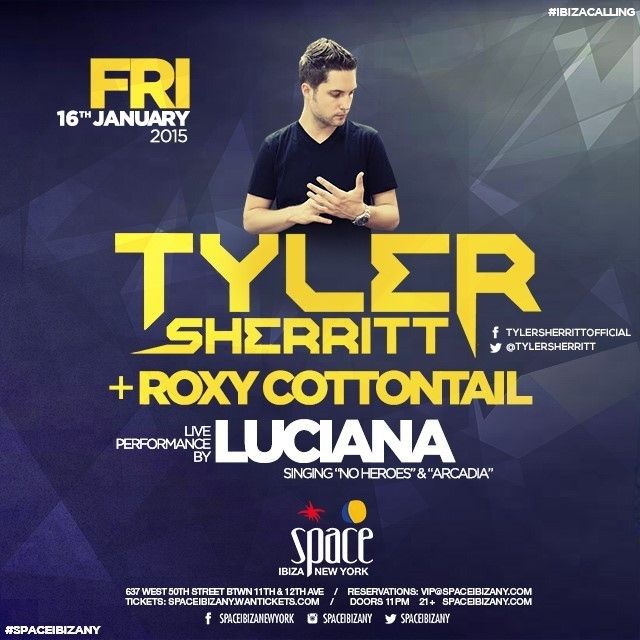 Tyler Sherritt – SPACE IBIZA NY Debut
Multi-talented musician Tyler Sherritt will be making his debut at Space Ibiza NY on Friday January 16th. Sherritt a Singer/Songwriter/DJ/Producer is prepared to play a very special set for Ibiza's newest, and most legendary nightclub and staple venue SPACE Ibiza New York.
Joining Sheritt comes fellow vocal artist LUCIANA, who will be performing some of her hottest, current hits, including, 'No Heroes' & 'Arcadia'. Her chart topping vocals will blast through those sweet sounding Funktion One sound system during Tyler Sherritt's debut set!
Supporting Tyler Sherritt for the evening is the beautiful Roxy Cottontail, who will be providing groovy tunes to set up the night for Sherritt's performance.
This begins a brand new relationship with Tyler Sherritt and the Space Ibiza NY multi-continental entertainment brand.
—
**CONTEST ALERT**
Tyler Sherritt has partnered up with Space Ibiza NY for another #DiningWithTylerSherritt Contest. The contest will include the Ultimate VIP experience for 1 winner and their guest to join Tyler for a pre-show meal, as well as VIP admittance to his debuting show at Space Ibiza NY…following the dinner on Friday, January 16th!!
Sherritt has been building the #DiningWithTylerSherritt brand throughout social media, by sharing a course by course rundown of pictures and descriptions at some of the most luxurious and extravagant restaurants worldwide.
Check back to Tyler Sherritt's Facebook, Twitter and Instagram for more details on how to enter and win.
Tyler Sherritt Social Media:
http://www.facebook.com/tylersherrittofficial
http://www.twitter.com/tylersherritt
http://www.soundcloud.com/tyler-sherritt