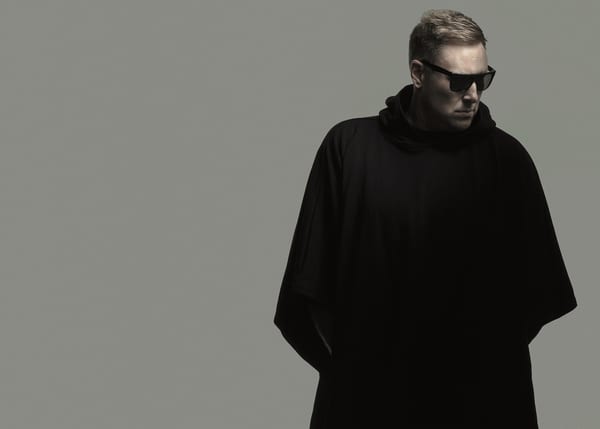 UMEK Teams Up With Insomniac for EDC Week Charity Auction
Slovenian techno don UMEK and Insomniac, the creators of North America's largest dance music festival, Electric Daisy Carnival, are offering the ultimate fan experience in this year's EDC Week Charity Auction. Going to the highest bidder on eBay, this this one-of-a-kind b2b experience will include two general admission weekend passes to EDC Las Vegas 2016 and allow one lucky fan to live-mix a track onstage with UMEK at EDC Las Vegas 2016 after hanging out with him backstage! No skills? Don't worry, he'll help! Bid at bit.ly/UMEKEDC_eBay.
Says UMEK, "I think that all performers should take advantage of the spotlight and communicate how important it is for the society to take care of those in need. It's our obligation and the way of saying thanks for all the privileges we get out of our profession. For 8 years my team and I were doing a series of charity events called Party with a Cause in my hometown of Ljubljana, Slovenia, where we were raising money for young victims of crime. So, after Insomniac invited me to take part in their charity campaign, I was on board immediately. The gap between the poor and the wealthy is way too deep and thinking that this is not our problem would be extremely irresponsible. This is our time and it's on us and only us to take care of the society as a whole and not only look after ourselves. After all it's really not that difficult, is it?"
UMEK is a DJ and a producer with more than 20 years experience of playing everywhere from dark underground clubs in Berlin to the shiny stages of EDC Las Vegas, touring the world over every year. An unstoppable producer keen on working on tunes even when flying, UMEK has released on labels such as Toolroom, Great Stuff, Intec, and his own imprint, 1605. UMEK hosts his own massively popular weekly radio show, Behind the Iron Curtain, broadcast to 40 countries on 125 radio stations worldwide.
Started in 2015 as a way to further give back to Las Vegas for its support of Electric Daisy Carnival and EDC Week, Insomniac launched the first-ever EDC Week Charity Auction (hosted and supported by eBay For Charity) to benefit a local charity. This year, the online auction will benefit The Shade Tree Las Vegas (www.theshadetree.org) in an effort to support the nonprofit's youth programming. Last year, Insomniac worked with DJs and dozens of local Las Vegas partners to compile nearly 50 over-the-top experiences around EDC, raising nearly $70,000 for Culture Shock Las Vegas (cultureshockdance.org/lasvegas) which provides dance education programs to under-served children across Clark County.
Bid on UMEK's EDC Week Charity auction at bit.ly/UMEKEDC_eBay. Bidding ends on May 12. Date and time of prize to be announced!

UMEK Upcoming Tour Dates
June 17 Miami, FL @ Trade
June 17-19 Las Vegas, NV @ EDC Las Vegas
July 3 Toronto, Canada @ Digital Dreams Festival
For more on UMEK
www.umek.si
www.facebook.com/umek.si
www.twitter.com/UMEK_1605
www.instagram.com/UMEK_1605
www.soundcloud.com/umek