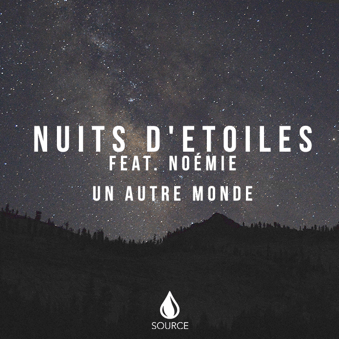 Nuits d'Etoiles - Un Autre Monde
Brand new duo Nuits d'Etoiles has delivered a destined summer deep house gem with 'Un Autre Monde'. Already supported by several DJ's, the track is officially out now on SOURCE.
Nuits d'Etoiles formed in 2016 by songwriters Alex (Stockholm, Sweden) and Yohann (Palavas Beach, France).
They have both collaborated with major recording artists and record labels. Several of their titles appeared in the beatport 'must hear' club and progressive house playlists of the week. Their tracks are regularly played in clubs such as Nikki Beach, Ruby Skye, and Air. They focus on delivering mesmerizing themes and strong dynamics with a unique signature sound.
'Un Autre Monde' is their brand new release for summer 2016.

Artist quote: ''It all started with Yohann sending me a Youtube video of Jean-Louis Aubert, a famous French singer songwriter performing the song 'Un Autre Monde' and I immediately fell in love with the guitar playing and melody of the vocals, even though he was singing in French and I am Swedish."

"Yohann suggested we do a remix of the track and asked me to play around with some new guitar chords so we could mix that with some deep house elements. A couple of hours later we had the track ready to go! After a couple of days Yohann sent me some vocals with the singer Noémie and that really made the track complete with her tone and voice fitting perfect for the vibe of the production.''

Out now on SOURCE – https://source.lnk.to/UnAutreMonde
Spotify: http://open.spotify.com/album/6ymf1RALOA0MEoIHDkIXxT