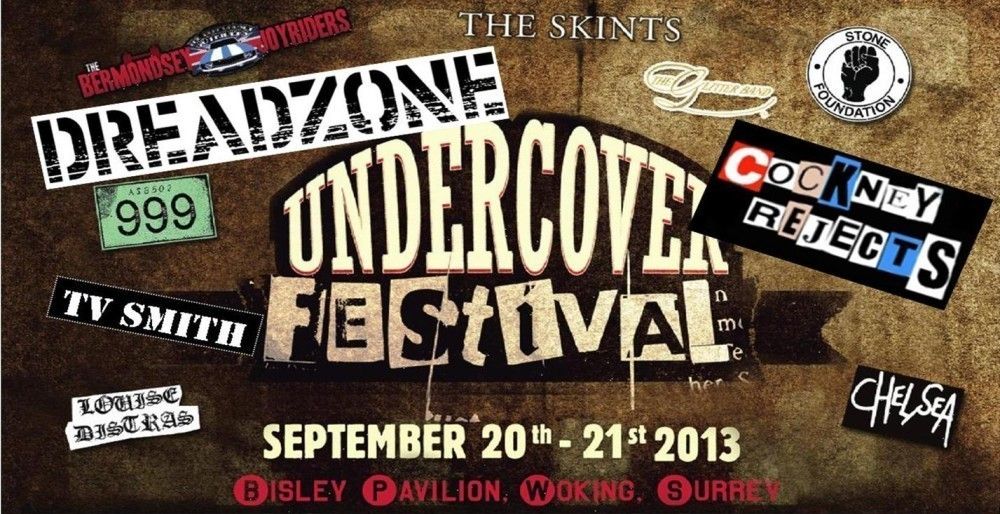 Undercover Festival – 4 weeks to go!
This year's inaugural Undercover Festival is held undercover i.e. not outdoors i.e. if it's pissing wet through like it usually is come September it's not a problem and your beer won't get diluted. Leave your wellies at home, sod the tent and those rubbish one-use barbecues that never work properly anyway, and come enjoy one of the best small festivals the south has to offer this September.
With bands such as Dreadzone, The Cockney Rejects, The Skints, The Glitter Band, The Lagan, 999, Stone Foundation, Chelsea, TV Smith, The Bermondsey Joyriders, Louise Distras, New Town Kings, Dirty Revolution, The Brompton Mix and many more on the line-up over the weekend, the genre-arching event has all bases covered.

Created by the team behind the Vive Le Rock stage at the no-longer-existing GuilFest *sob*, Undercover Festival aims to recreate its unique buzz and special atmosphere, including the unforgettable 'Northern Soul' room.
Organiser Mick Mac says "When we set this festival up we looked at what was special about the VLR stage and we think we have recreated and built on that multi-genre buzz that was the VLR stage at GuilFest".
There's a huge focus on local bands but acts will come from far and wide to play at Bisley Pavilion, Woking, not too far from London. Woking and Surrey both have a rich musical heritage having brought us The Jam/Paul Weller, The Stranglers, Sham 69, Genesis, Mungo Jerry and many more, and the scene is just as vibrant today.
In addition, Undercover Festival will be supporting three great local causes: Woking & Sam Beare Hospices, The Sophie Lancaster Foundation and The Phoenix Cultural Centre. They will be supported through collections and presence throughout the weekend.
THE SKINNY:
Tickets: £45 for a weekend pass
Acts: 40+ DJs and bands (details below)
Location: Bisley Pavillion, Woking, Surrey: http://www.bisleypavilion.com
Dates: 20-21 September 2013
Website + tickets: http://www.undercoverfest.com