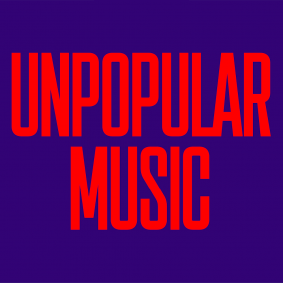 Various Artists - Unpopular Music (1st Sampler)
Unpopular Music is a new series of releases on the esteemed Her Majesty's Ship Records from France. Coming from a range of artists, the singles take in disco, electro pop and indie dance. Says label manager Charlotte Decroix, "I chose this name because too often I hear 'yeah this is cool but it's not a single' and this doesn't really mean much to us." The nine singles will come throughout the year and will all be released on one compilation at the end.
This sampler features one track from each of the first three releases and kicks off with Plaisir de France & Garçon Moderne's 'La Machine à Désirer.' DJ Plaisir de France (formerly known as Sweetlight on Turbo Recordings) is well known for his edits and remixes of French songs in a vintage disco style and for being in French band Slove. Garçon Moderne is a French journalist and author and co-editor of Playboy France. Their curious and inventive track is the story of a loser who goes out in Paris, meets a girl and tries to seduce her… it's a bit desperate, very funny and very Parisian.
Next up, BadKnife is a new project from DJ Guillaume Ravenel. He was part of the duet The Access, who made UK and Chicago house, and now links with Mississippi's Sarah Rebecca (who released as S.R. Krebs on this label) and is a great topline vocalist known for works with Hardway Bros, Duncan Gray, La Mverte and more. Her powerful diva vocals make the single a dazzling disco stomper, with rugged arps and twinkling cosmic keys all complimenting her breathy, emotive vocals.
Last of all is Cosmo Sonic, who mix up many different intergalactic genres. As individuals, members Izzy and Arthur play in various bands and have a great stage presence when playing live. This carries over into the excellent 'Tip of My Desire', a big disco single with long legged drums, starry, pixelated chords glowing brightly and libidinous vocals that are superbly steamy.
This is a great new project that promises plenty of curveballs from the ever excellent Her Majesty's Ship and her fearless crew.
Tracklist:
1- Plaisir de France & Garçon Moderne – 'La Machine à Désirer'
2- BadKnife – Visions Appear feat. Sarah Rebecca
3- Cosmo Sonic – Tip of My Desire