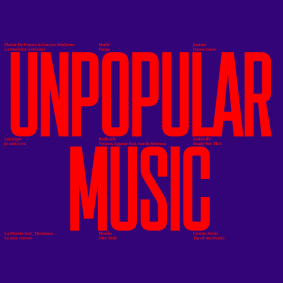 Various Artists - Unpopular Music – sampler 3
The third and final sampler from Her Majesty's Ship's Unpopular Music series features a trio of tracks from artists LuLúxpo, Justine and La Mverte.
This series is about techno, disco, electro pop and indie dance that breaks the rules. All the individual singles to date will be released on one compilation in the middle of the year, with one track from each of the final three offered up here.
Loulou and Pollux are LuLúxpo, an inseparable and singular couple influenced by pop- art and fashion who together perform as electro DJs and host their own radio show on Radio Meuh. Their fantastic single translates as 'I'm Yours' and is a crisp and steamy track with whispered, libidinous vocals and a snaking bassline, all finished off with some brightly coloured melodic rain. The original comes with an edit from boss David Shaw & The Beat which draws things out to a club friendly near seven minutes.
Next up on this 100% French release is Justine, a vocalist and composer who mixes up cold wave, post punk, industrial and 80s music. She is also in bands such as Bagarre Perdue and sings with Heretic and Eskimo Twins and Andrew Weatherall is a fan. The fantastic 'Danse Noire' is a low-slung and deep disco chugger. Percolating drums, shapeshifting acidic bass and metallic hits all twist you inside out whilst aloof, dreamy vocals are layered in to great effect.
Last of all, La Mverte links with bass player and producer Theodora who debuts on the label having been on its radar for more than a year. She brings together the different poles of her musical galaxy from melancholy to dancing rhythms on this, La Mverte's first single since his debut album 'The Inner Out'. 'Le Soir, Encore' is a dramatic electro track with chilly synths and 80s moods, spoken word lyrics delivered in a deadpan style and rickety drums that are brilliantly stark. For those that like things a little more stripped back there is an instrumental version on offer.
These three stunning singles show off the broad array of essential styles that this excellent series has championed over the last year.
Tracklist:
1. LuLúxpo – Je suis à toi
2. LuLúxpo – Je suis à toi (David Shaw & The Beat edit)
3. Justine – Danse noire
4.La Mverte – Le soir, encore feat. Theodora
5.La Mverte – Le soir, encore feat. Theodora (instrumental)