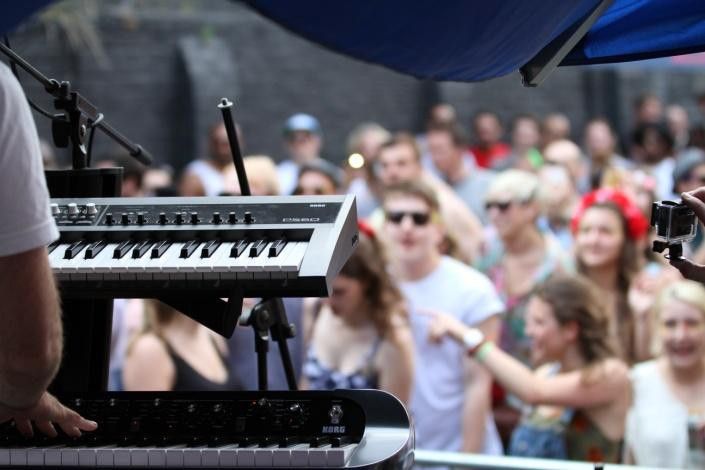 Unsigned London – 4 Stages of New Music
A brand new music experience, four years in the making will hit London's Shoreditch Park in July 2015. After the success of the Unsigned London stage at several London festivals over the past two years, Unsigned London will launch a free stand-alone two-day event showcasing the best of London's emerging live music talent.
Unsigned London is about all things live, unknown and unsigned yet full of potential. Taking place across four stages, an ensemble of over 150 of the city's brightest talents in indie, rock, jazz, folk, R&B, reggae, classical and electronic genres will have their opportunity to perform in front of an eclectic audience of music lovers. The four different stages will play host to a selection of the finest news acts in the unsigned music scene.
Metropolitan Stage
Championing alternative, indie and rock, expect to see some of London's rawest bands take to the stage. The Metropolitan Stage line-up is curated by Hot Vox, Dead or Alive, All Nite Long and Slug Couture. Confirmed acts from the Hot Vox team include Carousel, Short Stories, Hot Under Collar and Island of Sirens. All Nite Long will be presenting the likes of Kindred Shins, Pale Fires, Jimmy
West and Ellie Rose, whilst Slug Couture will be bringing The Hotelles, Jovis and The Bedwetters and Orphans to the stage.
District Stage
Bringing a more urban sound to the festival, the District Stage will feature a selection of acts from the hip-hop, soul and funk worlds. Promoters for this stage include Urban Development, LC Collective, Get Lifted TV, The Garage Door and Team O&U. Urban Development's selected acts include Ray BLK, Gracey Lloyd, Tilly Bushay and Jordan Navan. From LC Collective's line-up comes MC Vapour, Kingpin, Myself & MC Angel, Marv Radio, DJ Shorty and Maverick & Malachi. YouTube music channel The Garage Door will present Dope X Broke, Kindest of Thieves and Banditsu, whilst fellow YouTube channel Get Lifted will host an array of incredible artists including Louise Golbey, Emmavie, Ebonie, Dionne Reid and Arun. Kemi Sulola, Janine Annice and Edison Blake are some of the acts representing Team O&U, completing this exciting urban line-up.
Central Stage
Celebrating the best in electronic, dance and bass music from some of London's best underground DJs, MCs and PAs, the Central Stage's line-up has been selected by Secret Society, Plug In To Perform and Babies Events. Secret Society will present the likes of Malunga, EVM128, Daiva and Lingo Scott. Plug In To Perform's selection includes DJ Steve Feelgood and PA, DJ Paulo Gonzalez, DJ Anna B and Ask Rekz PA, whilst Babies Events will be bringing The UnderCover Brother and Neutrino into the mix.
Northern Stage
A handpicked selection of some of the finest folk, jazz, blues, country and acoustic artists will take to the Northern Stage, brought to you by promoters Chaos Theory, Glasswerk, Folk Law, Through the Grape Vinyl, Before the Goldrush and Taylor Pro. Chaos Theory's incredible line-up includes Phaze Theory, Patchwork Natives, Yuri Kono, Rob Shuttz and James Black. Prolific venue Glasswerk will see the likes of Gecko, Satin Beige, Stephen Langstaff, Patch & The Giant and Steve O'Connor take to the stage. Folk Law combined with Through the Grape Vinyl will present Anna Pancaldi, Billy Bogard, Garry Smith, He is a Pegasus and Davey, whilst Folk and Americana promoters Before the Goldrush will have Green River Rock Band, Suburban Dirts, Worry Dolls and Nick Edward Harris on their bill.
London has long been a mecca for music fans of all kinds yet in recent years a combination of venue closures and extortionately priced gigs and festivals have made it all too difficult to stumble into a free gig and discover an amazing new band. Inspired by these challenges, Unsigned London aims to revitalise London's undiscovered music scene for an exciting weekend of eclectic performances.
For more information, visit:
http://unsignedlondon.co.uk