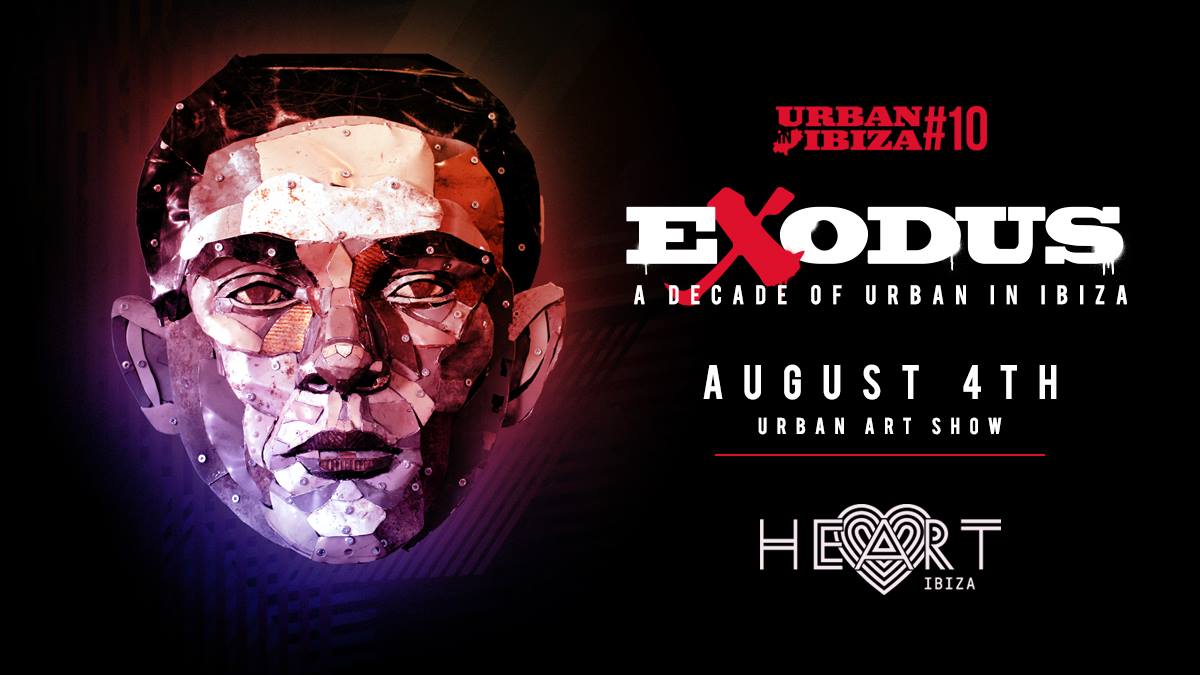 Urban in ibiza's 2018 exhibition 'Exodus'confirmed for Heart Ibiza
Since it first took the island by storm back in 2009, URBAN IN IBIZA has been a staple in the Ibiza calendar, picking up awards, international recognition, an army of staunch fans and much acclaim along the way of its ten years on the island. Now, as it approaches its decade edition, organisers have announced that this year, they have teamed up with exclusive island venue, HEART Ibiza, for the unveiling of their 2018 exhibition on Saturday, August 4th from 21.00h- 06.00h.
Having already proved itself to be light years ahead when it comes to showcasing the best in contemporary culture through the mediums of urban art/fashion/music, this year looks to be no exception. With one huge exception! It has also been confirmed that this tenth series of events, aptly entitled 'EXODUS'will be Urban in Ibiza'slaston the island for the present time.
A massive blow for any discerning urban art junkie- and the perfect excuse not to miss this year'svisual & aural offering from the event'sbaby-daddy and curator, Paul Dizzi Saunders.
With a total of four pop-up EXODUS exhibitions planned across the month at HEART Ibiza, dates are confirmed as Saturdays 4th,11th,18th & 25th August, giving ample opportunity to view and purchase the latest works from London'sWestbank Gallery and its stable of artists.
This particular exhibition will feature artists including K-Guy, Jim Starr, Ben Allen, RYCA, Cosmo Sarsen, Paul McGowan, Carne Griffith, Carrie Reichart and many more- with artworks on rotation over the course of the month-long residency at HEART.
To mark the launch event, internationally renowned artists Inkie, Fin Dac and Ben Slow will take to the canvas on the night with a live paint, each bringing their own brand of artistic charm and creative flair to the proceedings. It'saperfect combination of artists and styles for this particular show; the same three having played massive roles in the Urban in Ibiza concept since its beginnings way back when. Also forming partof the show this year, the latest pieces from the Urban in Ibiza jewellery range, 'CHARMEDOFFENSIVE'.
A much loved and talked about event, Urban in Ibiza has been hailed 'a truly unique night in Ibiza'ssocial calendar and a huge success' by Vogue Magazine, and whilst many have tried to emulate its vision and success over the years, none have come close to equalling its inimitable style and originality. Over the years, it has served as the launch pad for the careers of many previously unknown artists and designers, who have since gone on to much greater things. It has brought an hugely impressive hoard of urban art in all its forms to the island, not to mention its highly memorable musical line-ups (who can ever forget Roots Manuva?!) and its forward-thinking fashion shows (Tom Vanderborght, anyone?).
The desire to keep things fresh and join forces with a new venue for its final year sees Urban teaming up with a brand they recognise as a perfect fusion. HEART Ibiza, with its roots also firmly planted in the arts, not to mention its unrivalled level of production and endless creativity, was the perfect choice.
Urban In Ibiza has always had a knack of having its finger firmly on the culture pulse and if past events are anything to go by, this year'slaunch at Heart Ibiza promises a night that won'tbe forgotten in a hurry.
Moving forward to September*, and Urban in Ibiza pops back up in two more rather prestigious island venues for a final fling before home time. 7-9th September and it'sa three day affair at the drop-dead-gorgeous Aiyanna Beach Bar in the north of the island with more live painting and another hand-picked and beautifully curated exhibition on display both in the interior and exterior of the venue.
And finally, on 15th September, 2018, Urban in Ibiza will host one last event, the aptly named 'SWAN SONG'at an island venue that is no stranger to hosting the Urban crew- the absolute belter that is Boutique Hostal Salinas. This final event on Urban In Ibiza'ssummer calendar absolutely promises an extravaganza that embodies the very essence of what Urban in Ibiza has grown to become on the island over the past decade. Expect urban art in all forms, live paints, fashion shows, VERY special guest DJs, kids graffiti classes and a whole lot more- much artistic freedom and merriment, Urban in Ibiza style. We'regoing out with a bang…come show us some love this summer at HEART Ibiza, Aiyanna Ibiza and Boutique Hostal Salinas. We'llsee you there…
* More details to follow on our September programme of events.
URBAN IN IBIZA presents 'EXODUS'
SUMMER DATES
HEART IBIZA
LAUNCHES SAT 4th AUG at 9pm plus 11th, 18th, 25th.
AIYANNA IBIZA
POP-UP
FRI 7th- SUN 9th SEPT
BOUTIQUE HOSTAL SALINAS
'SWANSONG'- the final fling…
SAT 15th SEPT with DJs YOUNGIE, David Phillips , Ryan O'Gorman, Hofer 66, Buckley & Von Adams