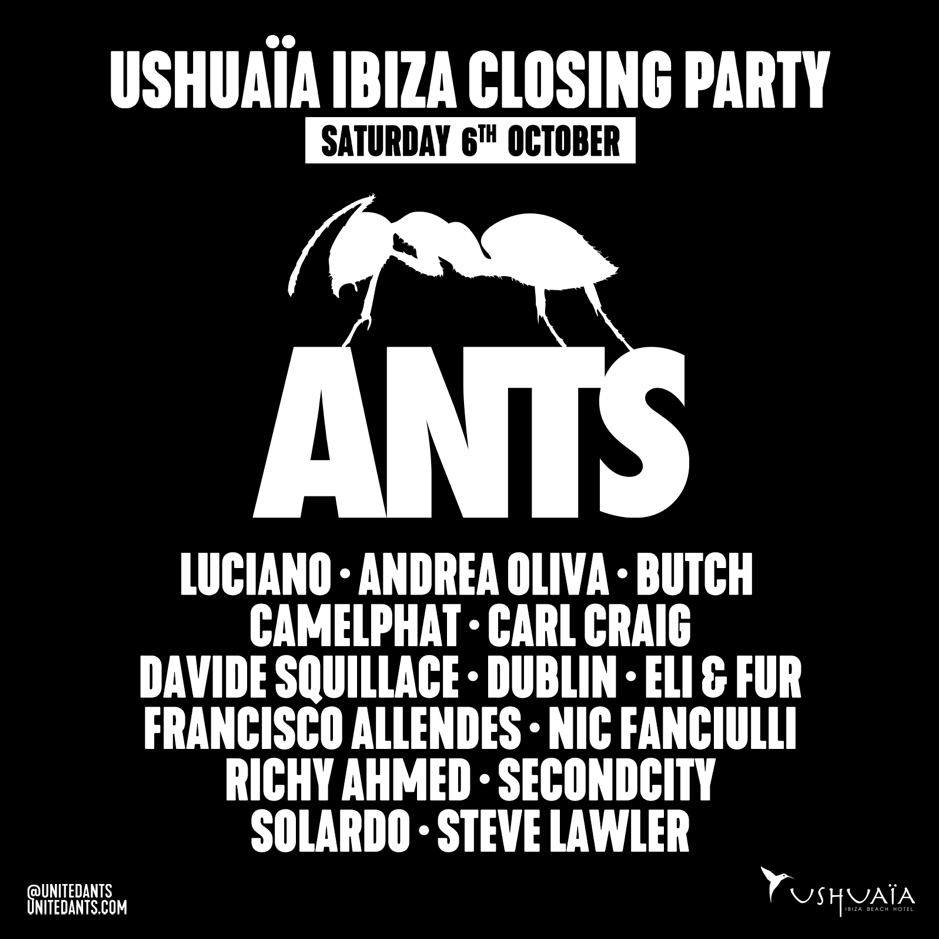 Ushuaïa Ibiza 2018 Set To Close The Season With Huge Ants Takeover On October 6th
The colony will invade the open-air venue with an all-star line-up
LUCIANO
ANDREA OLIVA
BUTCH
CAMELPHAT
CARL CRAIG
DAVIDE SQUILLACE
DUBLIN
ELI & FUR
FRANCISCO ALLENDES
NIC FANCIULLI
RICHY AHMED
SECONDCITY
SOLARDO
STEVE LAWLER
Following another huge season at Ushuaïa Ibiza, mega-brand ANTS is bringing the Colony back to the Playa d'en Bossa venue for the final time this summer, with a huge closing party on Saturday 6th October.
Drawing close to its ten-year anniversary, 2018 has been a historic season for Ushuaïa Ibiza. Thousands of international guest rally to experience the #1 open-air club each year, raring to dance under the Ibiza sun to an all-star lineup. To celebrate yet another incredible summer season, Ushuaïa Ibiza is preparing to go out with a bang as the venue has one last dance for the summer of 2018.
Featuring a range of special performances, the Ushuaïa Ibiza closing party brings 14 of the finest names in underground talent to the Ushuaïa stage. Luciano played his first set for the brand earlier this month – while a slew of further performances from the ANTS family will include Andrea Oliva, Richy Ahmed, Nic Fanciulli, Steve Lawler, Davide Squillace, Butch, Mancunian duo Solardo and GRAMMY nominees CamelPhat, plus Eli & Fur and Secondcity. The line-up is rounded off with sets from Dublin and Francisco Allendes – with the latter recently curating the ANTS 2018 compilation mix.
ANTS will see out the season in spectacular style, closing another eventful summer at the open-air venue. But the party is not over just yet, Ushuaïa Ibiza has a jam-packed roster of events to send off the summer until this year's final affair on 6th October.
The jewel in Ibiza's party crown, Ushuaïa's dedication to bringing the most-sought after names to their world-famous stage ensures they remain one step ahead of the game every time. Based on the experiences gathered over the years, Ushuaïa Ibiza is dedicated to providing the best outdoor entertainment possible. The legendary poolside parties have been drawing in the crowds ever since the very beginning. The team behind the #1 Open Air Club raises the bar ever higher, with an impeccable lineup of superstar residents from across the electronic music spectrum playing from daytime to midnight. Not just content with packing their nights full of world class artists, Ushuaïa Ibiza constantly outdoes itself when it comes to phenomenal productions, with a different theme each night of the week. With incredible pyrotechnics, mind-blowing lighting, visuals and a state of the art soundsystem, not to mention the beautifully designed gogo costumes, as well as an abundance of confetti, streamers and CO2, it's no surprise people flock from around the world for the inimitable Ushuaïa experience.
The Ushuaïa Ibiza closing party is the home of captivating, intelligent dance music, and sure to be an unmissable event to round off the 2018 season.
SOCIALS: Web / Facebook / Twitter / Instagram / YouTube
TICKETS: https://www.theushuaiaexperience.com/closing-party
---
USHUAÏA IBIZA BEACH HOTEL
PLAYA D'EN BOSSA, IBIZA
SATURDAY OCTOBER 6TH
TICKETS ON SALE NOW: ushuaiaibiza.com/xB8wtT