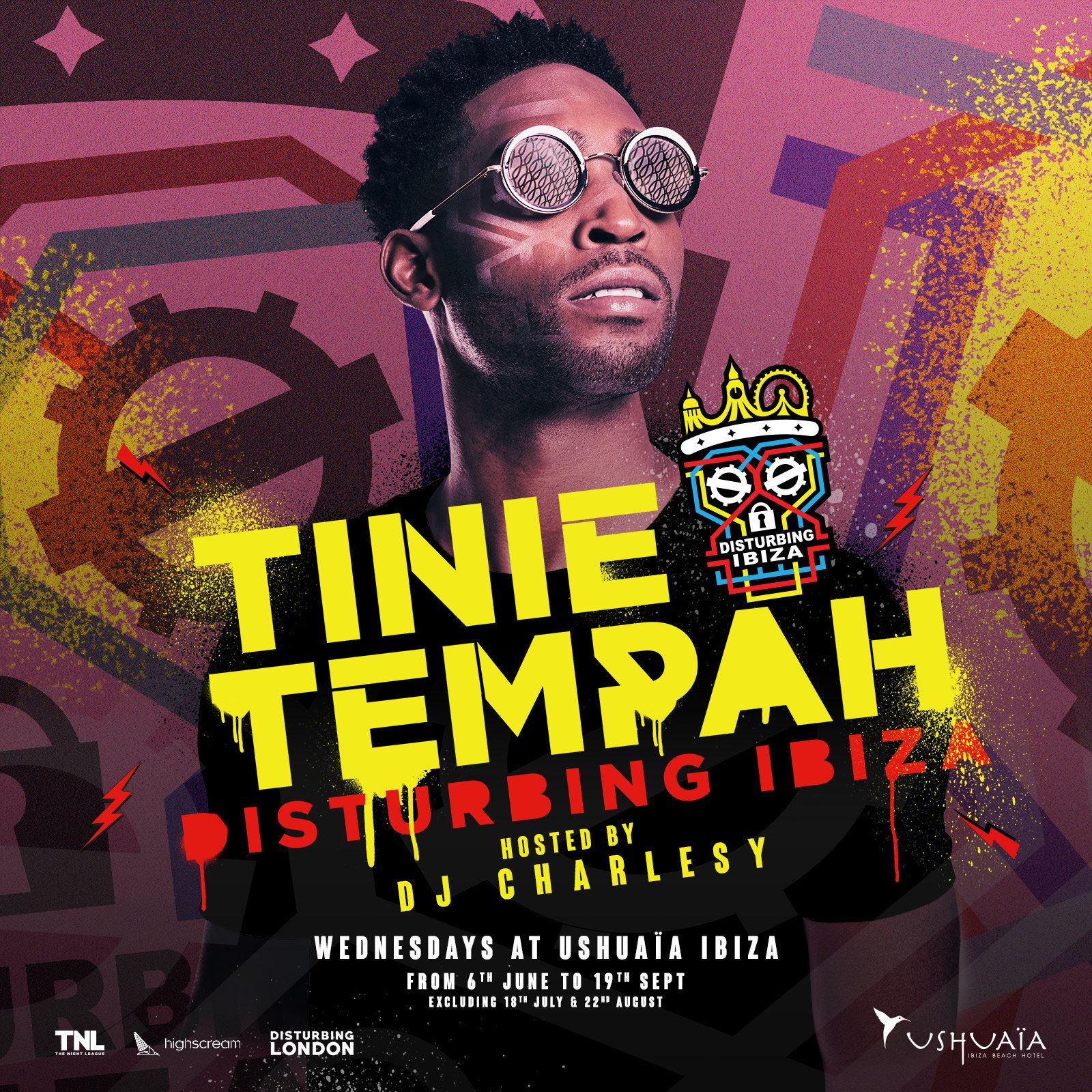 Ushuaïa Ibiza brings back Disturbing Ibiza every Wednesday
After two incredible seasons Ushuaïa Ibiza Beach Hotel confirms that Disturbing Ibiza, with none other than Tinie Tempah and DJ Charlesy, will be back at the open-air club for a third season.
Moving to Wednesdays for 2018, it's set to bring its biggest lineup yet to the island for another summer of incredible shows that cover hip-hop, R&B, grime, afrobeat, Old Skool Garage & UK rap and more. The inimitable Tinie Tempahshot to prominence back in 2010, numerous awards followed in the years after – all of which underlined his status as one of the most important artists of his generation.
Just like previous years Tinie Tempah will be joined each week by DJ Charlesy, his trusted selector and one of the most influential DJs in the UK. Charlesy is known for bringing an original vibe to the dance floor and injects every party with his own unique skills. As the host for BBC 1Xtra's Friday night mix-show, DJ Charlesy is well-acquainted with delivering bangers and never fails to whip the crowd into a frenzy. DJ Charlesy is the curator of Disturbing Ibiza and has said, for this season they will 'bring a brand new show to Ushuaïa Ibiza full of special surprises and a huge line up'.
After the really successful editions at Ushuaïa Ibiza, Disturbing Ibiza will this year take over the venue every Wednesday from June 6th to September 19th(excluding July 18th and August 22nd) with the lineup to be announced in the coming weeks and featuring numerous big name live acts and DJs from a range of genres.
This years new Disturbing Ibiza logo is also unveiled, which is distinctly themed each year — last year's fusing a Mexican Day of the Dead vibe with 'Industrial Estates'. Rumours also abound of a new Disturbing London EP, so fans should keep their eyes peeled for that too.

Look out for full details of Disturbing Ibiza 2018, coming soon…
The jewel in Ibiza's party crown, Ushuaïa's dedication to bringing the most-sought after names to their world-famous stage ensures they remain one step ahead of the game every time. Based on the experiences gathered over the years, Ushuaïa Ibiza is dedicated to providing the best outdoor entertainment possible. The legendary poolside parties have been drawing in the crowds ever since the very beginning. The team behind the #1 Open Air Club raises the bar ever higher, with an impeccable lineup of superstar residents from across the electronic music spectrum playing from daytime to midnight. Not just content with packing their nights full of world class artists, Ushuaïa Ibiza constantly outdoes itself when it comes to phenomenal productions, with a different theme each night of the week. With incredible pyrotechnics, mind-blowing lighting, visuals and a state of the art soundsystem, not to mention the beautifully designed gogo costumes, as well as an abundance of confetti, streamers and CO2, it's no surprise people flock from around the world for the inimitable Ushuaïa experience.
TICKETS: www.ushuaiaibiza.com/t1Ro2P
ROOMS: www.ushuaiabeachhotel.com