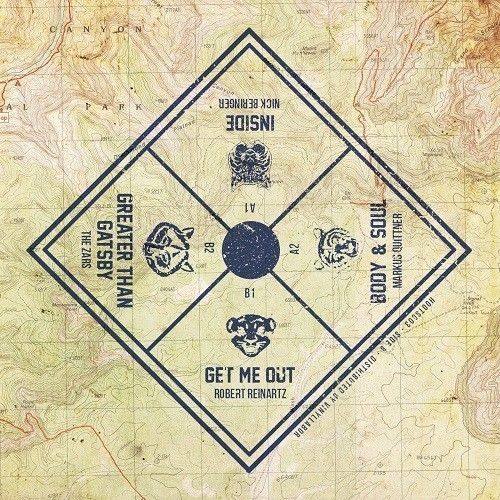 Various Artists – Cahoots Vol 3
Cahoots Volume 3 cooks up new tracks from Nick Beringer, Markus Quittner, Robert Reinartz, and The Zars, each adding their own flavors to the Cahoots Records stew of house music.
Berliner Nick Beringer begins Volume 3 and pushes the Cahoots clan deeper into the dark woods with the roaring sounds of Inside. With previous works on Skylax, Morris Audio and Desos Records, Beringer uses his signature jacking sound on Inside and overlays dusty chords on shuffling hi-hats to open up the record. Inside takes Nick's sound in a new direction, adding old school rave hits and brooding MPC drum patterns against a dense atmosphere, paving the road for what lies ahead
As the trail gets smoother, Volume 3 kicks back with Body & Soul by Markus Quittner, packing a triplet swing that creates a free floating and carefree vibe. Well placed vocals and moody chords give way to a complex arrangement, leaving your imagination wondering what will come next. Whether working in the hills of Austria with the Hoover The House crew, or releasing tracks on quality labels such as Something Else and Kolour Records, Quittner's ability to combine intricate beats with satisfying sounds makes him one to watch.
Side B kicks down the doors with Get Me Out by Robert Reinartz. Offering a proper dose of shuffling house music, Get Me Out features soulful vocal sampling with bouncy, percussive grooves and filtered synth stabs. Another talent from our growing Dutch division, Reinartz has solidified his sound for labels like Freche Fruchte Recordings and VEEE. Clocking in just shy of 5 minutes, Get Me Out will certainly leave dance floors wanting more when it's gone.
Wrapping up side B is Italian duo The Zars, lifting the Cahoots crew into orbit with some space disco vibes on Greater Than Gatsby. Hitting on all points between deep, progressive and funky house, Greater Than Gatsby infuses arpeggiated bass with classy chords and bubbling hand drums. With prior releases on Smooth Agent and Tekkno Records, The Zars offer their special blend of deep and raw house music for a refreshing close to Volume 3.