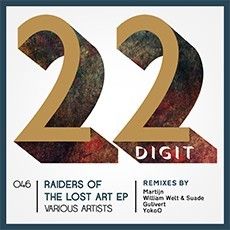 Various – Raiders of the Lost Art EP
22 Digit Records is Deep Tech House and Techno label whose roster and artists include Moodymanc, Tom Ellis, Trus'me, Inxec and Matt Tolfrey amongst many others.
Like so many labels 22 Digit is starting 2015 looking back over their catalogue, but unlike most, deciding not to pick bestselling tracks from its better known artists. Instead opting to reflect on the journey so far and select some of its long forgotten treasures that may have slipped under the radar first time round.
First up is the William Welt & Suade remix of "With Chance." The original by Tom Ellis is something of a percussive monster based round hypnotic loops of live percussion. William Welt aka Will Reed is one half of the team behind 22 Digit, and chose to team up with close friend Suade Bergemann. Since doing this remix Suade went on to work with leading lady of techno Magda when they collaborated on their track entitled "Fixation" which was one of the many anthems to feature on her Items & Things label that is collectively ran with Troy Pierce and Marc Houle. Stripping back the originally busy percussion the pair adds the pulse of an analogue 303 expertly programmed by Suade. William known for his spooky atmospherics adds dark, textured FX and their rework is something of a techno masterpiece.
Track two is taken from one of 22 Digit's very early releases all the way back in 2009. Scotsman Colin Sales only ever appeared once on 22 Digit Records with a track entitled "Gigadrum." The track was remixed by at the time unknown French artist called Matthieu Szelag aka Gulivert. Since making his first ever release on 22 Digit Records, Gulivert has since racked up an impressive catalogue of releases and featured on labels like DJ W!LD & Chris Carrier's label Catwash, along with Shinedoe and 2000 and One's label Intacto Records, amongst many others of a similar caliber. So it seems only right that his percussive rework of Gigadrum focused on the originals vocal hook and some added live percussion should get a 2015 remaster.
Track three is the Martijn remix of Melos + Kyber's track "Stroboscopic" that was very much over shadowed by the original mix and Tom Ellis remix which also features on the original release. Martijn aka Martyn Hodgson from the North East of England is best known to many for being the Deep Edition Records and In Haus Wax label boss, but has also releases on labels including…? He made the track his own with the added percussion of his Deep House rework, but it's the spare and subtle use of the originals vocal hook and saxophone sample that really brings it to life.
The final and fourth track on the release is from YokoO aka Julien Beltzung who since day one has been a 22 Digit favourite. His (Walking To The Light Edit) of his own track called "Blinded," was picked up by Jozif who used it as part of his Balance Presents Jozif mix CD. Although 22 Digit are eternally grateful to Jozif for giving the track the exposure it deserved, many thought the track was exclusively released as part Jozif's mix. With this in mind, it seems only right that 22 Digit should reclaim what's already their's and the wonderfully deep and emotional track is given pride of place on this varied showcase release.