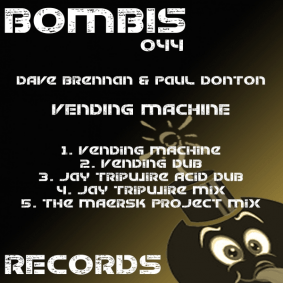 Dave Brennan & Paul Donton - Vending Machine
The last Bombis Records release of 2017 is another gem, this time coming from label heads Dave Brennan & Paul Donton with remixes from Jay Tripwire and The Maersk Project.
This pair have been turning out essential club weaponry for ten years now. Mainly coming on their own label it is a mix of house, tech, minimal and techno styles that is well designed and perfectly functional. Between the experienced pair they have played gigs all over the world, have had tracks in the UK Dance Charts and count the likes of Grove Armada as fans.
The original here has been getting road tested at a few places and has done nothing but devastate the floor. It's a full favour house track with fat, wobbly drums and synths all overlaid with an enchanting middle eastern vocal that calls you to the dance. Simple but effective, it's a perfectly hypnotic affair while the dub removes the voices and places more focus on the frictionless drums.
Canadian artist Jay Tripwire has long been crafting left-of-centre backroom tracks that never shy away from freakiness. He's turned out hundreds of remixes and these two are amongst his best work. The Acid Dub is a bendy and trippy affair with withering trumpets and thick beats all getting right under your skin. It's woozy and wonky and sure to cast a spell. His other remix is darker and more driven, with curious synths making for an unsettling mood.
Last of all comes The Maersk Project aka Paul Donton and Daniel Mancini who regularly remix on this label with releases on their own label Konform and most recently Evasive. Here their mission to make electronic music with an edge is realised once more in a brilliant acid laced track that builds the pressure on bumpy drums with weird little tricks, effects and sonic motifs that make it all the more vibrant.
These are warm and alluring late night house tracks that will bring dance floors together under their hypnotic grooves.
Tracklist:
1. Vending Machine
2. Vending Machine (Dub)
3. Vending Machine (Jay Tripwire Acid Dub)
4. Vending Machine (Jay Tripwire Mix)
5. Vending Machine (The Maersk Project Mix)