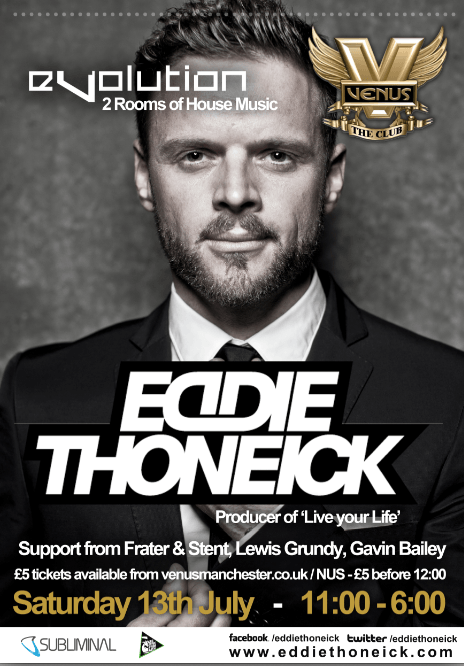 Venus Evolution with Eddie Thoneick
Everything that Venus was, is and always will be but now were taking it to another level. Over 2013 the Venus Evolution will be showcasing some of the UKs finest and in demand House DJs and Producers. The Venus that you know and love is NOT changing, it's simply evolving.
With DJs
Eddie Thoneick (Subliminal)
Lewis Grundy
Chris J Frater
Ryan Stent
Gavin Bayley
MUSIC
Vocal House/Uplifting House/Big Room House
OPENING TIMES
11pm till 6am
SPECIAL EVENT INFORMATION
The name Eddie Thoneick is synonymous with slamming, high octane house music
Eddie's booming beats, tight programming and highly charged musical arrangements manage to deliver on both the dance-floor and commercial radio station alike.
Eddie started his DJ career at the Tribehouse in Neuss in 1993, an exciting time in Germany for house music in the five years of 93 to 98. In 1998 Eddie became resident DJ at the Decadance Penthouse Club (DPC) and the Flamingo Club in Germany, which had the best international reputation a German club could have. National and international acts like Armand van Helden, Felix the Housecat, Jimmy Summerville, Erick Morillo, George Morel, Mike Dunn, Harry Romero, Roger Sanchez and Barbara Tucker made regular appearances at these two clubs.
££££
£5 Discounted Tickets
£10 Venus members
£12 11pm till 3am
£5 after 3am
STUDENTS
£5 NUS till midnight
GUESTLIST
[email protected]
BOOTH BOOKINGS
If it's your birthday we have 6 booths to reserve in the club. The is a free service and is available for groups over 8. With every reservation you will receive a free bottle of champagne to make the birthday that little bit more special courtesy of Venus the Club.
Also with your reserved area you can purchase the following drink packages from behind the bar:
Bottle of Eristoff Vodka plus 6 cans of Red Bull – £75
Bottle of House Champagne – £30
Bottle of Moet/Veuve Yellow Label – £45