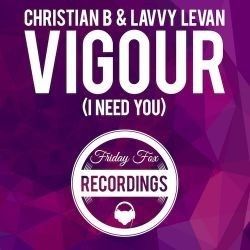 Christian B & Lavvy Levan - Vigour (I Need You)
After tearing the place up with 'Stand Up' (incl. DJ Spen Mixes) last month, Christian Band Lavvy Levan keep the dance floors well oiled this Summer with their new bass driven bomb, 'Vigour (I Need You)'. Waxing lyrical to the sound of a beautifully crafted melancholic deep groove that's besieged by an intoxicating bass hook, 'Vigour' sees Lavvy tell the heavy hearted story of how love affects our lives and how it feels once that connection with someone is gone… delivering another surefire floor filler for team Friday Fox!
"House Music… we live it, love it, breathe it…. 'Vigour (I Need You)' has everything we love about modern House Music, catchy hooks, emotive lyrics and a killer bass – it's simple – we make music that we love and we hope that everyone feels that love in the production and writing." – Christian B & Lavvy Levan
Christian B & Lavvy Levan have begun to gather some serious momentum with their Friday Fox Recordings imprint. The boys joined forces and emerged with 4 superb house cuts on the 'Toe In Water EP' in 2014, which followed with a remix package including Rapson, Robot 84 and DSHunt reworks and the bonus track, 'Beatroot'. Since then the guys have continued to push the envelope and develop their own unique blend of dance music with their wonderful tribute to House music greats, 'Thank You' and their deep house tour de force, 'Let Me Down' and recently 'Stand Up' with remixes from Sonic Matta, DJ Spen and Martin Bundsen. Christian & Lavvy have already gained top dog supporters including Stonebridge, DJ Meme, Roger Sanchez, Mr V, Aki Bergen Aaron Ross, Kraak & Smaak, Miguel Migs, Tony Humphries, Sean McCabe among many others.
Track Listing
1 Vigour ( I Need You) Club Mix
2 Vigour ( I Need You) Radio Edit