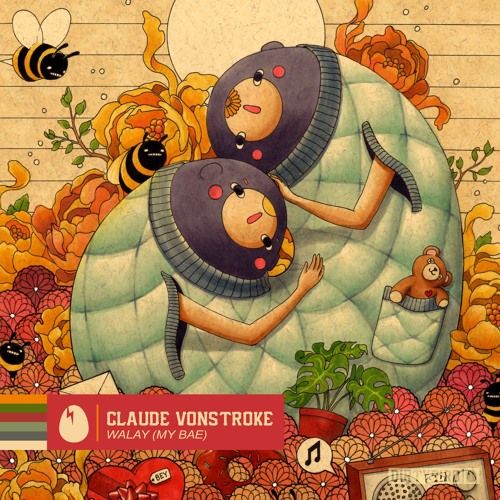 Claude VonStroke - Walay (My Bae)
Having recently announced his return to Europe with a string of upcoming tour dates, legendary producer Claude VonStroke has unveiled his brand new 2-track EP, featuring 'Walay (My Bae), and 'Raw Nerve'.
Released on his own Dirtybird label today, 27th April, Claude will showcase both tracks during at his London's XOYO show on 28th April, before continuing his tour across various venues across Belgium, Spain, Germany and The Netherlands this spring.
A rumbling floorfiller packed with high tempo rolling loops and a melodic riff, 'Walay (My Bae'), led by the cyborg-like vocals, offers a stark contrast to the dark and gritty feel of 'Raw Nerve', a sinister-sounding after-hours track primed for the dingiest of dancefloors thanks to a monstrous bassline, and rippling build. A melancholy VonStroke dives deep into his insecurities and fears with sonically mutated lyrics like "I'm feeling so sad, I'm feeling real bad today. When I see you on the street I don't want to compete."
With the release marking Claude's first solo EP since 2016, the production arrives following the Californian's launch of Dirtybird Campout East, joining the annual West coast edition, and a plethora of releases from himself and his label. He also recently released his massive collaboration with EPROM, 'Grenade'. The track has been dominating tech-house and techno sets globally, earning support fromJamie Jones, Cirez D & Adam Beyer, and preceded 'Dirtybird Players' during Miami Music Week where Claude was joined by label mates including Will Clarke, Walker & Royce, and Billy Kenny.
An alias that was created over a decade ago, Claude VonStroke – otherwise known as Barclay Crenshaw – has become one of the most well-respected label owners and DJs in dance music. With a slew of credible releases including 'The Whistler/Who's Afraid of Detroit?' EP that cemented his reputation, he has gone on to produce three incredible albums and started a collaborative project withGreen Velvet. In addition to his mammoth touring and release schedules, Claude VonStroke hosts a weekly radio show called 'The Birdhouse' featuring interviews and guest mixes from the likes of Doc Martin, DJ Funk, Harry Romero, Low Steppa, Soul Clap, Friend Within and Pezzner. In 2017, he pushed his musical boundaries even further with the release of an experimental hip-hop album under his own name.
Preceding his summer sets at Sasquatch, Music On Festival, EDC, Electric Forest, and a headlining appearance at Movement Detroit among many others, Claude VonStroke's 'Walay (My Bae)' drops today 27th April.