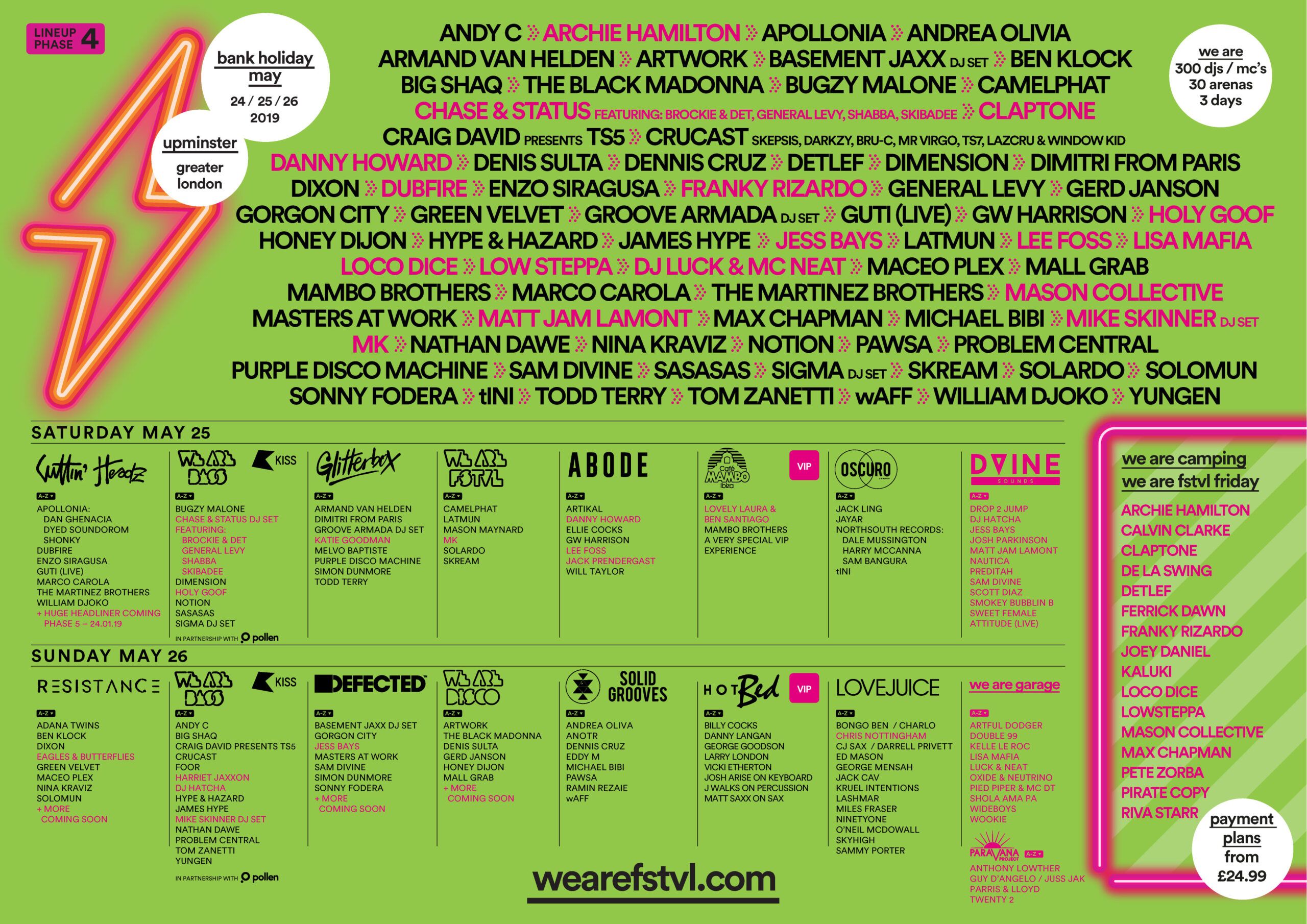 WE ARE FSTVL 2019 – More names added…
The ultimate bank holiday weekender and party of the summer, We Are FSTVL announce even more huge names to their 2019 line-up, including Mike Skinner, Loco Dice, Claptone, Double 99, Preditah, Artful Dodger, Shola Ama, Luck & Neat, Kele Le Roc and Dubfire plus many more.
Whether its old school Garage, alternative hip-hop or classic party hits, We Are FSTVL 2019's recent announcement will join a phenomenal bill with headliners include Chase & Status, Basement Jaxx, Craig David, Andy C and Sigma. In addition, Ultra's world famous techno and house brand, RESISTANCE will also host their very own arena for the first time ever at We Are FSTVL.
The absolute highlight of the festival calendar and returning for its hugely anticipated 7th edition, We Are FSTVL is heading back to Damyns Hall Aerodrome, Upminster from 24th – 26th May 2019, bringing together colossal names in House, Bass, Techno, UK Grime, and Drum & Bass.
Victoria Grosvenor, Head of Marketing and Events, The KISS Network "We're delighted to be partnering with We Are FSTVL for the fourth year running; the festival is the perfect way to kick start KISS Does Summer, which gets out and about across the summer to all the best festivals and events in the UK and abroad. We Are FSTVL gets bigger and better each year and we're getting ready to storm the Airfield of Dreams and once again host the Main Stage on Saturday. See you there!"
The Music
We Are FSTVL's most recent line-up announcement pays homage to the Godfathers of Garage, with a host of internationally renowned DJs and artists joining the bill.
First up, Southampton based duo and British legends, Artful Dodger will be hitting up We Are FSTVL on May Bank Holiday. With over 424,000 monthly listeners on Spotify along with more than 8 million streams for prolific single 'Re-Rewind,' the pair will be joined by pioneers DJ Luck & MC Neat. Regarded as producers of one of the biggest tracks within the garage genre, the London based pack supplied the UK and beyond with epic single 'A Little Bit Of Luck,' drawing in over 10 million views on Youtube since its release in 2002.
Showering We Are FSTVL 2019 with the ultimate party atmosphere, Kele Le Roc is set to raise adrenaline levels with her iconic R'n'B hits including 'My Love' and the classic 'Things We Do For Love.' Joining the party, the legendary soul-pop starletShola Ama, whose 1997 track 'You Might Need Somebody' charted in over 15 countries world-wide and landed a number 4 position on the UK Singles chart. Also added to the bill includes South London hip-hop queen Lisa Maffia and Northern powerhouse Sweet Female Attitude.
Also added to We Are FSTVL's 2019 epic bill is techno legend Loco Dice. With five studio albums to his name, including his most recent single 'Out of Reach' from August 2018, one of Germany's finest export will joined by DJ duo Claptone. With way over 1 million monthly listeners on Spotify, the pair are famed for intricately ornate remixes which you can check out on their 2018 release 'Fantast.' Supplying Upminster with the biggest beats in House and Techno, Dubfire is also gearing up to get adrenaline levels pumping on May Bank Holiday.
Birmingham's most prosperous export and rising grime kingpin, Preditah's collaboration on the epic single 'On My Mind' with Jorja Smith safeguarded him as one of the hottest stars in the UK. Famed for weaving together heavy -bass combined with anthemic orchestral segments, also announced includes Wookie along with the infamous English rapper and record producer Mike Skinner. Finding fame in Birmingham based alternative hip-hop group The Streets, Skinner has gone on to launch his own record label 'The Beats Recordings,' joined forces with Rob Harvey to create The D.O.T along with entering super group Tonga Balloon Gang with UK rap pack Murkage.
Tickets for We Are FSTVL 2018 are available to purchase now, through the official We Are FSTVL website here. Day tickets start from £56 with camping, VIP upgrades and lockers available to purchase as add-ons.