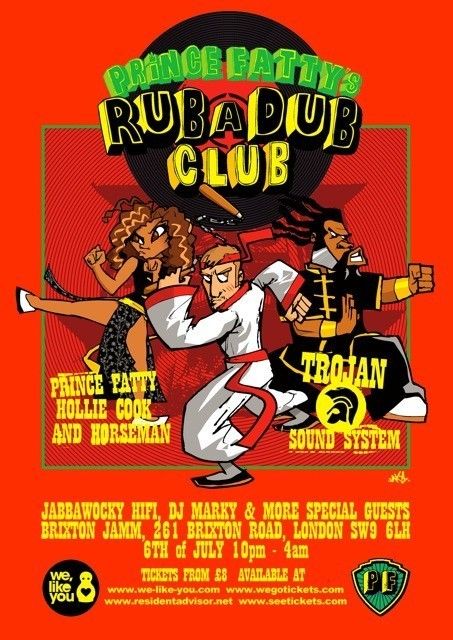 We, Like You present…Prince Fatty's Rub-a-Dub Club
Legendary reggae producer Prince Fatty rolls into Brixton this July with an all star reggae cast featuring Hollie Cook, Horseman as well as that institution of British reggae culture, Trojan Sound System! Expect special guests, record giveaways, BBQ and loads more!
The Line up:
Trojan Sound System (live)
London based Trojan Sound System are an institution in British sound system culture. A legendary team of selectors and vocalists, they represent the most seminal reggae and Ska record label in history. For the past 8 years, Trojan Sound System have spread their message of love and unity through the power of Ska, Roots, Dub, Dancehall and UK bass music, headlining club shows, captivating festival crowds and supporting legendary Jamaican acts such as; Horrace Andy, Luciano and the late great, Gregory Isaacs to name but a few.
Transcending age, race and political barriers, Trojan Sound System play music that satisfies the purest of vinyl collectors, while at the same time, introducing a new generation to the roots of Jamaican music. Mixing styles and flavours from the past 40 years, the Trojan crew are legendary party starters with selectors Earl Gateshead and Daddy Ad, ignited by uplifting vocals from MC trio; Superfour, Chucky Bantan & Jah Buck.
Prince Fatty
Prince Fatty is a group put together by producer and engineer Mike Pelanconi, (whose recent credits include Lilly Allen's smash 'Alright Still' for Regal/EMI and 'Little Barrie' Stand your Ground for Genuine/PIAS) for the purpose of recording a limited-edition single for Stussy to celebrate their 25th anniversary.
The Prince Fatty sound is designed to Dub your feet with Rock Steady beats and stimulate brain waves in a jazz-like way…delivered in an up-beat, positive and organic funk fashion. Mixed in an analog haze of vintage spring reverbs, tape echoes and custom hi-grade mixing console, Prince Fatty won't disappoint the lovers of the early 70s sound.
Beats In Abundance
DJ Marky