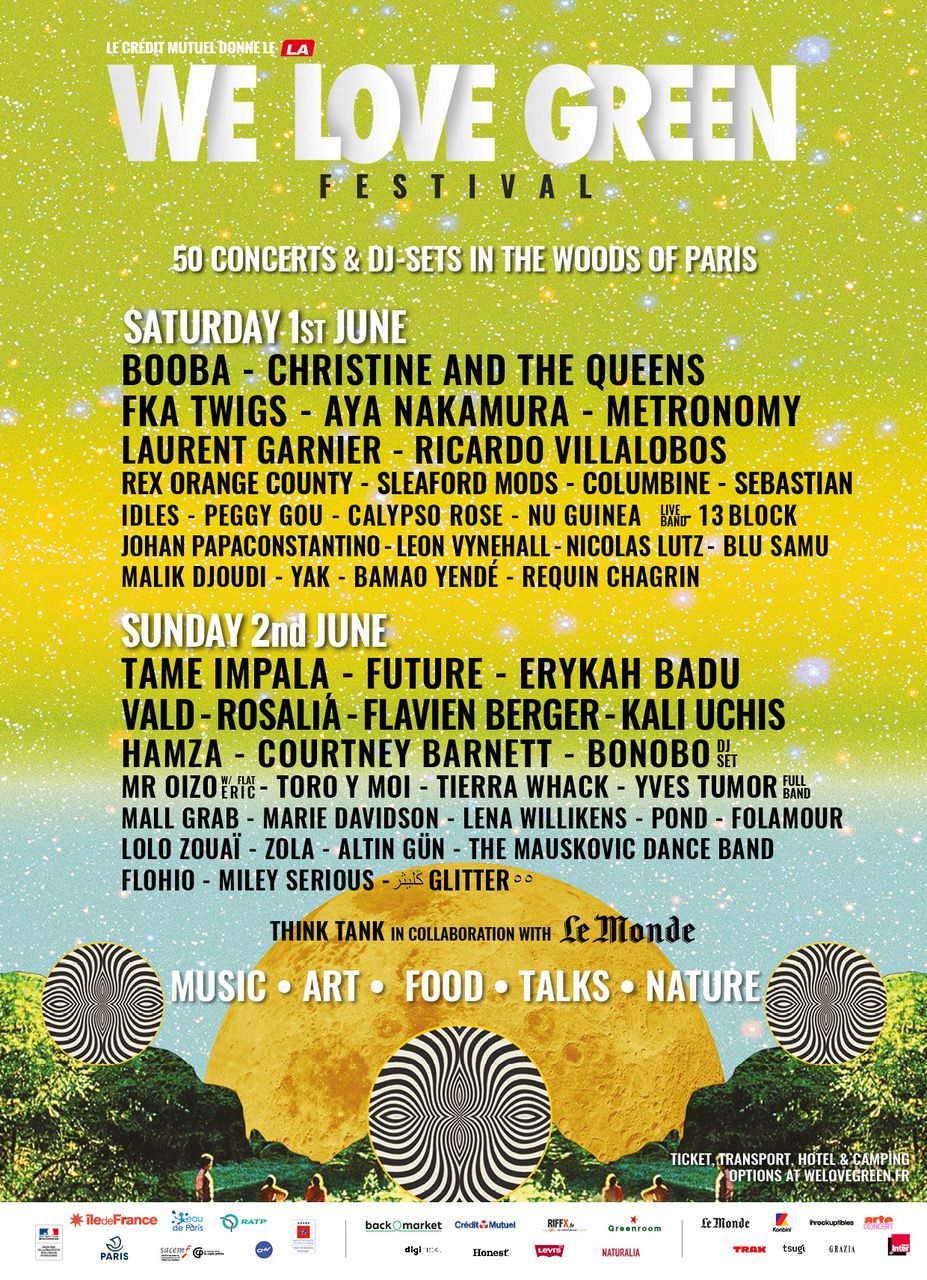 We Love Green Goes Greener + Final Names Added
We Love Green, one of the world's most green and sustainable festivals, returns to the French capital with another uncompromisingly credible line up in 2019. Powered by 100% renewable energy and with a new pledge to plant a tree for every visitor to offset carbon emissions, We Love Green is the environmentally smart festival goers' number 1 choice, comprised of four music stages, one inspiring Think Tank conference stage, art installations, banquets and 50+ restaurants.
Today, We Love Green is proud to reveal a number of pioneering sustainability initiatives that cement its position as a world-leading green event.
80,000 trees to be planted with Ecosia (1 per festival goer) – this will offset 1,200 tonnes of CO2 per year
All performers and artists will match their carbon emissions by funding local biodiversity conservation projects
100% fossil fuel free – this year they will be powered by a solar farm and a hydrogen-powered generator prototype
100% single-use plastic free – all cutlery and plates are 100% compostable and made from recycled materials. Water will be served in reusable bottles from taps and jugs
All rubbish is sorted – 74% of waste is recycled, 14,000 litres of compost was made in 2018
100% dry toilets – last year they saved 2.4 million litres of water by using composting toilets
100% traceable, locally produced, organic food served – a range of healthy veggie and flexi food will be available
Think Tank conference stage – this year, debates and round tables will be developed in collaboration with Le Monde newspaper. The theme of this year's programme is 'What's going wrong and what are the solutions?'
This year, there will also be a kids hub which will host kids aged 3 – 10, giving them the chance to become a mini-activist and make flower bombs; take part in the compost challenge and discover all there is to know about tides alongside concerts especially for kids.
Joining the likes of previously announced headliners Tame Impala, Christine and the Queens, Future and Erykah Badu in June will be austerity-era punk/hip-hop duo Sleaford Mods, self-proclaimed Queen of Trinidad Calypso Rose; garage punk trio Yakand French indie pop band Requin Chagrin.
We Love Green will once again take place in the Bois de Vincennes public park on the Eastern outskirts of Paris, the Plaine de la Belle Étoile, with a capacity of 80,000 attendees across two days. Within the beautiful leafy park, expect to stumble on new talent stages; hidden mini-dancefloors; art installations throughout the woodland paths which lead to the festival; new visual displays; and an optimised festival site which allows attendees to flow between stages at ease.
Everything at We Love Green is planned with a key question in mind: "What resources do we have to hand, and what can we make with them?" Having recently been awarded the'Outstanding' category by the A Greener Festival award, the festival aims to raise public awareness of environmental issues and hopes to inspire people to be able to make small changes which will have a huge impact. Music can be a tool to express solidarity and to provoke social change.

Tickets are €129.00 and are available at www.welovegreen.fr/tickets/?lang=en