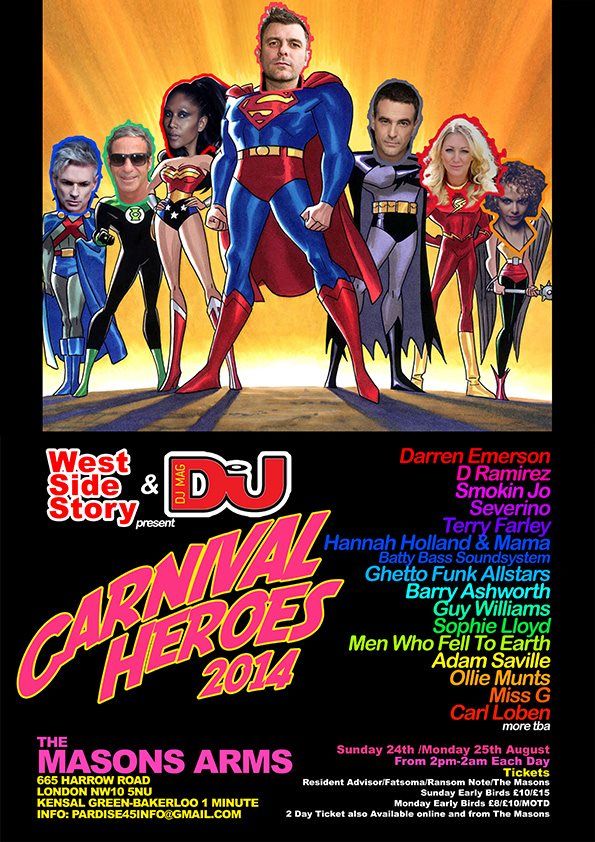 West Side Story, Paradise 45 & DJ Mag present Carnival heroes 2014
West Side Story & Paradise 45 are more than excited to be teaming up with the UK's leading Dance bible Dj Magazine for this years event
.
Across the annual 2 day extravaganza you will see such heroes as Darren Emerson, Smokin Jo, D Ramirez, Severino, Hannah Holland, Sophie Lloyd, Terry Farley and many more grace the decks all backed up by Residents and Hosts Barry Ashworth and Guy Williams
.
We welcome back the Ghetto Funk Allstars with Will Streetwise, Tigerlight, Luke Stereo and special guests to host the upstairs on Monday, bringing the funk, soul and old skool electro vibes.

Making their Carnival debut will be the bassheavy Batty Bass Soundsystem with Hannah Holland on the Decks and Mama on the mic in the Garden on Monday
With no Sancho Panza or Good Times at Carnival this year, the Masons Arms will undoubtedly be the place to be daytime as well as evening this year so make sure you get your tickets pronto as it will sell out and we don't want you to miss out!!
LINE UP
Darren Emerson, Severino, Ghetto Funk Allstars, Terry Farley, Hannah Holland & Batty Bass Soundsystem, Guy Williams, Barry Ashworth, Carl Loben, Adam Saville