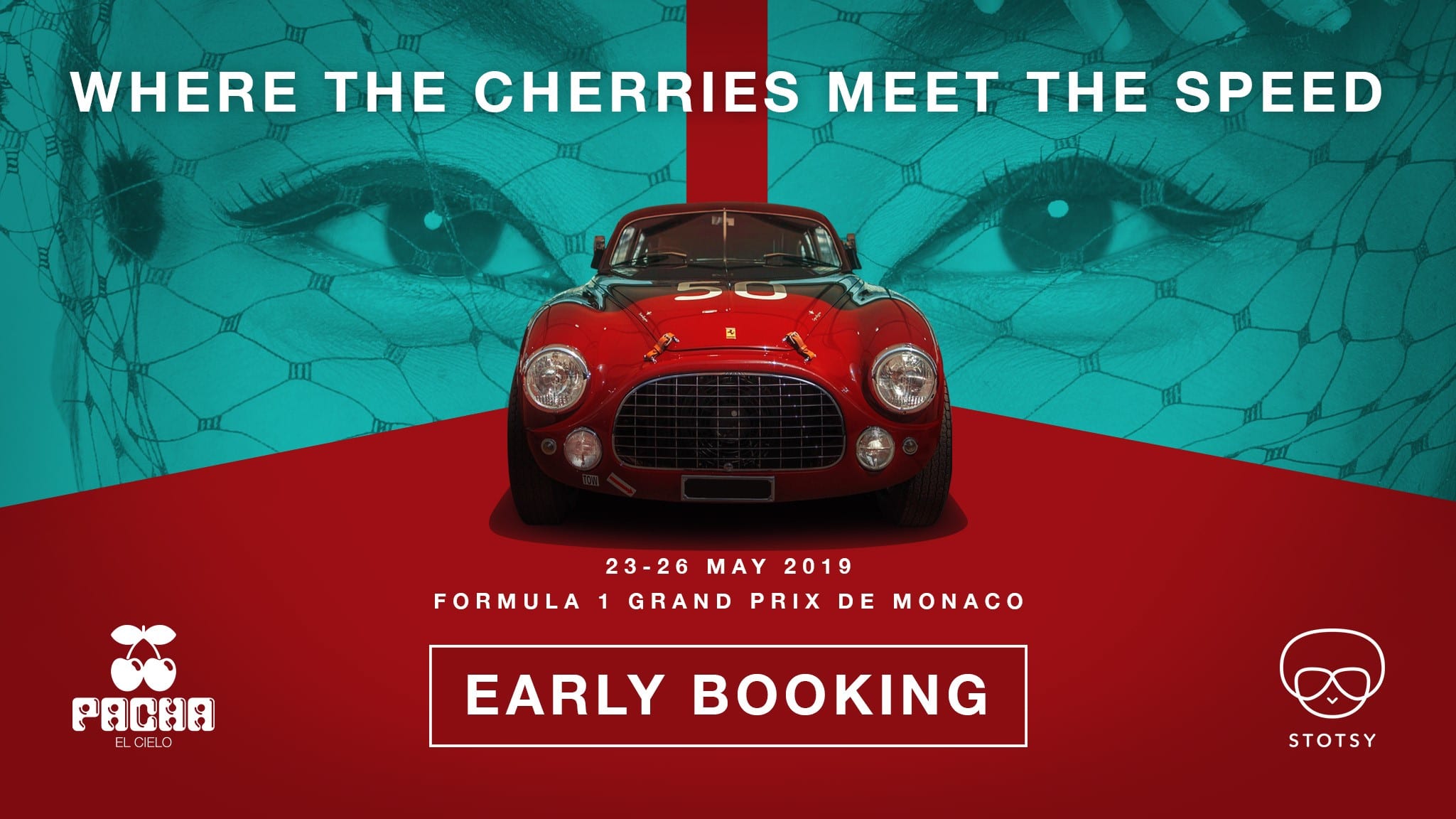 WHERE THE CHERRIES MEET THE SPEED – F1 GRAND PRIX MONACO
As a global brand known and loved for its glamour and flair, Pacha has never been better placed as the cherries head to Monaco for the Formula 1, spring bank holiday weekend. Perfectly matched to the star-studded allure of Monaco, Pacha brings a brand-new experience to the Formula 1 with day and night entertainment.

In true style, you will be whisked away into the Pacha pleasure-dome with an unexpected day lounge event. Attendees are welcomed out of the Fastlane with non-intrusive but highly eye-catching entertainment; laced with a sensual vintage feel. With varying F1 related characters parading the space with props, guests are encouraged to interact with the show, caught in the heart of the action with traditional F1 formalities, such as Pit Stops, Podium celebrations and more.

By night, Formula 1 spectators are invited to a lavish seated dinner as Pacha take their unique stylistic principles; molding them into a matured and elegant affair. In this new brand concept, those who choose to, will open the doors to an evening of merriment and delight; treated with numeral dazzling performances from Operatic and Soul Singers to Flash Mobs and Contortionists. With a full treatment of high-class production, the Pacha presence in Monaco this May promises signature luxury and lashings of gusto.
About Pacha Group
The Pacha Group is an international family-owned holding company that operates in the music, leisure, entertainment, hospitality, fragrance and fashion sectors among others with a great international presence through its brands: Pacha Ibiza (Nightclub), Mess, Destination Pacha Resort and Hotel Pacha.

A business group that is known for exporting the Ibiza lifestyle to the whole world, a lifestyle that is casual, fun, sophisticated and committed to the environment and the people of the island.
Pacha Monaco takes place 23rd – 26th May
EARLY BIRDS
More info about PACHA MONACO:
www.pachamonaco.com
www.facebook.com/pacha
www.twitter.com/pacha
www.instagram.com/pachaofficial