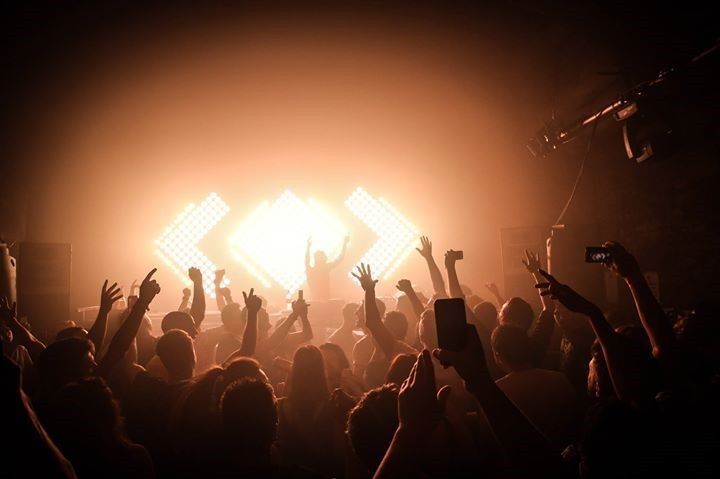 WHP14 NYE & NYD Revealed
Having already made it's mark back in Manchester's subterranean venue Store Street, the final events of the WHP 2014 season can now be revealed. The line-ups for New Years Eve, New Years Day, Seth Troxler's & The Martinez Brother's Tuskegee an extremely special Hacienda offering and the full line-up for 1-800 Dinasour are all listed below.
Tickets for all newly announced shows go on sale at 9am on Friday 24th October. The majority of the WHP 2014 Season have now sold out. These shows are also expected to go quickly as Store Street has limited capacity.
"For twelve weeks this city is ours…"
Tickets on sale 9am Friday from www.thewarehouseproject.com/tickets
Saturday 8th November
1-800 DINOSAUR
FULL LINE-UP REVEALED
JAMES BLAKE – LIVE | MALA (DJ Set)
JAMES BLAKE (DJ Set) | AIRHEAD | FRANK TOPE
BAKE | DAN FOAT | KLAUS | MR ASSISTER
20:00 – 04:00 | £25
++++
26th December
HACIENDA
DAVID MORALES | MARSHALL JEFFERSON | A GUY CALLED GERALD (Live)
GRAEME PARK b2b MIKE PICKERING | 808 STATE (DJ Set) | JUSTIN ROBERTSON
PETER HOOK | JON DA SILVA
21:30 – 04:00 | £25 / £28.50
++++
27th December
TUSKEGEE MUSIC
Room 1 – Tuskegee
SETH TROXLER
THE MARTINEZ BROTHERS
(Back 2 back, all night long)
Room 2
KRYSKO b2b HARRI & DOMENIC (All Night)
21:30 – 04:00 | £25 / £28.50
++++
31st December
NYE
EATS EVERYTHING | HEIDI | SKREAM
HUXLEY | BODHI | CITIZEN | NO ARTIFICAIL COLOURS | KRYSKO
RICH REASON | WILL TRAMP | DROP THE MUSTARD | SIAN BENNETT
20:00 – 05:00 | £48
++++
1st January
NYD
MACEO PLEX | FOUR TET b2b DAPHNI | JULIO BASHMORE
JOY ORBISON | SCUBA | DJ TENNIS | KRYSTAL KLEAR
JASPER JAMES | KRYSKO | ZUTEKH DJS
18:00 – 05:00 | £48
++++
FULL REMAINING WHP 2014 LINE-UP:
Friday 24th October
PARADISE
JAMIE JONES | RICHY AHMED | DAVIDE SQUILLACE
wAFF | PATRICK TOPPING | MARK JENKYNS
PIRATE COPY | KRYSKO
21:30 – 05:00 | SOLD OUT
++++
Saturday 25th October
SOUNDS OF THE NEAR FUTURE
KAYTRANADA | HUDSON MOHAWKE
JACKMASTER & ONEMAN present CAN U DANCE
RUSTIE | PEANUT BUTTER WOLF | BENJI B
LONE | KRYSTAL KLEAR | DARQ E FREAKER | JONNY DUB
MC CHUNKY | NOW WAVE DJS
20:00 – 05:00 | SOLD OUT
++++
Friday 31st October
CURATED BY FOUR TET & CARIBOU
CARIBOU (LIVE) | FOUR TET
CARL CRAIG | JESSY LANZA (LIVE) | FLOATING POINTS
JAY DANIEL | CHAMPION | TERROR DANJAH | ANTHONY NAPLES
EAT YOUR OWN EARS | NOW WAVE DJS | WILL TRAMP
21:00 – 05:00 | £25 / SOLD OUT
++++
Saturday 1st November
RESIDENT ADVISOR DAY & NIGHT
RICARDO VILLALOBOS | NINA KRAVIZ
HESSLE AUDIO: | BEN UFO B2B PEARSON SOUND B2B PANGAEA
JOY ORBISON | RYAN KEELING
ROOM 2:
JACKMASTER (3HRS) | MOODYMANN (3HRS)
UNDERGROUND PARIS (3HRS) | KRYSKO & GREG LORD
18:00 – 05:00 | SOLD OUT
Wednesday 5th November
THE KNIFE – SHAKEN UP TOUR
THE KNIFE LIVE AT MANCHESTER ACADEMY
19:00 – 23:00 | £25 + BF
++++
Friday 7th November
WELCOME TO GORGON CITY
GORGON CITY | BONDAX
REDLIGHT | WAZE & ODYSSEY | B-TRAITS w/ JUMA MC | ARTWORK
ZINC & MC TIPPA | MY NU LENG | MAK & PASTEMAN
KIDNAP KID | WOOKIE | CITIZEN | NORTHBASE | MEDIATE
21:30 – 05:00 | SOLD OUT
++++
Saturday 8th November
1-800 DINOSAUR
FULL LINE-UP REVEALED
JAMES BLAKE – LIVE | MALA (DJ Set)
JAMES BLAKE (DJ Set) | AIRHEAD | FRANK TOPE
BAKE | DAN FOAT | KLAUS | MR ASSISTER
20:00 – 04:00 | £25 + BF
++++
Friday 14th November
MK AREA 10
MK | SKREAM | ROUTE 94
SHADOW CHILD | HUXLEY | SECOND CITY | SHIBA SAN
KRYSKO | PIRATE COPY
21:30 – 05:00 | SOLD OUT
++++
Saturday 15th November
BUGGED OUT! 20 YEARS DAY & NIGHT
GREEN VELVET / CAJMERE
GEORGE FITZGERALD | ANDREW WEATHERALL | EROL ALKAN
SKREAM | PAUL WOOLFORD | DANIEL AVERY
JUSTIN ROBERTSON | MOONBOOTS | BRENDAN LONG | JOHNNO
18:00 – 05:00 | SOLD OUT
++++
Friday 21st November
THE NORTH BORDERS TOUR
BONOBO (LIVE) | GOLD PANDA | MOUNT KIMBIE (DJ SET) |
LAPALUX | WERKHA | DAUWD | ELIPHINO | ILLUM SPHERE
ABANDON SILENCE | NOW WAVE DJS
21:00 – 04:00 | £25 | SOLD OUT
++++
Saturday 22nd November
ENTER
RICHIE HAWTIN | RECONDITE (LIVE) | GAISER
TM-404 (LIVE) | MILES WHITAKER | MATTHEW HAWTIN
FABIO FLORIDO
20:00 – 05:00 | £25 | SOLD OUT
++++
Friday 28th November
ANNIE MAC PRESENTS
ANNIE MAC | DANNY BROWN | HANNAH WANTS
TOURIST (LIVE) | MONKI | LXURY | KIWI
PREDITAH | PARA ONE | BOBMO | NOW WAVE DJS
21:30 – 05:00 | SOLD OUT
++++

Saturday 29th November
MAYA JANE COLES PRESENTS
MAYA JANE COLES | HEIDI | MAGDA | TEN WALLS (LIVE)
DENSE & PIKA | KIM ANN FOXMAN | SOUTH LONDON ORDNANCE
ALEX ARNOUT | KRYSKO | ZUTEKH DJS
21:00 – 05:00 | SOLD OUT
++++
Friday 5th December
WHP PRESENTS…
THE CHEMICAL BROTHERS (DJ SET) (3hrs) | ANDREW WEATHERALL (3hrs)
BREACH (3hrs) | BICEP (3hrs) | KRYSKO
WILL TRAMP!
21:30 – 05:00 | SOLD OUT
++++
Saturday 6th December
DUSKY PRESENTS…THE NEXT STEP
DUSKY | BEN UFO & JOY ORBISON
KiNK (LIVE) | BODDIKA | MIDLAND
KYLE HALL | MOXIE | PALEMAN | KLOSE ONE | ZUTEKH DJS
20:00 – 05:00 | SOLD OUT
++++
Thursday 11th December
HOSPITALITY
CAMO & KROOKED | FRICTION | METRIK
FRED V & GRAFIX | TC | CALIBRE | LONDON ELEKTRICITY
DUB PHIZIX & STRATEGY | ETHERWOOD | MARCUS INTALEX | LOGISTICS
RICH REASON
21:00 – 04:00 | £20 + BF
++++
Friday 12th December
CURATED BY JAMIE XX & JON HOPKINS
JON HOPKINS (LIVE) | JAMIE XX
MODESELEKTOR (DJ SET) | JOHN TALABOT | LEON VYNEHALL | PANGAEA
TASKER & JON RUST | MATTIS | GREG LORD | NOW WAVE DJS
21:30 – 05:00 | SOLD OUT
++++
Saturday 13th December
INNERVISIONS
DIXON | ÂME | HENRIK SCHWARZ (LIVE)
RECONDITE (LIVE) | GERD JANSON | OPTIMO
PRINS THOMAS | HORSE MEAT DISCO | MAURICE FULTON | KRYSKO
20:00 – 05:00 | SOLD OUT
++++
Friday 19th December
FATBOY SLIM
FATBOY SLIM
SLAM DUNK'D | THE 2 BEARS | BEN PEARCE
MARIBOU STATE | ANDHIM | OLI HACKETT | ED NORRIS
21:30 – 04:30 | £25 | SOLD OUT
++++
26th December
HACIENDA
DAVID MORALES | MARSHALL JEFFERSON | A GUY CALLED GERALD (Live)
GRAEME PARK b2b MIKE PICKERING | 808 STATE (DJ Set) | JUSTIN ROBERTSON
PETER HOOK | JON DA SILVA
21:30 – 04:00 – £25 / £28.50
++++
27th December
TUSKEGEE MUSIC
Room 1 – Tuskegee
SETH TROXLER
THE MARTINEZ BROTHERS
(Back 2 back, all night long)
Room 2
KRYSKO b2b HARRI & DOMENIC (All Night)
21:30 – 04:00 | £25 / £28.50
++++
31st December
NYE
EATS EVERYTHING | HEIDI | SKREAM
HUXLEY | BODHI | CITIZEN | NO ARTIFICAIL COLOURS | KRYSKO
RICH REASON | WILL TRAMP | DRPOTHEMUSTARD | SIAN BENNETT
20:00 – 05:00 | £48
++++
1st January
NYD
MACEO PLEX | FOUR TET b2b DAPHNI | JULIO BASHMORE
JOY ORBISON | SCUBA | DJ TENNIS | KRYSTAL KLEAR
JASPER JAMES | KRYSKO | ZUTEKH DJS
18:00 – 05:00 | £48