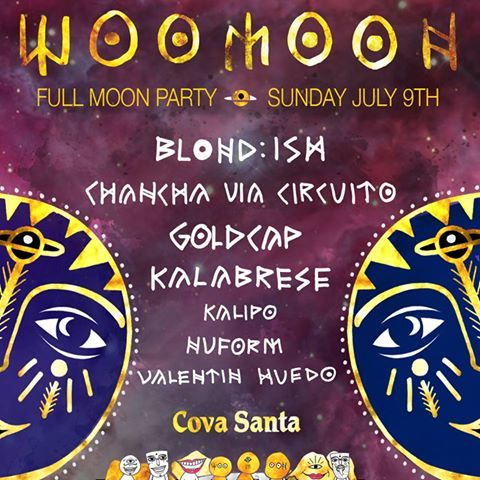 WooMooN-First Full Moon of the Summer – Sunday 9th July
July´s full moon arrives for the third date of the season at WooMooN, a special date to consolidate the island´s most magical party. The moon is with us in our hearts every week at WooMooN. We began with the new moon and this Sunday it will reach its peak.
For the first event of this month, we have new shows and a line-up of artists await, together with the presence of our residents. We focus on new talents and exclusive shows. A date where music, art and especially the island´s original spirit mix together, bringing a sense of cultural freedom.
Heading the line-up is one of WooMoon´s ambassadors, Blond:ish, a pair of Canadian girls who sets are inspired, in part, by their travels and spiritual encounters, they are always driven to share their passion with us. Joining them is the colourful Argentinian Chancha Via Circuito, plus Kalabrese, one of the most important members of the Swiss scene, sharing his eclectic Balearic flavour. The line-up will be completed by the Mexican producers, Soul Brothers.
Together with these new and upcoming pearls from the electronic music scene will be NuForm, Kalipo, and our Ibizan resident Valentin Huedo. The ever-spiritual Goldcapwill open the club´s Moon Room, incorporating an organic vibe into his musical selections, on a night that amplifies the essence of the full moon, the undisputed protagonist of the night.
This Sunday with the Full Moon´s light, we are sure to light up the hearts and smiles in Cova Santa even more.
WooMoon takes place every Sunday until August 27th. The final closing party will be on Tuesday 5th September.