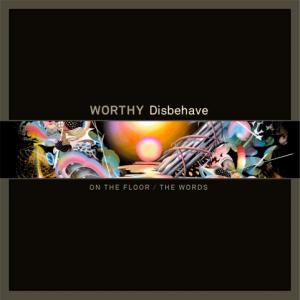 Worthy – On The Floor / The Words
For the past two years Worthy has been locked up putting the final touches on his debut full-length album. Disbehave, is a genre-defying rebellion against the house producers status quo. This album cannot be confined to a category, nor can Worthy be caged in with his colleagues. Breaking down rules and boundaries, Worthy has sought to set himself apart from the mundane world of expectation, striking out to release something unexpected. Liberated and unchained, this album is the ultimate expression of his being.
BACKGROUND
On the introductory single, On The Floor, Worthy recruits longtime friend and vocalist Kevin Knapp to drop the signature line for this track, which is nothing less than contagious. With rigor and vitality, Knapp's vocals incrementally swell as the organ pumps you full of anticipation. The intricate and dirty, deep-house bass-line sends you bouncing along, riding this wave to the brink of dance floor insanity until it sends you nose-diving off the audio cliff into a calming break full of beautiful strings. Creating a sea of bobbing heads, this track is the perfect catch for the club.
Second single in release is The Words. The pristine vocals that Worthy uses in this song are electrifying as they reverberate and ping-pong back and forth between the speakers. Like a dancer's silhouette on the desert floor during sunrise, the synths and breaks in this track are deep yet ephemeral. The timeless beauty of Audio Angel's voice re-ignites the fire in the cauldron of your soul, echoing the reminder of what it means to truly love to be alive. Expect to hear this ecstatic song flooding through festivals this summer, along with whatever other gems will soon be discovered on Worthy's full-length album, Disbehave.