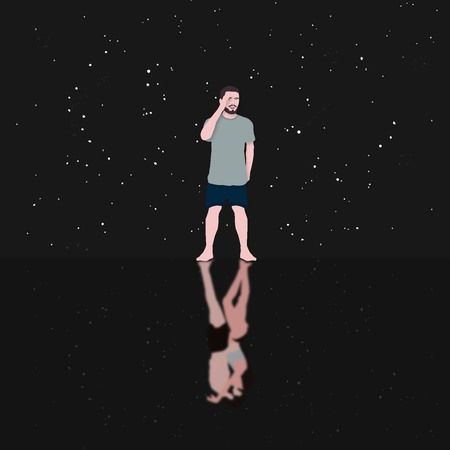 MAJIK - X
The magnetic intimacy of Majik's lyrics and vocal delivery is what stands them apart, and this has never been quite so apparent than with their latest offering 'X'. Wearing his heart on his sleeve, the duo's front man Marcus sings "I'm lost in your chaos again, changing all the chemicals that you put in my head". The song is both a nod to a destructive relationship, and the subsequent struggles with his mental health – something he has chosen to speak openly about, as a sufferer of bipolar and depression.
Growing up with ADHD in school, Marcus has always had a strong connection with writing as a form of release. Struggling with the highly isolated and dysfunctional environment he called home, Marcus developed depression in his teens. Throughout all the hardship, his only constant was – and continues to be – music and writing. In his words,
"It became a pattern of my life to watch the internal struggles become external antidotes. Music has been the paper and wings to allow my expression to communicate on the deepest level. For me it's been about sharing those experiences to shed light on an overlooked shadow that lives beneath the surface. In order to let go, I write and with the cycles of my mind shaping the character of my lyrics, I am ever grateful they are there to help me and others".
'X' comes hot off the heels of their highly personal recent release 'Animal' and is a sincere, soulful ballad, demonstrating intimacy and confidence.
Majik have achieved international wins since they burst onto the scene in 2015 with their debut single. After selling out two headline London shows, the pair were named 'Best Electronic Act' at the Unsigned Music Awards, and ventured to Asia for a headline tour in 2017. With tastemakers including Pigeons & Planes, The Line of Best Fit, NME, Disco Naïveté, Clash and Wonderland backing the band, Majik soon found their music gracing the TV screens across the globe, with sync placements on Pretty Little Liars, Game of Silence (NBC), Pitch (Fox), Pure Genius (CBS) and more.
Though currently based in London, it was in Leeds where Marcus met Jamie; the Scottish born, college-trained tech whizz who is responsible for the brooding synth and shimmering guitar sounds you hear behind the sultry vocal. Realising Marcus' potential, Jamie began to nurture his musical ambition, but in a desperate attempt to escape the cycle of depression, drugs and mania, Marcus fled to Ibiza. Leading a nomadic lifestyle, without electricity or running water, he continued to write songs to help process his emotions. When Jamie called out of the blue, Marcus caught the next flight home and Majik was born.