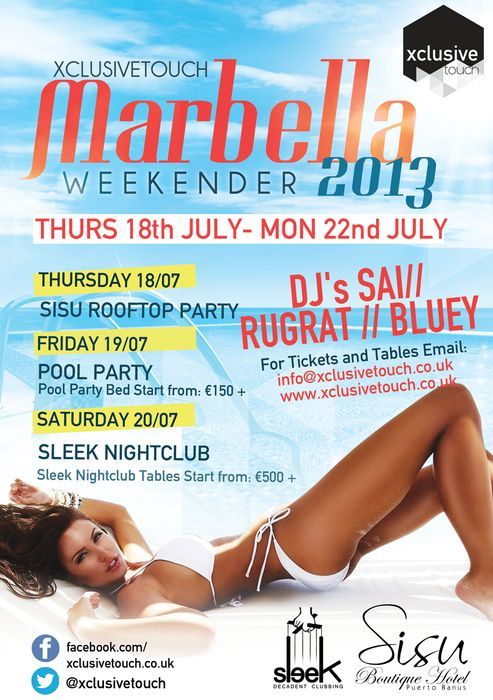 XclusiveTouch Marbella Weekender 2013 – (Thurs 18th July – Mon 22nd July)
XclusiveTouch are proud to present our Marbella Weekender 2013! The dates are Thursday 18th July – Monday 22nd July. This is a can't miss holiday as we take over the SISU Hotel and rock Marbella's finest venues.
**********S C H E D U L E**********
Thursday 18th July – SISU ROOFTOP TOUCHDOWN PARTY
Friday 19th July – 'Thank Fuck its Friday' XT Pool Party
Saturday 20th July – VIP @ Sleek Nightclub 1,650 Capacity!
********** H O T E L **********
Our recommended Hotel is the SISU HOTEL (http://original.jpgwww.sisuboutique.com/). where our pool party is hosted Friday and the central hub of Marbella nightlife. Guests booking here must enter the promo code "Xclusivetouch13" to receive a 10% discount on list price.
Alternatively the following hotels can be booked and our close to our events.
1. http://original.jpgwww.hotelh10andaluciaplaza.com/en/index.html
2. http://original.jpgwww.hotelpyr.com/
Flights and Rooms are currently approx. £300.
********** F L I G H T S **********
http://original.jpgwww.expedia.co.uk/ Flights is a great website for finding cheap flights.
******** P R O C E D U R E – RESERVING BEDS FOR THE POOL PARTY *******
There are four packages with a 4-10 person capacity. As you go through the beds the locations are better. IE the final 2 beds are on a raised platform overlooking the pool!
VIP Pool Bed – €180 max 4 persons
1 bottle Moet Ice Champagne
VIP Pool Bed – €350 max 8 persons
2 bottles Moet Ice Champagne or 1 Spirit Bottle
Super VIP Pool Bed – €600 max 10 persons
4 bottles Moet Ice Champagne or 2 Spirit Bottle
A 20% deposit is required to book which can be paid at our office or via bank transfer. The remaining bill is settled on arrival. To arrange please contact Julian ([email protected] / 07951246768).
**********C O N T A C T**********
Event Manager: Julian for Guest list, info & Table bookings
Email: [email protected]
Mob: 07951246768
Telephone: 020 7734 9116
BBpin: 29C6B1F9