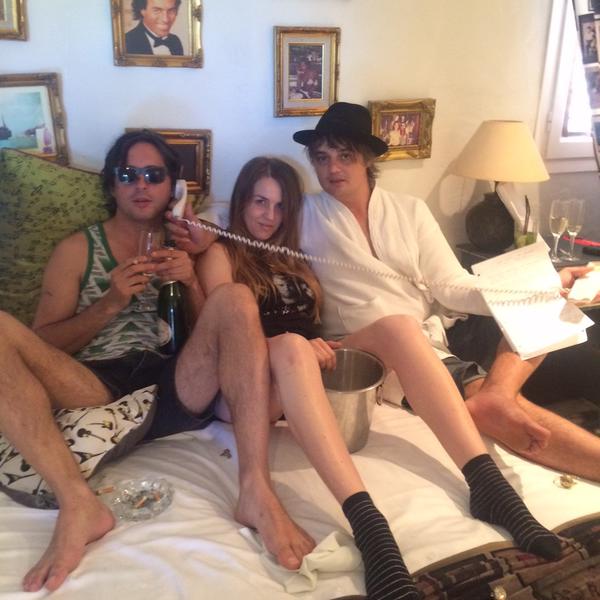 XFM presenter gets more than she bargained for
For Ibiza Rocks 10th Anniversary show on Wednesday with the Libertines Ibiza Rocks flew in XFM's Gabby Sanderson (a former Ibiza Rocks employee) to sit down with Pete and Carl from The band.
Gabby has a history with both Pete and Carl in Ibiza – Pete was responsible for Ibiza Rocks moving from inside an club to an outdoor concert performing both solo and in Babyshambles. And Carl performed in Dirty Pretty Things in 2006 and 2007 to which Gabby joined Carl on stage to dance for a few numbers. The happy reunion took place in Gabby's hotel room. The Libertines lads, who were in merry spirits, joined Gabby on the bed to which chaos followed.
Some of the interview will be played on Gabby's Propaganda show on the XFM Network tomorrow night (Sat July 25th) from 10pm but in true rock & roll spirit Ibiza Rocks have decided to post the uncut, uncensored interview online which hears Gabby being covered in a bottle of champagne by Pete, a cameo from Pete's son, a whole load of mental banter and some impromtu singing from Pete and Carl.
Sanderson is proving to be XFM's underdog, also host and head of productions for The International Radio festival Gabby recently returned from touring the States popping up making shows in unique places such as Jack White's Third Man Records in Nashville, Coachella Festival and Shaky Knees festival in Atlanta for HD Radio. With America sitting up and paying attention and more US shows in the pipeline, Gabby's "insider" interviews prove rock and roll truly lives on.
A real insight into the life and dynamics of Pete Doherty and Carl Barat's highly talked about relationship, this interview comes with a warning…
What you hear is mental!