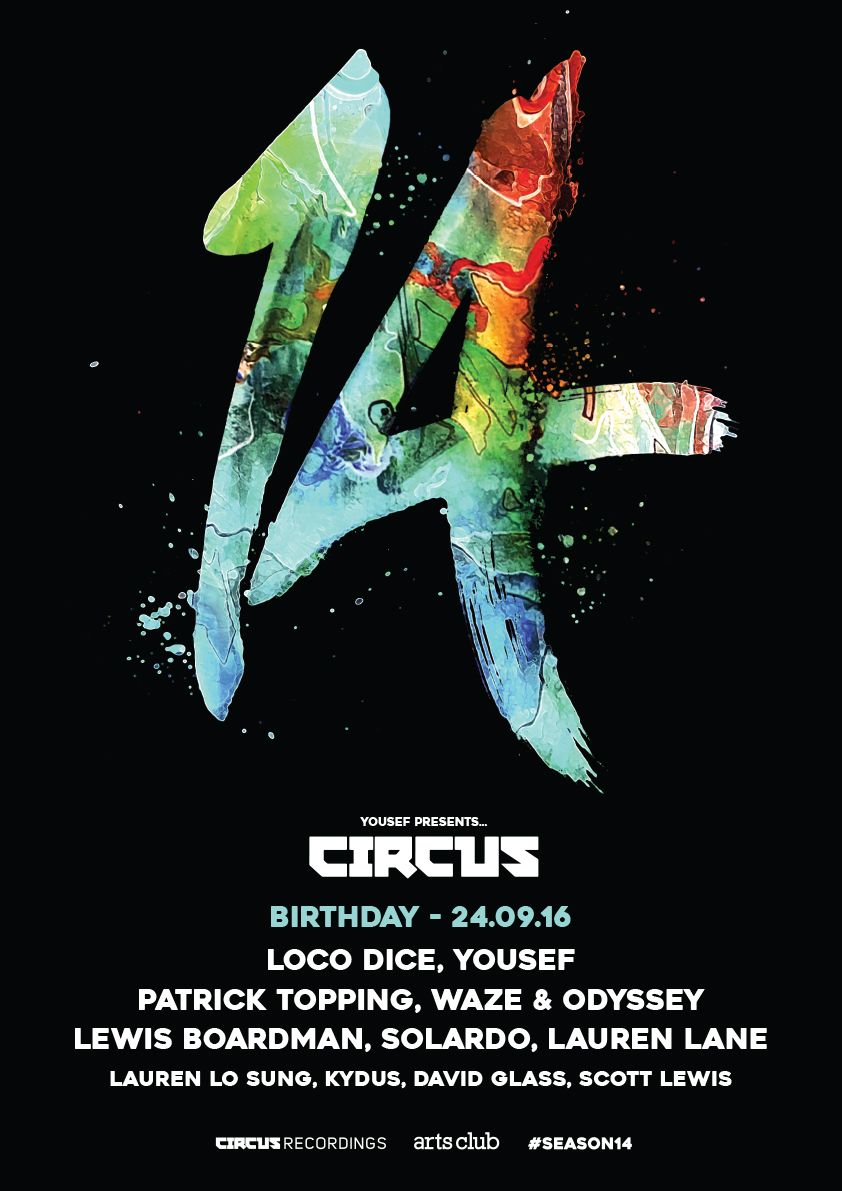 Yousef Presents Circus 14th Birthday
Circus has a long-standing history of pushing the boundaries of house and techno, firmly asserting itself as one of the leading club nights in the history of the country. Always in search of the greatest talent, Circus has been a platform for the most prolific DJ's to perform alongside some of the finest homegrown artists.

Coming up to the 14th Birthday celebrations, Yousef and the Circus family take the opportunity to once again show why they currently hold the DJ Mag award for 'club event of the year'. Bringing with them a host of stellar DJ's and his own band of residents, Yousef will occupy their spiritual home of Liverpool's Art' Club for another truly unforgettable night.

Heading up the amazing line up for this year's celebrations is Loco Dice. The founder of Desolat has not stopped in his worldwide domination of dance floors and festivals alike from his residency at HYTE Amnesia to Time Warp Festival across the globe. Arguably one of the most innovative and talented DJ/Producers in the industry, Loco Dice comes from a background of Hip-Hop whilst cultivating his talent in the booth at DC-10, most recently producing his latest studio album 'Underground Sound Suicide'. Transferring these skills onto Merseyside for another blockbuster birthday celebration, Loco Dice will be closing another special date in his unique manner.

Patrick Topping Following on from a momentous 2015 Patrick has cemented his place as one of the worlds most in-demand names in dance music, championed by industry heads such as Pete Tong, Jamie Jones and Green Velvet. With releases on Hot Creations, Suara, Adam Beyer's Truesoul and Yousef's Circus Recordings, the Newcastle native has continued to prove his worth and popularity amongst his peers with constant touring and a residency at DC-10 for Paradise. Moving dance floors the world over, Patrick will bring is unique and vibrant Tech-House style to Arts' Club.

Joining the line up next is Waze & Odyssey aka Serge and Firas. The duo have continued to break down the boundaries between festival life and club intimacy hitting up parties from Los Angeles to Singapore, leaving crowds ecstatic with their incredible taste and energy. Label owners in their own right, W&O Street Tracks is thriving with releases providing a platform for their colleagues to grow from. Their own productions have seen them feature on VIVa Music, Get Physical, Wolf Music, Dirt Crew and Throne of Blood. Serge and Firas have a unique ability to showcase the best of house and techno and are sure to keep the dance floor grooving throughout the night.

Continuing their meteoric rise to the front of the world's booths, Solardo come to Circus carving their own sound in the house and techno market. 2015 saw their breakthrough single 'New Jam' released on Steve Lawler's VIVa Music, which quickly became an Ibiza anthem over last summer. More recent releases come on Kerri Chandlers Madtech Records and Leftwing & Kody's Lost Records. With dates booked solidly across the summer, Solardo are showing no sign of stopping come September 24th.

Lauren Lane is an LA based artist who perfected her skills on the New York house scene. Following an amazing 2015, Lauren played some of the worlds best clubs such as DC-10, Warung, Coachella, BMP Festival, Decibal and the Rio Music Conference. Regularly appearing alongside some of the biggest names in dance music, Lauren Lane will not be out of place in this gigantic Circus line up bringing her New York infused style to Merseyside.

Liverpudlian Lauren Lo Sung also joins the line up in her hometown. Holding down residencies across the country in the likes of Birmingham's TRMNL and her own LOLife club night which was launched when she was 18. Lauren has seen her rise to success charted by her invitation to play at Carl Cox's –The Final Chapter at Space, Ibiza this summer alongside Circus boss Yousef. Lauren's producing hasn't gone unnoticed either with releases being prepped for Hectors' Vatos Locos and US label Draft. Lauren is no stranger to the stage at Circus events and will be sure to bring her impeccable dub techno style with her.

Rounding up Circus and completing an amazing line up we have the residents. Kydus joins the line up to keep the form of young talent. Discovered originally by Circus boss Yousef in 2013 with his track 'We Get This Started' and forthcoming releases on Circus and relentless radio plays. He has formed a key part of the Circus label and has made a name for himself at these events, finding himself in the record boxes of many of the top DJ's around the world. Long standing Circus residents Lewis Boardman is also another name who finds himself receiving international recognition from world class DJ's, with recent releases on Moon Harbour, Loco Dice's Desolat, Cadenza and Circus. Lewis Boardman looks perfectly at home amongst this line up. David Glass is another name synonymous with the brand of Circus, Long time resident and main feature on their own label. Nurtured throughout his time with Circus and Yousef, you can hear his tracks played in some of the biggest clubs around the world. Scott Lewis is another of Liverpool's rising stars, holding a reputation as a raw house enthusiast. Scott has been featuring on Circus line-ups since 2008 and was invited to become a resident in 2010, having consistently appeared alongside the biggest names in house and techno.