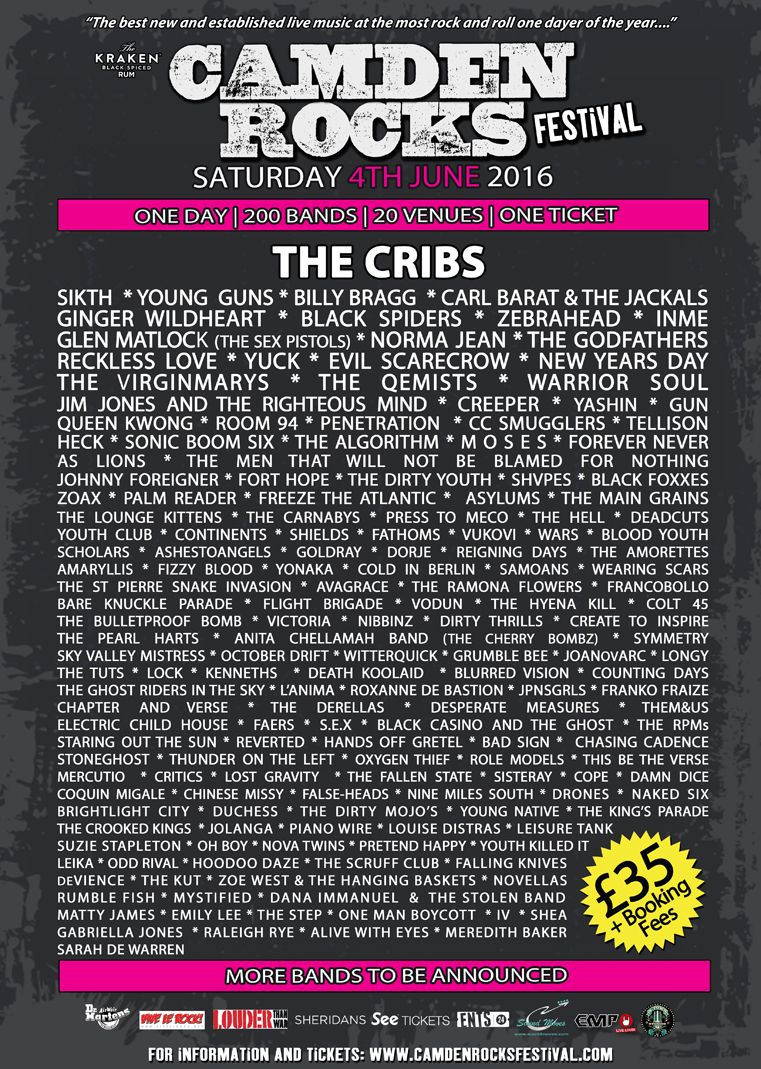 Yuck, HECK, Black Spiders & more bands announced for Camden Rocks Festival 2016
Returning for its fifth year on June 4th, Camden Rocks Festival have just announced power-rock force Black Spiders, and, revered for their brutal live shows, Nottingham's HECK to join the 2016 bill alongside London's acclaimed noise-pop connoisseurs Yuck, Finland's Reckless Love, and many more.
The line-up already features some huge names in indie, punk, rock and metal, including The Cribs, Carl Barat & The Jackals, Glen Matlock (Sex Pistols), Ginger Wildheart, Billy Bragg, Johnny Foreigner, Creeper, Sonic Boom Six and more.
Reckless Love say, "Camden Town is truly a special place for Reckless Love as we rocked our first ever UK show there back in 2010! We've returned many times to this beautiful place, and even held a smashing month-long residency at one of its many lively rock clubs. So it is with the greatest pleasure that we come back in 2016 to take part in the awesome Camden Rocks Festival!"
Black Spiders' Pete Spiby adds, "Not just any festival, the festival that keeps on giving…us a slot. After last years' awesome show, we'll be back again, this time to headline a stage, with the full original line up!" Whilst HECK guitarist Jonny Hall said, "The line-up at Camden Rocks is ridiculously good this year, again, so we figured we had to blag our way onto it somehow. Damn right."
It is also with much sadness that Camden Rocks today announce the cancellation of Escape The Fate and We Are The Ocean. Speaking of the change, Escape The Fate say, "due to insurmountable scheduling difficulties with a US tour we're regrettably having to pull out of our performance at Camden Rocks Festival. We've looked into every possible solution we could think of, but to no avail. We're sorry for this inconvenience to our fans and the organisers."
Also joining the line-up today are: Zebrahead, The Algorithm, Fort Hope, Palm Reader, Wars, FIZZY BLOOD, Yonaka, Vodun, The Bulletproof Bomb, Victoria, October Drift, Longy, Kenneths, L'ANIMA, Franko Fraize, ELECTRIC CHILD HOUSE, Oxygen Thief, COPE, Damn Dice, Coquin Migale, Nine Miles South, Naked Six, Brightlight City, The Dirty Mojo's, Young Native, PIANO WIRE, Oh Boy, Nova Twins, Pretend Happy, Youth Killed It, deVience, The Scruff Club, Zoe West & The Hanging Baskets, Novellas, The Step, Rumble Fish, Dana Immanuel & the Stolen Band, One man Boycott and IV.
Packing in over two-hundred bands across twenty of Camden Town's prestigious music venues, Camden Rocks will take place on Saturday June 4th 2016. Tickets are just £35 plus booking fees and are available here – www.camdenrocksfestival.com. Every year prior has sold-out and 2016 looks set to be no different, with even more bands still to be announced!
The line-up for Camden Rocks 2016 so far includes: The Cribs, Carl Barat & The Jackals, Glen Matlock (The Sex Pistols), Young Guns, InMe, Ginger Wildheart, Billy Bragg, Johnny Foreigner, Norma Jean, Evil Scarecrow, New Years Day, SikTh, Creeper, Penetration, Sonic Boom Six, YASHIN, The Godfathers, The Virginmarys, The Qemists, Warrior Soul, Jim Jones And The Righteous Mind, Queen Kwong, Room 94, YASHIN, Gun, Zoax, The Hell, Youth Club, VUKOVI, Goldray, Reigning Days, Wearing Scars, AvaGrace, Francobollo, The Hyena Kill, The Pearl Harts, Anita Chellamah Band (The Cherry Bombz), JPNSGRLS, Faers, S.E.X, Staring Out The Sun, The St Pierre Snake Invasion, Symmetry, Sky Valley Mistress, Grumble Bee, JOANovARC, Blurred Vision, Desperate Measures, The Fallen State, Duchess, Shea, Alive With Eyes, Forever Never, As Lions, CC Smugglers, Tellison, The Men That Will Not Be Blamed For Nothing, The Dirty Youth, Shvpes, Black Foxxes, Freeze The Atlantic, Asylums, The Main Grains, Lounge Kittens, The Carnabys, Press To Meco, Continents, Shields, Fathoms, Blood Youth, Scholars, Deadcuts, The Amorettes, Amaryllis, Chapter and Verse, Them&Us, Reverted, Chasing Cadence, Stoneghost, Ashestoangels, Dorje, Cold In Berlin, The Crooked Kings, Samoans, Bare Knuckle Parade, Nibbinz, The Dirty Thrills, Create To Inspire, Witterquick, The Tuts, Lock, Moses, Death Koolaid, Counting Days, The Ghost Riders In The Sky, The Ramona Flowers, Flight Brigade, Colt 45, Roxanne De Bastion, The Derellas, Black Casino & The Ghost, The RPMs, Hands Off Gretel, Bad Sign, Thunder On The Left, Role Models, Mercutio, Critics, Chinese Missy, False-Heads, This Be The Verse, Lost Gravity, Sisteray, Drones, Leika, Odd Rival, The Kut, Mystified, The King's Parade, Louise Distras, Leisure Tank, Jolanga, Suzie Stapleton, Hoodoo Daze, Meredith Baker, Falling Knives, Sarah de Warren, Emily Lee, Raleigh Rye, Gabriella Jones and Matty James.

Venues include:

ELECTRIC BALLROOM *UNDERWORLD * PROUD * BARFLY * BARFLY DOWNSTAIRS * DINGWALLS * BLACK HEART * HAWLEY ARMS * MONARCH * THE GOOD MIXER * THE CUBAN * BREW-DOG * DINGWALLS CANALSIDE * THE FORGE * THE CROWNDALE * DUBLIN CASTLE *BLOC BAR * CAMDEN CAVERN @ BELUSHIS * FIFTY FIVE
More information on the links below.

http://www.camdenrocksfestival.com
http://www.facebook.com/CamdenRocksFestival
https://twitter.com/CamdenRocksFest
#CamdenRocks