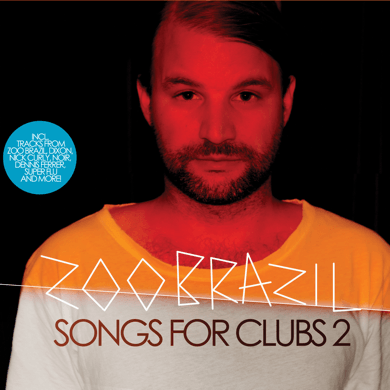 Zoo Brazil presents Songs for Clubs 2
After the huge success of the first 'Songs for Clubs' in 2011 Zoo Brazil has made the follow-up mixcompilation 'Songs for Clubs 2'. Once again he has selected the best house tracks that were heard in clubs all around the world, with which he has created another 70 minute dancefloor adventure.
On the compilation are tracks by Zoo Brazil himself, as well as Roger Sanchez featuring GTO, Josh Butler, Nick Curly, Noir, Cascandy, Juan Kidd & Josh Demello, Dennis Ferrer and more. Zoo Brazil's 'Ground' is the opener of the album and also his collaborations with Ursula Rucker and Philip are on this 'Songs for Clubs', remixed by respectively Santé and Sasse.
The terrific mix by Zoo Brazil is the absolute icing on the cake and will have the listener buzzing for a night out dancing.
Zoo Brazil, also known as John Andersson, started producing and writing music at an early age and has released more than 140 singles and 9 albums to this date. His success is unstoppable as he is working with and remixing for Lana Del Ray, Moby, Tiësto, Inflames, Steve Angelo, Zombie Nation, Fatboy Slim, Dannii Minogue, James Holden and many more.
'Song For Clubs 2' is available on all download portals and as a physical album.
The album can already be pre-ordered at iTunes: https://itunes.apple.com/us/album/songs-for-clubs-2/id700684013
www.blackholerecordings.com