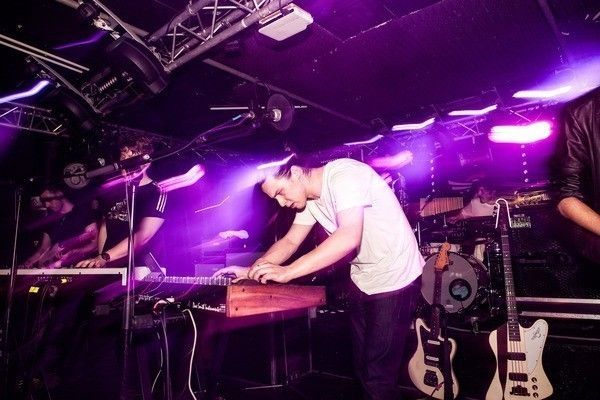 10 Must See Acts This Festival Season
When it comes to live music, there's no better way to experience your favourite acts perform than at a festival, surrounded by friends and like-minded people in some of the most breathtaking locations imaginable. From a mountain-top igloo at Snowbombing to the sun-drenched beaches of Barrakud, from the industrial backdrop of Germany's Melt! Festival to the leafy 'Three Lake Valley' at OFF Festival and from EXIT Festival's historic fortress, to the futuristic scenes of Time Warp, Europe offers an incredible array of alternative locations for festivalgoers. For the full festival holiday experience, you can even combine a festival with a city break, taking in the sights of Budapest before you let loose at Sziget or island hopping in Croatia before watching your favourite acts perform on stage at The Garden Festival.
Wherever you choose to go this festival season, be ready to witness the most memorable of performances from the most-talked about artists of 2014. Need some inspiration?
Here's 10 must-see acts for the 2014 festival season and where to see them…
1. FOXES
Achieving global recognition with her Grammy win for 'Best Dance Recording' with Zedd and featuring in the Billboard Top 10, Foxes is set to provide the soundtrack of the summer this year with her bubbly electro pop and space age Bardot style.
See Foxes perform at:
Snowbombing, Austria 7-12 April www.snowbombing.com
2. JAGWAR MA
A newcomer definitely worth checking out this year is Sydney's latest export Jagwar MA. With their psychedelic electronic mix, they create a beautifully euphoric soundtrack that perfectly complements the summer festival scene.
See Jagwar MA perform at:
Melt! Festival, Germany, 18-20 July, meltfestival.de
3. RECONDITE
Berlin-based producer Recondite has been quietly amassing a loyal league of followers over recent years with his lush house and techno explorations on Hotflush, Dystopian and his own label Plangent, not to mention storming performances at clubs including Berghain, Trouw and Richie Hawtin's ENTER. in Ibiza.
See Recondite perform at:
Time Warp, Germany, 5 April, www.time-warp.de
4. LONDON GRAMMAR
Another hotly tipped band to look out for are British trip hop trio London Grammar. Sharing a similar sound to the XX and Florence and The Machine, London Grammar captivate with front woman Hannah's eerie and melodic vocals.
See London Grammar perform at:
Sziget Festival, Hungary, 11-18 August, www.szigetfestival.com
5. AXEL BOMAN
With a string of well received releases on labels such as Pampa, DFA and Ovum and his 2013 debut album 'Family Vacation' receiving props from the likes of Resident Advisor, Alex Boman is sure to be the name on everyone lips this summer. His signature house grooves are the perfect complement to Europe's sun-kissed festivals.
See Axel Boman perform at:
The Garden Festival, Croatia, 2-9 July, www.thegardenfestival.eu
6. RUDIMENTAL

Bursting out of London's underground music scene Rudimental have taken the European music scene by storm. With a string of hits, a Brit award and a number 1 album under their belts there is no stopping this powerful East London foursome.
See Rudimental perform at:
EXIT Festival, Serbia, 10-13 July, www.exitfest.org
7. JUNGLE

Jungle are among 15 artists nominated for the BBC Sound of 2014 with critics also predicting big things for the enigmatic duo. Their modern atmospheric samples and groove, funk and disco influences will take you take you from day to night this summer.
See Jungle perform at:
Melt! Festival, Germany, 18-20 July, www.meltfestival.de
8. FUCK BUTTONS
This cheekily named foursome make music that "allows the listener to make their own narrative" and visualise their euphoric sound. Combining cosmically hypnotic beats with psychedelic rave rhythms, they are guaranteed to light up your festival experience.
See Fuck Buttons perform at:
OFF Festival, Poland, 1-3 August, www.off-festival.pl
9. IMAGINE DRAGONS

Las Vegas alternative rock band Imagine Dragons started out playing 6 hour sets in Casinos and are now one of the most talked about bands after scooping 'Best Rock Performance' award at the Grammys award for their track 'Radioactive' and being voted 'Newcomer of the Year' at the 2013 European Festival Awards.
See Imagine Dragons perform at:
Sziget Festival, Hungary, 11-18 August, www.szigetfestival.com
10. MANO LE TOUGH
2013 saw the rise of Mano Le Tough. The Berlin resident's distinct blend of deep house, cosmic disco and modern techno has led him to perform at many of the world's best clubs as well as releasing on labels including Internasjonal and Permanent Vacation. we can't wait to see what he's got in store for summer 2014.
See Mano Le Tough perform at:
Barrakud, Croatia, 9-16 August, barrakud.com