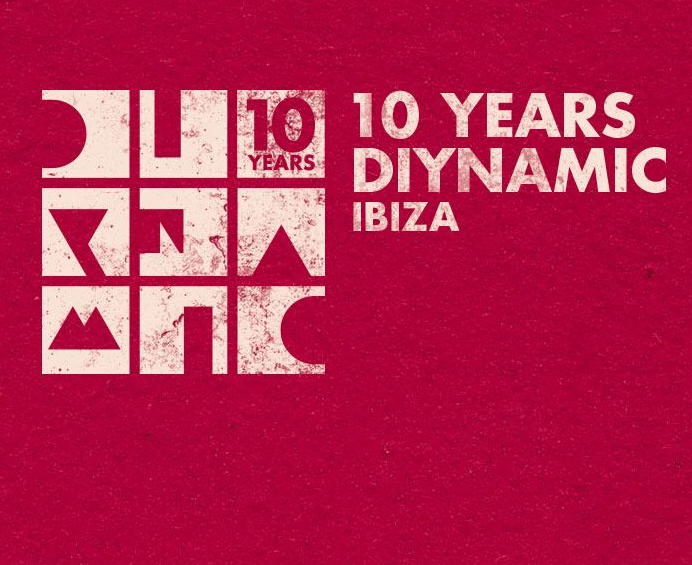 10 Years Diynamic – Ibiza
After the kick-off in Berlin in April, Diynamic is now leaving the mainland for the next stop of its pan-European 10th-anniversary city take-over party series: We are coming to Ibiza.
Friday, August 19th will see the Hamburg label take over the White Isle's most renowned club, DC 10. Expect special sets by Solomun, Adriatique, H.O.S.H., Kollektiv Turmstrasse, Karmon, NTFO, Johannes Brecht, Magdalena, Undercatt and Lehar.
DIY: A simple idea, rooted in the wish to change the predominant principles and to do something in one's own way.
Since 10 years now Diynamic – the artist collective surrounding label father Solomun – acts true to this calling. Since 2006 it's all about releasing, partying, thinking ahead and doing it yourself. Born in the heart of Hamburg's St. Pauli neighbourhood, now home in virtually every corner of the world.
Actually the beginnings of the DIY-era lie in 2003, when the first own party series of the clique around Solomun commenced in Hamburg. 2006 saw the founding of the music label Diynamic, followed by the opening of infamous EGO club in Hamburg's red light district St. Pauli in 2009. This was soon succeeded by own Festivals on multiple continents, worldwide Diynamic Showcases and several successful residencies on Ibiza.
And what better way to celebrate, then with a very big party. And those, who have been to the first 10-Years-Diynamic party in Berlin know what we are talking about.
Many of the label's artist have played separately at DC 10, but on Friday, August 19th Diynamic will hold its first ever label event there. Starting at 23:00 until the morning comes, Diynamic's artists will play the main room and the terrace.
What started in Berlin and now continues on Ibiza, will also come to Zurich, Amsterdam, London, Paris and Diynamic home town Hamburg – a city taken over by Diynamic and its artists for an extended night each.
The finest of Diynamic Music will come to Ibiza:
– Solomun, who has just taken up the 4th season of his Solomun +1 residency in Ibiza
– Adriatique, who just released their "Soul Valley EP" on Cityfox
– H.O.S.H., who just dropped his "End Of Chapter EP" on My Favorite Robot Recordings
– Kollektiv Turmstrasse, whose "Sorry I'm Late" was Beatport's most selling track 2015
– Thyladomid, who is looking ahead to a heavy touring schedule for 2016
– Karmon, who locked himself into his studio for the last weeks to work on some new material
– NTFO, who just released an EP on 20/20Vision's sublabel, 20/20Editions
– Johannes Brecht, who will drop his debut album in 2016
– Magdalena, who's starting her first Ibiza Residency this year
– Undercatt, who just released a single on Sasha's "Last Night On Earth" label
– Lehar who is about to drop his first full EP on Diynamic next week
Event on Facebook: www.facebook.com/events/1151871361530732/
Event on Resident Advisor: www.residentadvisor.net/event.aspx?850316