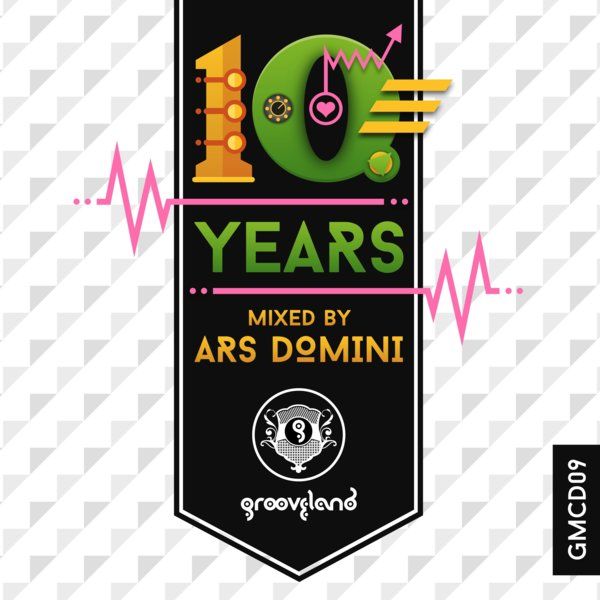 Various Artists - 10 Years of Grooveland
Producers eDeep, Edground and Wagner Dalcin formed Brazilian House music label Grooveland in 2006. The label represents a broad range of artists and producers and showcases the best in Brazilian dance music. Many of the quality releases illustrate the unique Brazilian Soulful House sound.
This collection was mixed by Ars Domini who are vocalist and producer Ricardo Cassal, and DJ and producer Glauco Antonioli. Loving Soulful, Deep, Classic and Latin House, they teamed up to form a soulful chillout project and Ars Domini was born.
The first track is Portuguese producer Carlos Vargas' Summer Nights with Danny on vocals and Scott Diaz on production duty. Scott's mix has a chilled mesmerising beat that really encapsulates the summertime vibe of the track. Following on is Ars Domini track The Real Life with Rob Hayes doing the honours on production. More subtle than the original mix, this track has a moody dance beat and soft keys.
Track three Come Back from talented UK producer Paris Cesvette has Chicago production duo South of Roosevelt on the remix and Robert Carvalho on vocals. It is a bouncy cut with a garage feel and definitely one that will have the dance floor bouncing. Wondering from Citysounds! features soulful UK songstress Natasha Watts on vocals and 2Deep & Soul on the buttons giving us a smooth sultry vibe with warm subtle keys.
Next up track five is an upbeat song with heartfelt vocals – Elucinada de Prazer from Steven Stone featuring the wonderful voice of Brazilian vocalist Elisangela, followed by the deep dance groove of Going Nowhere from US maestro Matthew Bandy and Johnathan Houston.
Track seven sees Ars Domini again with bouncy Take It Back and Alex Cristiano on the remix. This is followed by the afro vibes of Canadian Jay Tripwire featuring ancestral specialist Boddhi Satva on the (Detroit) Delano Smith Transit Dub of Dema. Minimal, mesmerising and dreamy the deep vibe will take you to a faraway place in your mind.
Next we hear Affection from Andrey Brandao feat. Edmon Costa, Bruno Soares Sax – a delightful bouncy funk vibe with prominent sax. Then we experience the deep hypnotic feel of Jamon's spoken word vocal on 2012 track Deep Inside Ur Love from Brazil's Nayre Wiclef with Carlos Francisco on the remix.
Now for two highlights of the album. Track eleven is the latin vibe of SoulBasics Feat Kyla Sexton with Rest Your Mind (Justin Imperiale Remix), with exquisite vocals and classic guitar. Then the sweet, deep and soulful samba beat of Tarek & Ramirez feat. Cristina Soto – Say Goodbye (Steve SoulBasics Remix) will pulsate through the soul of the dancers on the floor.
The last track comes from BSC feat Rainy Payne with Less Than (DM 70's Love Groove Mix), a well constructed and mesmerizing poetic track that is a fitting finale to this collection.
This album covers a broad palette of performances and production styles and will have something to please all lovers of the vibrant and passionate warmth of Brazilian House music. A real treat for the senses that will resonate through the heart of every listener.
Click here to buy 10 Years of Grooveland
By Sue McDonald (Twitter: @SueVMcDonald)
© Sue McDonald 2016. Unauthorized use and/or duplication of this material without express and written permission from the author and/or owner is strictly prohibited. Excerpts and links may be used, provided that full and clear credit is given to Sue McDonald with appropriate and specific direction to the original content.