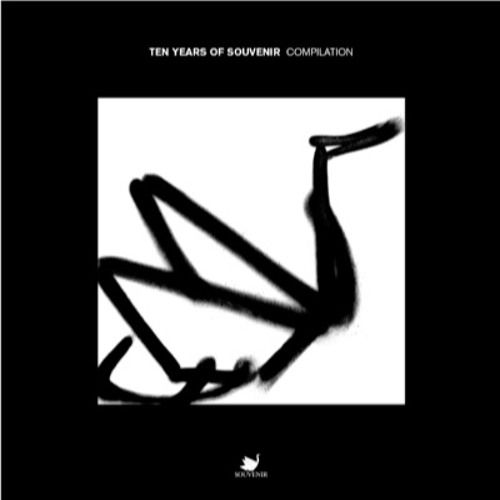 Various Artists - 10 Years of Souvenir Compilation
Wow, 10 years already – time flies by so quickly. I'm really happy that we came that far..
It was a bumpy adventures road but it was also worth every second.
So many great artists, so much great music – I don't want to put anybody in the spotlight here and I'm proud of every track and every artist who came on the ride with us.
Thank you very much guys – lets dance towards the next 10… – Ali Tiefschwarz
Souvenir are very happy to celebrate their 10th year anniversary of Souvenir Music this year and in a world where everyone is longing for Andy Warhol's' fifteen minutes of fame', where the musical landscape is defined by short-term hypes, fast-paced trends and stars fading the second they rise, 10 years seem like an astronomical era. Berlin-based Souvenir label is amongst the few electronic music labels who have proven they are here to stay.
For label-owner and DJ Ali Schwarz, who co-founded Souvenir with his brother and Tief-schwarz -partner Basti, this year marks a turning-point in two ways:
10 years of Souvenir and 25 years of DJing – 2016 gives us more than one reason to pop the corks!
​ ​
Founded in 2006, Souvenir entered the stage in the midst of the changing electronic music scene in Berlin. electronic dance music, House or more technoid tunes – Souvenirs approach to music was always shaped by an intuitive sense of quality, keeping their pace always where least expected. Sharing the music they love with like-minded people they admire, Tiefschwarz created Souvenir as a matter of the heart. Souvenir means family and has always been true to a pure, oldschool label philosophy, as it is a platform for long-term musical companions and aspiring newcomers alike. Looking back at great releases
like Ruede Hagelstein's hymn "Emergency", floorfiller "Triple S" by Chris Wood & Meat or the Tiefschwarz collaboration with Jaw for "Hurricane", the list of Souvenir's outstanding tunes is not exactly a short one. With close friends like David K ., Kenny Leaven or CYRK Souvenir-universe circles around some of the most relevant artists in recent club music – to name but a few.
Call it superstitious or not, but our 10th Anniversary Compilation will be released under the lucky number #77. Besides long-term partners of Tiefschwarz like Chris Wood & Meat, Re.You, Ruede Hagelstein , Kenny Leaven, Maher Daniel & Audiofly, Jules & Moss, David K , CYRK and Raw District, the fine selection also features newcomer duo Mathame, as well as Dixie Yure, Ioakim Sayz, Cesare vs Disorder, Thomas Von Party & Thomass Jackson.
On top of that, the Souvenir crew is ready to hit the road with an ex-tended club tour this year – stay tuned!

Tracklist:
01) Ruede Hagelstein – Eago
02) Tiefschwarz – Downstairs
03) Audiofly & Maher Daniel – Cluster Of Stars
04) Cesare Vs Disorder – Last Night feat Filo Franchi
05) Thomas Von Party & Thomass Jackson – Boneyard Fluteman
06) David K – Purple's Trip
07) Dixie Yure – Mapache (Ulises Gomez Tribute)
08) Re.You – Afraid
09) Chris Wood & Meat – Here It Comes
10) CYRK – Every Now And Then
11) Kenny Leaven – Rosbigalle
12) Mathame – Andante
13) Raw District – Nocturnal Alley
14) Jules & Moss – With Everyone
15) IOAKIM SAYZ – Taboo

First confirmed shows:
13.05 / Watergate / Berlin, DE
15.05 / Bayou Festival / Erfurt, DE
24.06 / Secret Location / Dortmund, DE
25.06 / Gewölbe / Köln, DE
20.08 / morokko loco, morokko TBC
02.09 / Robert Johnson / Offenbach, DE
00.09 / badaboum, paris, FR TBC
http://souvenir-music.com/
https://soundcloud.com/souvenir-music
https://www.facebook.com/souvenirmusic
https://www.facebook.com/tiefschwarzofficial/?fref=ts