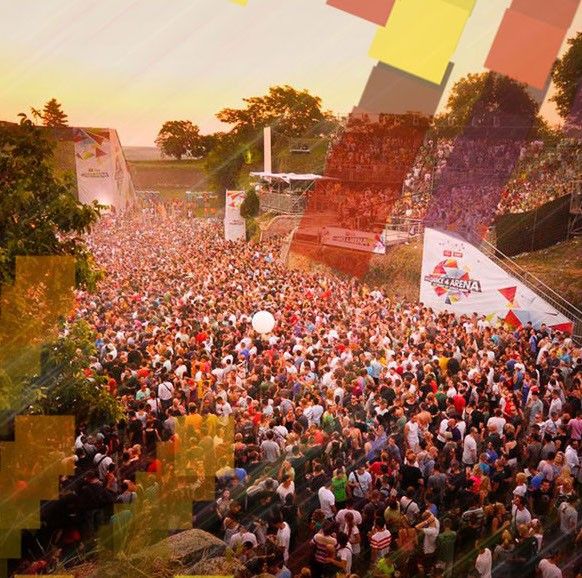 15 Years of Exit
SIMIAN MOBILE DISCO, KIM ANN FOXMAN & WAFF HEADLING EXIT FESTIVAL PARTY
After a hugely successful event last year, EXIT and Ministry of Sound join forces again to create another outstanding party on Saturday 20th June. Headlining the night will be Simian Mobile Disco, joined by Kim Ann Foxman, wAFF and SE7EN in the main room, The Box.
James Ford and Jas Shaw aka Simian Mobile Disco burst onto the scene with their 2007 album 'Attack Decay Sustain Release', which garnered rave reviews and firmly established SMD as credible purveyors of electronic music. Their fourth artist album release, Whorl, was written over the course of three days using only analogue synthesizers and a sequencer and was also largely recorded in the Californian dessert in front of a live audience. The duo are now set to return to the dancefloor at Ministry of Sound ahead of their back 2 back DJ set with Roman Flugel at the Exit Festival, 9-12 July 2015.
NYC house heroine Kim Ann Foxman will support Simian Mobile Disco. The former Hercules & Love Affair singer has returned to DJ'ing and has become one of the most respected underground DJs thanks to her love of raw electronic beats and New York house music. Following recent collaborations with artists such as Maya Jane Coles and Ron Jason, and the release of her remix of 'Sunset' by The XX on Young Turks, she is now back in the studio, recording for her own label, Firehouse.
wAFF will be bringing his distinctive blend of techno and house to the box. Since he started laying down beats at the age of seventeen, he has released tracks on Hot Creations, Hottrac and Cocoon. Last month he dropped his latest EP, Fat Gash, which has received rave reviews.
Supporting will come from SE7EN, who over the last couple of years has played at festivals like Exit, Reading and Leeds, and Glastonbury as well as holding down several residencies in London.
Over in 103, disco and funk rules with Purple Disco Machine and Chesus.
Advance ticket price: £18
11pm – 7am
Ministry Of Sound
103 Gaunt Street, London, SE1 6DP
Tube: Elephant & Castle