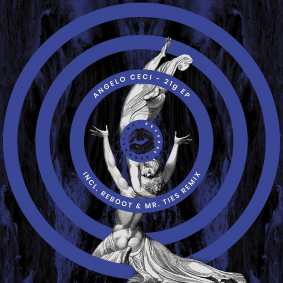 Angelo Ceci - 21g EP
After a head turning debut, Guendalina Records follow it up with another fresh EP of house and techno innovation from Angelo Ceci, with remixes by established names Mr Ties and Reboot.
A skilled musician and drummer, Italian producer Angelo puts atypical and overwhelming sonorous impact at the heart of his live performance, always trying to shake the most secretly hidden emotions of his listeners. He is inspired by the broad likes of Aphex Twin and Placebo, Pink Floyd and Moderat, and that shows in his refreshing techno sound.
The opener here is the arresting 'My Dear Fall', a dark techno track with punchy 909 drums down low and heavenly pianos up top. The duality creates real tension and is sure to have an epic effect in the club. The vital and hard to characterise Mr Ties is one of the day's most exciting producers and one of Berlin's best DJs. He mixes up sounds, scenes and genres in unique ways and his standout remix is a fat techno roller with infectious drums and the sort of playful melody that gets hands in the air.
The excellent 'Melan' shows a different side to Ceci's sound, with hypnotic, trance including pads softening the edges of a cantering techno line that echoes the machine warmth of Detroit, while mind melting synths burrow ever deeper. This one gets remixed by Reboot, the long-standing talent with releases on Cadenza and Cocoon. His version flips the original into a percussive, Latin laced track with many different rhythms and a real sense of live drumming that makes you shake your body.
The brilliant '21 Grammi' is eight off-kilter minutes of rugged drum programming that ties you in knots. It's expressive minimalism that oozes soul and is perfect dancing material. Last of all, 'Rope' is a high-pressure techno track that gets you on your toes and has subtle acid lines dancing round with soulful pads. It's absorbing stuff for body and mind.
This is a high tempo EP of interesting techno sounds and killer grooves that will inject real life and soul into any dance floor.
Tracklist:
1. Angelo Ceci – My Dear Fall (Original Mix)
2. Angelo Ceci – My Dear Fall (Mr Ties Remix)
3. Angelo Ceci – Melan (Original Mix)
4. Angelo Ceci – Melan (Reboot`s Puglia Meltdown Rework)
5. Angelo Ceci – 21 Grammi (Original Mix)
6. Angelo Ceci – Rope (Original Mix)