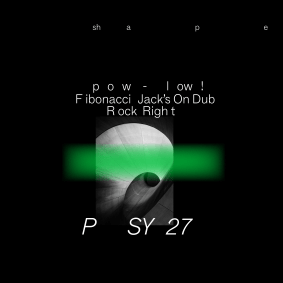 Pow Low - Fibonacci EP
Pow-Low returns to his PSYCLE. Imprint this November with his 'Fibonacci' EP, comprising five originals from the Zürich based producer.
Pow-Low has many experiences as a producer across all genre's having graduated from Full Sail University in his musical studies, worked under Jazz star Pierre Favre's teaching and worked as an in-house engineer at the legendary Record Plant in Hollywood, producing metal act Coroner amongst running his own Hertz events in Zurich and many other accolades over the years.
Here we see Pow-Low deliver a fresh five track EP in the shape of 'Finobacci' and the title track leads with jazzy drums, thunderous subs and ethereal pad textures and chords based on the mathematical fibonacci-sequence, which describes all organic growth, before 'Jack's On Dub' edges even deeper via murky atmospherics, winding synth lines and intricately unfolding percussion with the addition of a voice-sample featuring Jimmy Jam (The Time) talking about two legendary musical siblings. Their name is "coded" in the track title.
'Rock Right' is up next, taking a more peak-time approach with a swinging drum groove, choppy stabs and modulating vocals at its core, 'Beelzedub' then strips things back to glitched out percussion, mind-bending synth whirrs and robotic chimes before 'Sunking' closes, originally produced and sang by Pow-Low for his band-project No Religion" (EMI/Virgin). The song was written as a soundtrack to the eclipse of the sun in 1999 unfolding half way through before the total eclipse, the track is composed in synchronicity to the sequence of this wonderful spectacle of nature.
Pow-Low's 'Fibonacci' EP is out on PSYCLE. 1st November 2018.
Tracklist
Fibonacci
Jack's On Dub
Rock Right
Beelzedub
Sunking