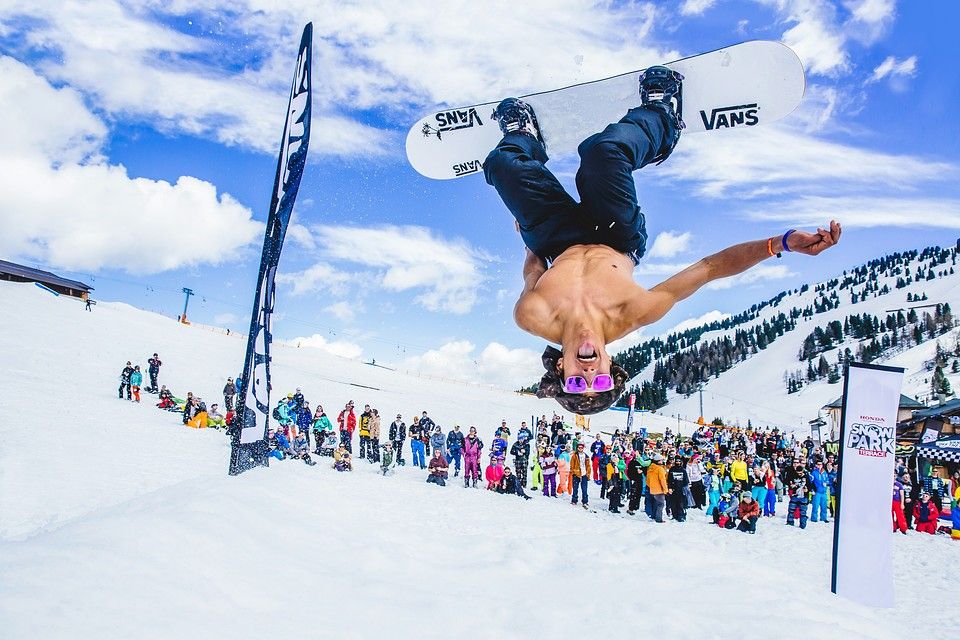 2MANYDJs & MORE COMPLETE SNOWBOMING 2015 LINE-UP
Snowbombing today announces the last wave of acts for 2015, rounding off one of the biggest line-ups in the festival's history. Belgium brother's 2MANYDJ's are bound for the mountains alongside other headliners Skrillex, Fatboy Slim and Rudimental.

Now in its sixteenth year, Snowbombing is Europe's largest, longest standing and most unique snow and music festival, taking place from 6th-11th April 2015, in the picturesque alpine alcove of Mayrhofen, Austria. This year, Snowbombing 2015 will host over 100 world class acts playing in unique venues along with over 80 parties across the week.

With mountains as a perimeter fence, Snowbombing provides some of the most awe inspiring festival venues in the world; including a sky-high igloo perfect for a snowy rave, 6,000 feet above sea level, enchanted forest, a street party, clearings complete with lasers, cosy alpine lodges and medieval barns posing as Austria's answer to Fabric.

Snowbombing is delighted to welcome 2ManyDJ's back to the snowy stage this year for their fourth festival appearance. The Dewaele brothers have been pioneering the genre-ignoring, mash-up movement for years. Their must-see sets and knack for mixing rock with techno and hip-hop has set them apart as firm favourite on the festival circuit.

Snowbombing also welcomes electronic, jazz and Latin house maestro Guti (Live) and drum and bass's finest STAMINA MC as new acts alongside American-born British DJ and producer Secondcity, best known for his song "I Wanna Feel", which reached number 1 in the UK along with a string of unmissable DJ Sets from Crazy P across the week.

Further acts include Capulet, Ceri, Derek Martin, Jacques Adda, Jamie Roy, Laurie Neil, Lewis Boardman, Matt Morey, Mark Craven, MC ID, Mr Doris, Oli Hackett , Ryan Monaghan, Sebastian Spring, Stephan Porter, Steve Lynam, Tippa, Tonn Piper, Wax Wreckaz


New for 2015 Hot Since 82 plans to kidnap Snowbombers in plain sight.
TAKEN is a new concept from one of dance music's most exciting talents Hot Since 82. Adding elements of immersive theatre, kidnap and surprise to the normal party concept, an assault in the senses awaits the chosen few.

Festival goers can register to be TAKEN by Hot Since 82 to a top secret location in the mountains where the lines between what's real and unreal begin to blur. You will be TAKEN by masked figures, blindfolded and put on a bus, destination unknown. Register (from Friday) to be TAKEN: www.snowbombing.com

Also new for 2015 is Snow-ga, a blend of yoga and dance – another festival first! Taught by ex BBC 6 Music DJ and music journalist Jo Youle the sessions will be set to the soundtrack of a DJ set while taking in the breathtaking scenery each day at the top of the mountain.

Festival-goers will have the chance to join the Snow-ga sessions every day from 12am on the piste. Stretch out, relax and unwind from the party every morning with a picturesque view of the snowy Alps.

The 2015 Snowbombing Road Trip is also now on sale. The Road Trip which is Europe's biggest rally starts in London with over 150 cars and over 400 snowbombers, travelling through 5 countries with a stop over in Luxembourg to gear up festival-goers who want to take a more scenic route to the festival. The cars will arrive in convoy to a welcome procession and streets lined with cheering locals- a once in a lifetime experience!

Olympic hero Eddie the Eagle is a regular face at Snowbombing on and off the piste and the British ski jump holder will return to Mayrhofen this year to coach festival goers on the slopes.

The number 1 fitness guru Mr Motivator is also returning to Snowbombing to host his famous warm down routines at 4pm every day.

So if dancing the night away to a picturesque alpine backdrop, listening to some of the world's most groundbreaking music acts, relaxing in a luxury spa or just skiing on the fresh white snow appeals, then join Snowbombing for what's set to be the most incredible year yet.

Prices start from £334 for 5 nights' accommodation and festival wristband. Visit www.snowbombing.com

For a taste of the action check out the 2014 highlights video:


NEW ACTS CONFIRMED:

GUTI (LIVE) – SECONDCITY – CRAZY P

CAPULET – CERI – DEREK MARTIN – JACQUES ADDA – JAMIE ROY – LAURIE NEIL – LEWIS BOARDMAN – MATT MOREY – MARK CRAVEN – MC ID – MR DORIS – OLI HACKETT – RYAN MONAGHAN – SEBASTIAN SPRING – STAMINA MC – STEPHAN PORTER – STEVE LYNAM – TIPPA – TONN PIPER
WAX WRECKAZ

RUDIMENTAL . SKRILLEX

BASEMENT JAXX . CARL COX . FATBOY SLIM

GORGON CITY . MK . SIGMA . SUBFOCUS & (MC ID). WILKINSON .

ANDY C – ALL NIGHT * PERFORMING SUNDAY 5 APRIL.

TIER 1 A-Z
2MANYDJS (DJ SET). ARTIFACT . A-SKILLZ . ALEX METRIC . ALEX NIGGEMANN . ÂME . ANJA SCHNEIDER . ARTWORK . BENJAMIN DAMAGE . BREAKAGE . CADENZA . CASSY . CARL CRAIG . CITIZEN. CRAZY P (DJ SET). CRISTOPH . THE CUBAN BROTHERS . DAMIAN LAZARUS . DANNY BYRD . DAVID RODIGAN MBE. DENSE & PIKA. DISCIPLES . DOORLY . DOC DANEEKA . DUBFIRE . DUB PISTOLS . EATS EVERYTHING . EJECA. EROL ALKAN . ETHERWOOD . EWAN PEARSON . FRICTION . GOTSOME. GUTI (LIVE). HANNAH WANTS . HEIDI . HENRIK SCHWARZ . HOT SINCE 82 . HUXLEY . IDRIS ELBA. JACK BEATS . JACKMASTER . JAMES ZABIELA . JENNIFER CARDINI . JOB JOBSE. JUSTIN MARTIN. KONSTANTIN SIBOLD . KRAFTY KUTS . LEWIS BOARDMAN. LOADSTAR . LONDON ELEKTRICITY. MARC ROBERTS . MARIBOU STATE . THE MARTINEZ BROTHERS . MEFJUS . METRIK . MJ COLE . MODESELEKTOR . MY NU LENG . NORTH BASE . NU:TONE . OLIVER DOLLAR . PAUL WOOLFORD . PBR STREETGANG. PEDESTRIAN. RALF KOLLMANN . RANDALL. RE.YOU . RODRIGUEZ JR. RUEDE HAGELSTEIN . SAM DIVINE . SASSE . SEB CHEW. SECONDCITY. SHY FX . SONNY FODERA . STANTON WARRIORS . TENSNAKE . TIEFSCHWARZ . TODDLA T . TOM DEMAC T.WILLIAMS . VENUM SOUND . WAYWARD. WAZE & ODYSSEY. WILL SAUL . YOUSEF.
TIER 2 A-Z
AARTEKT . APEXAPE . CAPULET . CERI . DADDY NATURE . DEREK MARTIN . DJ CHEWY . ED NORRIS . GAZ ULTRA . JACQUES ADDA . JAMIE ROY. LAURIE NEIL . LELE SACCHI . MARK CRAVEN . MATT MOREY. MAX POWA. MR DORIS. OLI HACKETT. RAFAEL DA CRUZ. RYAN MONAGHAN. SEBASTIAN SPRING. STAMINA MC. STEPHAN PORTER. STEVE LYNAM. THE FARM YARDIES. TONN PIPER. TIPPA. WAX WRECKAZ.