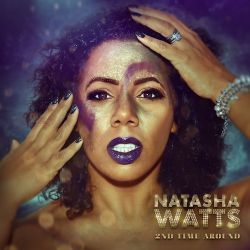 Natasha Watts - 2nd Time Around
Since unleashing her debut self titled artist album in 2014, award winning UK Soul Diva Natasha Watts' musical career has sky-rocketed! Primed to woo us once again with her sensual tones and infectious songwriting skills, Natasha reveals her brand new body of work, '2nd Time Around' – a stunning modern Soul album produced by SedSoul founder Rob Hardt (Cool Million) and acclaimed UK producer Richard Earnshaw.
'2nd Time Around' journeys through all the Soul spectrum from Soulful groovers including 'Easy Come, Easy Go' (co written By JD73' s Dan Goldman) and 'Waited For You'; intimate slow jams 'Let Go', 'Love 'Who You Are' and 'Breath'; the sweet Swing vibes of 'Lonely', the Funk riddled bass led 'Hit The Spot' (co written by David Doyle), and the hip swinging feel-good dazzler 'Make It'. Also on the album Natasha teams up with UK Soul giant Omar on the ravishing duet 'Insatiable'. "It was a bucket list wish for me to work with Omar" says Natasha, "and I was nervous about working with him at first, but we gelled very quickly and the ideas flowed super fast". Closing out this sensational new journey from our Soul Sista is the breathtakingly ballard 'Everything', where Natasha delivers a moving heartfelt vocal drizzled over a classy piano.
"Wow, what can l say? I am here again for another album and can't believe l have gotten to do this all over again! Not only have I been able to work with some amazing people on this album, my heart is filled with love for the belief they have in me!" – Natasha Watts
Sampler Track Listing
1 Waited For You
2 Insatiable with Omar
3 Love Who You Are
4 Make It
5 Breat