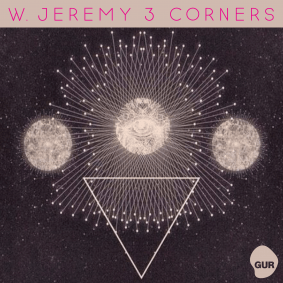 W. Jeremy - 3 Corners EP
Get Up Recordings label co-founder W. Jeremy returns to his label with an acid-tinged house EP entitled "3 Corners" this November.
NYC producer and co-owner of Get Up Recordings has been a house music fanatic from a very young age – with his hard work and relentless energy earning him the utmost respect within the US house music scene. He launched Get Up Recordings in 2010 with label partner Christy Love, who were together known as 'House of Stank' – a renowned DJ collective known for their killer productions and parties inviting some of house music's most influential figures. Within W. Jeremy's solo career, he's released a handful of EPs on his Get Up Recordings, remixed Terrence Parker and JD Samson tracks and has played at clubs and festivals all over the US.
'Submariner' starts things off with zappy synth stabs, uplifting passes and powerful percussion before 'Midday Dreams' employs a fluid chord progression and a dreamy lead synth combined to carry the energy of the track.
'Suzy in C Minor' then finishes things off with with lo-fi acid melodies, clattering drums and modulated grooves providing an effervescent end to the EP.
W. Jeremy '3 Corners EP' is out on Get Up Recordings 26th November 2018.
Tracklist:
1. Submariner (Original Mix)
2. Midday Dreams (Original Mix)
3. Suzy in C Minor (Original Mix)