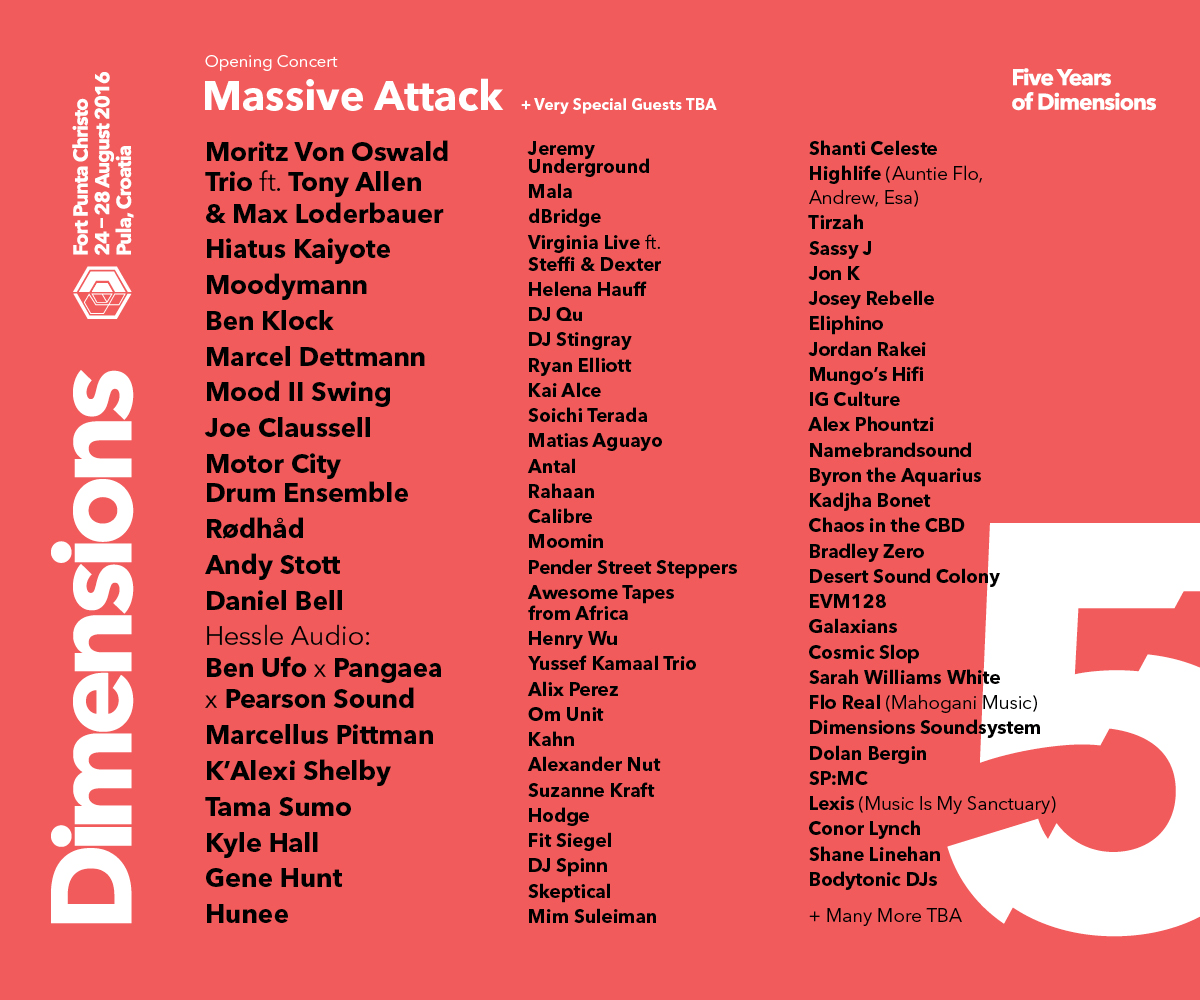 5 years of Dimensions Festival.. lineup announced
In the last five years Dimensions Festival has built a solid reputation as one of the worlds leading electronic parties, each year uniting the most iconic artists from techno, disco, house, world and beyond. Marking it's fifth birthday with it's most impressive undertaking to date, Dimensions Festival can now reveal the first names for 2016, including cult UK institution Massive Attack as headliners for the opening concert in the stunning Pula amphitheatre.
From Wednesday 24th 'til Sunday 28th, world-class acts joining include future-soul quartet Haitus Kaiyote and the experimental jazz-fusion group, the Moritz von Oswald Trio with Tony Allen and Max Loderbauer, plus Detroit king Moodymann, and techno dons Ben Klock, Marcel Dettmann and Rødhåd. Timeless icons from the house underworld bring their classic selections to the Dimensions fort, with definitive 90s duo Mood II Swing, Body & Soul figurehead Joe Claussell and Chicago boss Gene Hunt. On top of all of this, festival goers can find more mind-bending genre explorations in the shape of Hessle Audio, Calibre, Om Unit and more. Selling out last year in record time, Dimensions Festival has become an unmissable date in the diary for any discerning music head. For a hint at whats in store, watch the 2015 highlights: http://bit.ly/1nzoNuI
Paying homage to the Chicago, NY and Detroit legends that have shaped the sound of the underground, Dimensions Festival bring a host of icons to the fort, with classic sets from the epitome of Detroit DJ Stingray and one of the most-loved duos in dance, Detroit veteran Marcellus Pittman, purist hero and Dimensions regular Moodymann, old-skool master Daniel Bell, plus Mr K-Alexi, and NDATL Muzik boss Kai Alcé make up some of the extra-heavyweight artists on board. Contrast these classic artists with more recent US names (Kyle Hall, Fit Siegel and Byron the Aquarius), and we have a line-up that covers many bases in underground dance history. Also a key part in proceedings are the techno elite, with Ben Klock, Rødhåd, and Marcel Dettmann, as well as out-of-box experimental shows on a more left-field tip from Helena Hauff, Andy Stott and the Hessle Audio crew, made up of Ben UFO, Pangaea and Pearson Sound.
Touching on the bassier side of electronica, DnB, footwork and dub are Kahn, Om Unit, Calibre, Mala, DBridge, DJ Spinn, Alix Perez, all ready to explore darker corners of club music, and Dimensions wouldn't be Dimensions without it's fair share of explorative, avant-garde artists, whether boundary breaking live acts or DJs dabbling in more breakthrough, leftfield or revival genres. Repping for outsider and world sounds are Awesome Tapes From Africa, the Youssef Kamaal Trio presented by Henry Wu, label / party starters Highlife and Cómeme head honcho Matias Aguayo. Unmissable live sets come from Mim Suleiman, and funk-infused synth Galaxians, not forgetting the headline show from Massive Attack in the historic Pula amphitheatre.
Sets from global tastemakers are plentiful, with Dutch party-starter Motor City Drum Ensemble, Ostgut Ton's first lady Tama Sumo and true-school advocate Jeremy Underground all part of the Dimensions 2016 crew. Also drawing parallels from the worlds of jazz, disco, techno, house and all in-between are Antal, Moomin, Ryan Elliott, Hunee, Soichi Terada, Sassy J, Pender Street Steppers all bringing their trademark, flamboyant flavours to the fort. Innovative electronic hybrids come in the form of Tirzah, Suzanne Kraft, Jordan Rakei and Virginia feat. Steffi and Dexter, whilst vocalists Kadjha Bonet and Sarah Williams White present some soul-searching, intimate live sets. A special part of the Dimensions 2016 programming plays on revival of the broken beat genre. Pioneers and newcomers of the genre play, including IG Culture, Namebrandsound, Alex Phountzi and EVM 128 all flying the flag for this London UK soul fusion.
Building it's foundation on a close family of artists, Dimensions is happy to announce the welcome return of the DJs DJs, the crate digging selectors who've crafted the Dimensions soundtrack. NTS main man Alexander Nut, Hoya:Hoya affiliate Jon K, the wonderful Josey Rebelle, BRSTL boss Shanti Celeste, Eliphino, Hodge, Cosmic Slop and Rhythm Section's Bradley Zero all return, alongside sets from the Dimensions Soundsystem itself. Dimensions Festival is an event inspired by soundsystem culture, and has built it's foundations on using impressive, high quality sound. Expect unparalleled systems of the highest specification utilised to create the ultimate sensory experience for festival-goers and artists.
Set in the beachside location of the abandoned Fort Punta Christo, Dimensions Festival finds it's home in one of the most idyllic spots in the Adriatic. Visitors can strike the balance between raving all night and relaxing all day, or can make the most of the daytime fun; vibing boat parties, CDR workshops, beach parties, and plenty more to explore. With an advance sell-out last year, and tickets moving quicker than ever, it's advised to secure tickets asap. To book your place, head to : dimensionsfestival.com/
Nearby Pula is easily accessible by taxi from the festival site, and is complete with excellent transport links, apartment accommodation and historic sites. For those wishing to camp on-site, or for more info on accommodation options including boutique camping, head to dimensionsfestival.com/accommodation/ to look at what is available. Flight options from the UK are to Trieste, Ljubljana, Zagreb, Venice Treviso or Venice Marco-Polo airports, and then a transfer. Coach packages and flight packages are all available to view / purchase at dimensionsfestival.com/travel/. Keep your eyes on the Dimensions channels for further news on line-up, boat parties and artists, see you at the fort!
LINE-UP TO DATE (in alphabetical order)
Alex Phountzi – Alexander Nut – Alix Perez – Andy Stott – Antal – Awesome Tapes From Africa – Ben Klock – Bradley Zero – Byron the Aquarius – Calibre – Chaos in the CBD – Cosmic Slop – Daniel Bell – DBridge – Desert Sound Colony – Dimensions Soundsystem – DJ Qu – DJ Spinn – DJ Stingray – Dolan Bergin – Eliphino – EVM 128 – Fit Siegel – Flo Real – Galaxians – Gene Hunt – Helena Hauff – Henry Wu (DJ) – Henry Wu presents Yussef Kamal Trio – Hessle Audio : Ben UFO, Pangaea, Pearson Sound – Haitus Kaiyote – Highlife : Auntie Flo, Andrew, Esa – Hodge – Hunee – IG Culture – Jeremy Underground – Joe Claussell – Jon K – Jordan Rakei – Josey Rebelle – (Mr) K'alexi Shelby – Kadjha Bonet – Kahn – Kai Alcé – Kyle Hall – Lexis – Mala – Marcel Dettmann – Marcellus Pittman – Massive Attack – Matias Aguayo – Mim Suleiman – Mood || Swing – Moodymann – Moomin – Mortitz Van Oswald – Moritz von Oswald Trio feat. Tony Allen & Max Loderbauer – Motor City Drum Ensemble – Mungo's Hi Fi – Namebrandsound – Om Unit – Pender Street Steppers – Rahaan – Rødhåd – Ryan Elliott – Sarah Williams White – Sassy J – Shanti Celeste – Skeptical – Soichi Terada – SP:MC – Suzanne Kraft – Tama Sumo – Tirzah – Virginia Live feat. Steffi and Dexter
TICKET INFO
www.dimensionsfestival.com/tickets || From £140 // €190 // Deposit scheme available
TRAVEL / ACCOMMODATION INFO
www.dimensionsfestival.com/travel/ || www.dimensionsfestival.com/accommodation/