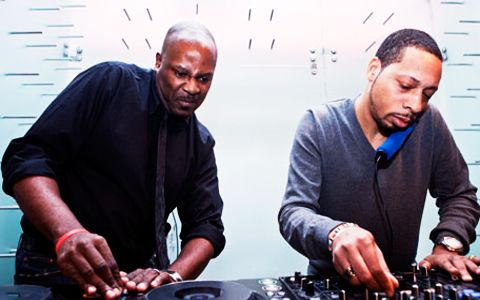 60 Seconds with… DJ Spen & Karizma
DJ Spen and Karizma – you both broke out from Baltimore's Basement Boys label and group of DJ/Producers and can you tell us how you first came to be involved with the Basement Boys, and what are your favourite memories or highlights from this time?
DJ Spen: Working with Karizma on Ann Nesby's "Praisin' His Name" is right up there on my highlights. I remember walking into the studio and not feeling very well, and then walking up to the mic and performing like a pure professional. Ann Nesby did 3 different takes, but the first take was the one! We were truly amazed at how well she performed.

Karizma: I think for me working on "The Power" and Shawn Escoffery's "Days Like This" Remix. Both really stick in my mind because "The Power" was my first solo single and "Days Like This"…well I remember Shawn coming straight into the studio from the flight and rocking the vocals first take…!
Mind you we had different background vocals…and both experiences were priceless 🙂
On leaving the Basement Boys, you both decided to go off and work on your own projects and what inspired you to make that move and how easy was it for you?
Spen: It wasn't easy for me because I thought that the Basement Boys would be a part of everything I did for the rest of my life. I also remember quite a few record labels that didn't take me seriously as a producer because I really didn't have a track record of working alone. I eventually got there, but it was a tough road and never give up!

Karizma:I t was a case of sometimes you grow together or apart creatively. It was my time to develop what I would become both musically as a DJ and Producer.
Did you both set up your own label as soon as you left and was this always part of your master plan?

Spen: It wasn't necessarily a part of my plan. When I left the Basement Boys I thought I might go back into Radio full time, or put my Bachelors Degree in English to good use. There really wasn't a master plan when I left, but as usual, God had the master plan for me all along 🙂

Karizma: It was never my plan to have a label or set up one. I'm creative and that's all i want to be. I was lucky enough to find a friend and a label that supported my sound so that's all I've ever wanted and it works for me.
What's the idea behind your label and if you had to pick 3 releases what would they be and why these?
Spen: The idea behind Quantize Recordings was to continue making good, solid, soulful dance records. Tracks Like Ziggy Funk's "What You Afraid Of", Spencer Morales' "Without Your Love", and Sheila Ford's "Why Cant You See" are amongst my favourites because they are classically focused while remaining fresh at the same time.

Acknowledged by your peers worldwide and also Defected Records who invited you to showcase your sound on their "House Masters' legends series, do you enjoy putting things like this together and are there plans for more joint compilations?

Spen: To be honest, we don't know from a production standpoint what the future holds. I do believe that Karizma and I have so much more to offer to the world as a unit and it's just a matter of God's timing. I expect BIG things in the future.

Prolific producers, what are you currently working on?

Spen: I am working on projects with Pauline Henry, Sheila Ford, Reelsoul, and another project with the Jasper Street Company. You'll also see Richard Burton and Tracy Hamlin on fresh new tracks coming outta the Quantize Camp.
Karizma: I'm working on the next Karizma album and various other collaborations.

Hailed individually as Djs, you both also spin together, and what's so special when you're playing back to back and what kind of set up do you use these days?
6 CDJ2000s and 2 Pioneer 900 mixers. Simple – lol:)
We both love to rock a crowd and it's on when we get together which is kinda rare these days. Watch out London.
If we had a look in your current hot box of tunes, what would be in your TOP 5 and are there any producers that you're particularly tipping right now?
Spen tracks:
'Rainbow' – Black Motion
'Troublenova' – Paul 'Trouble' Anderson
'I Got Jesus' – Marvel Vogel
'The Cure' – The Rhythm Seasions
'Work It Out' – Karizma

Producers are Louie Vega, Rhemi Music, Reelsoul, and Man Without A Clue. They're all doing the job for me at the moment.

Karizma tracks:
'Work It Out' – Karizma
'I'm The Best – Diviniti
'Seven Steps' – Crackazat
'Hyenah' – Fire feat Kissey
'I Say' – Kaytronik
Producers I'm feeling these days are Tall Black Guy, DJ Harrison, Demuir, Lay-far, Hugo LX, Stro Elliot, Red Rack Em, Marcel Vogel and Nachtbraker to name a few!

Both of your are playing at Egg London's annual Halloween party, Hollywood Forever inspired by the famous LA cemetery, and if you had to come as your dead idol who would it be and why?

Definitely Jim Kelly!!!! He was a bad king fu mutha shut yo mouth!!!!
Karizma: Prince…Dude was the truth!
And before you leave us what should we be listening to as we head out the door?

Spen:Any and everything!!! The real Deepah Ones are gonna be at Egg London on Saturday. DON'T SLEEP!!!

Karizma: Ditto what Spen said LOL 🙂
DJ Spen and Karizma headline the Terrace at Halloween's Hollywood Forever party alongside Brazil's Gui Boratto and L_cio Live, and Manu Gonzalez in the Main Room on Saturday October 29th at Egg London. All info on www.egglondon.co.uk