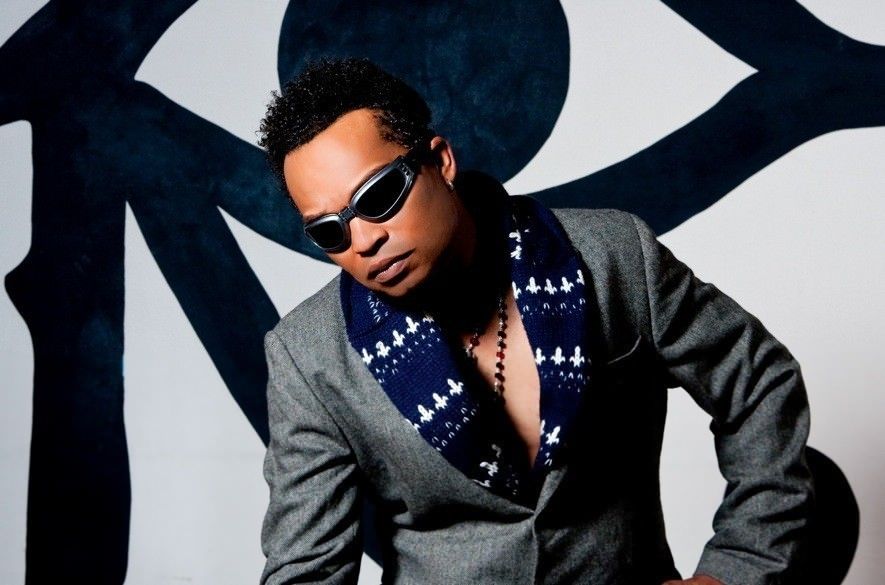 60 Seconds with… Gerideau
ihouseu.com caught up with US vocal star, Gerideau, back in the UK to headline the Back To 95 13th Birthday event on Saturday March 1st alongside Matt 'Jam' Lamont, Norris 'The Boss' Windross, Ramsey & Fen, MCs Creed and Buzzard and many more at Club Colosseum. One of house and garage music's true originals, Gerideau talks about his classic anthems such as 'Masquerade', 'Take A Stand for Love' and 'Swing Low' as well as how he discovered house music, working with Adamski, the buzz he gets still from performing and what's new in his world.
Are you looking forward to coming to play at the Back To 95: 13th Birthday Party on March 1st at Club Colosseum and why?
I am absolutely looking forward to headlining the Back To 95 Birthday party on March 1st – I've heard they have a really appreciative crowd that know and love their music. I love London and its people and it's great to be back at the landmark London venue, Club Colosseum, one the most fabulous clubs I've had the pleasure of performing at in the UK, back in the heyday of UK garage and vocal house.
Can you give us a hint of what to expect on the night
A rebirth of that energy from the beginning with some of my biggest songs sung from the heart. Every performance I give is unique and exclusive
Do you still get the same buzz seeing the crowd appreciate you?
That buzz from the crowd is priceless and something I love to experience as it lifts me up.
It's crazy, because throughout the years Experience has remained one of the biggest UK Garage tracks and to know and see the crowed both young and mature reactions is so overwhelming, it funny because my friends kids are shocked when I tell them that I sing Experience.
How did you discover House music?
My brother was a DJ in New York and I fell in love with the house sound when he first played it to me. I couldn't believe how many people around me were into house music too and the New Jersey family of producers, artists and DJs have always inspired and supported me. My first record 'Take A Stand For Love' with the Smack Production guys was another big discovery as it went round the world and is still being played to this day.
Your biggest anthems are …
'Masquerade' ,'Take A Stand For Love' and 'Bring It Back To Love'
What are the biggest and proudest moments of your career and why why
I love watching the videos of my songs and live shows on TV as they're out there in the history of dance music. I also feel proud when I listen to my songs being played on the radio – they each have their own story to tell.
Do you have one unforgettable memory during your singing career?
The love and appreciation from everyone I worked with and the listeners…
What are you currently working on and what¹s coming up for you in the next few months in terms of releases, shows etc
I've been flying over to England to work on a new style called 3 step waltz;-) Its got pumping energy with full orchestra strings and is a really exciting new sound, and a new release should be out quite soon. I am also working on another project showcasing my alter ego known as the Red Dragon house sound, which comes with some very interesting imagery.
How did you get into singing? What sounds and music of your childhood influenced your singing career?
I grew up in the church where my grandmother trained me and had me sing every Sunday. Because our voices are so similar and he is such a genius, Stevie Wonder was a major influence and I have sung many of his songs including 'Always'
First record you ever brought or earliest musical memory that springs to mind.
My first record was the Jackson Five's 'Destiny'
If you could make change through music, what three things would you change?
That's a very deep question lol 😉 but I would change hate to love, war to peace and not knowing to knowing
Who are your musical icons?
Michael Jackson, Stevie Wonder and Tina Turner
Away from music what other interests do you have?
spiritual enlightenment
How would you describe your sound and style?
I'm known for my emotive voice and its versatile which means I can sing across many different styles and sounds. I have worked with traditional vocal house producers, UK garage producers, the legendary dance producer, Adamksi and of course I've sung gospel and I express myself to the fullest.
Gerideau headlines the Back To 95 13th Birthday event alongside Matt 'Jam' Lamont, Norris 'The Boss' Windross, Ramsey & Fen, Hermit and many more on Saturday March 1st at Club Colosseum. All info at www.backto95.com