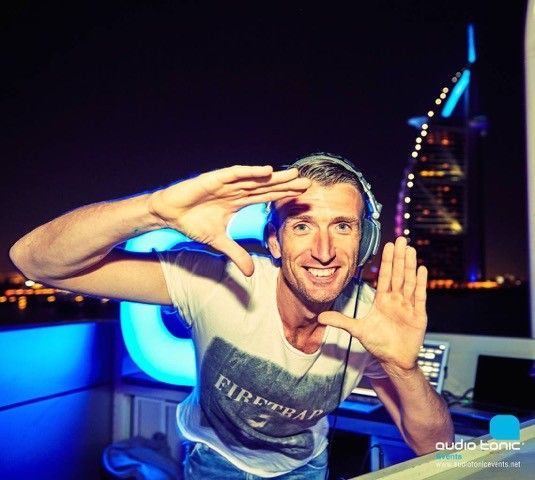 60 Seconds with Tobie Allen
60 Seconds with…. Tobie Allen
Bootleg Social head honcho Tobie Allen has compiled a unique collection of tracks for 'Ma'ana: Sounds of Dubai' bringing together a united collective of the most talented producers based in Dubai on one album for the first time by a Dubai based label.
Q – Hi Toby, Thanks for taking time to talk to us. What have you been up to recently?
Thank you kindly for supporting the project and having us on. This time of year here in Dubai not much can be done in the out doors due to the extreme heat so gives me more time to crack on with the label and upcoming projects that we have planned here. Got some great releases coming up on the label as well as expanding the Ma'ana brand. I also look after Ant Brooks 'Groovant Label' as label manager so that keeps me pretty busy as well.
Q – You have a brand new unique compilation album released later this month called Ma'ana:Sounds of Dubai. Tell us about it.
It came about after i moved here just over a year ago. Around 6 months back I had realized there was some great talent here in the region and not many platforms for this producers to get their music released. There a handful of local labels which are doing really well but after digging around and asking about I found out that an album of local producers hadn't been released by a local label. So I wanted to showcase the producers from Dubai to the world to show that there is more to the Middle East. Music can bring people together and thats really whats the album is all about.
Q – It's packed full of wicked tunes. 21 tracks to be exact. Was it hard to choose the track listing?
I was really humbled with the response. We had around 65 submissions from around 35 artists. The quality of the submissions was really good. The engineering, mix downs and layering of tracks was fantastic and it was a tough call on around 70 per cent of them to see what would fit. I wanted to cover as many sub genres of 4/4 music as possible and hopefully that shows in the final album.
Q – The album features some of your tracks and collaborations and you also DJ. Where do you prefer to spend your time? Behind the decks, In the studio or running the label?
As the years have gone by I really get a buzz from the label and business side of things. You never ever grow old of the buzz from playing music and that will always be with me. However theres something about testing your A & R skills and seeing what works and what doesn't when signing and releasing new music you find. Something that really had caught my attention in the last year is music publishing. So thats something I'm really concentrating on over the next year. Theres a great team at ROBA in Germany who look after my admin and i'll be working closer with them and hopefully learning more. Theres so many more channels that these talented artists can get rewarded and I want to help them grow and promote their talents.
Q -Do you have anything special planned for the launch?
I have teamed up with one of the leading nights here in Dubai called Shibuya. Its held at the No'1 voted club night in this years Hype Awards 2015. They have an amazing music policy and vision for Dubai clubland, where they champion the underground. Their followers and all the nights they hold is about the music and not the glitz and glam normally associated with the region. The event will be the season opener after Ramadan here on July 30th. Well be doing a press and listening launch to start the night off. Might be a drink or two given away as well so well worth coming down for ..!
Q – Is this album going to be the 1st in a series of releases and possibly events?
When I set out with this project I really was only thinking about doing one album. As the last couple months have unfolded I've been so humbled by the global response to this concept that I have decided to expand the brand to do another album over the winter period. Where it goes ill keep a secret for now but it will either cover more of the Middle East region or i'll split it into genres, like Ma'ana: House for example. Either way the main priority will continue to be all about the artist and promoting their talents. They are a talented bunch over here and its great to be working with all these great artists.
Ma'ana: Sounds of Dubai is released worldwide 20th July 2015