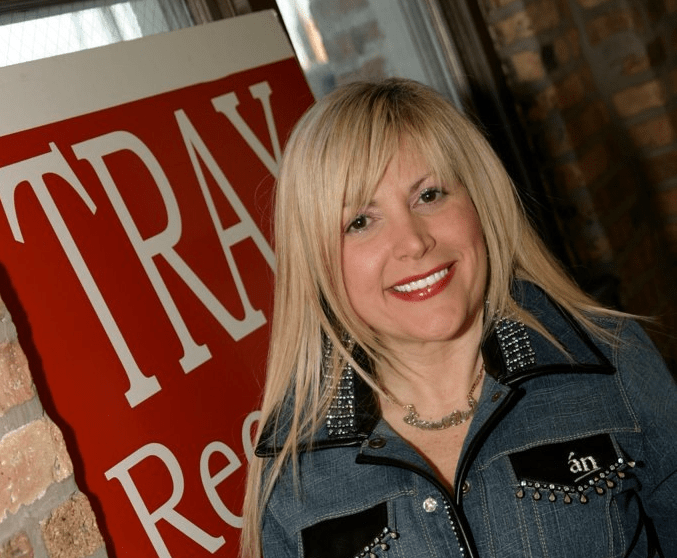 60 Seconds with… TRAX Records' Rachael Cain
Chicago's TRAX Records is generally acknowledged as the most influential house music label of all time; the original home to the likes of Frankie Knuckles, Marshall Jefferson, Farley Jackmaster Funk, Larry Heard, Robert Owens, Jamie Principle, Joey Beltram, Adonis, Frankie Bones, Ron Hardy, Joe Smooth, Jesse Saunders – the list goes on.

On 29th July, TRAX are putting on their first ever official club night, taking over the industrial-styled warehouse space of Nuits Fauves in Paris. Original TRAX artists on the line up are, Marshall Jefferson, Joey Beltram, Robert Owens and Screamin' Rachael. To mark this occasion we thought it was time we caught up with TRAX Records President and original co-founder, Rachael Cain a.k.a Screamin' Rachael, to find out more…
You've seen a global music movement grow since you started putting out house music on TRAX in the mid 80's. How is the house music scene better than it was back then, and how is it worse?
It is better now because now the whole world has embraced house. When we first began people made fun of us and and said that what we did was not even music! These days we have established a permanent place in music history and it's a wonderful feeling to be part of a movement that has changed the world. On the negative side FUCK EDM – I mean the term itself! House is the mother of them all. I believe that term was created to change the image and origins of House Music.
There have been so many amazing records released on TRAX. Can you choose one record that you are most proud of being involved with? What makes this one so special?
A record that I am extremely proud of is "Can You Feel It", the Creator version. Listen to the music. It is pure genius, and the message, "You, may be black, white, jew, or gentile it don't make a difference in our house and this is fresh". That is the credo of house music itself. The song embodies everything that we stand for. The idea that everyone is equal on the dancefloor. AMAZING!!!!
TRAX Records is putting on its first official night at Nuits Fauves in Paris on 29th July, with Marshall Jefferson, Robert Owens, Joey Beltram and yourself. Why did you wait so long before hitting the road?
It took a long time to do because for one thing we needed an agency who understood and appreciated who we are. MN2S are those people. You see Trax is a very small operation. all the creative decisions are done by myself and my long time collaborator Jorge Cruz. We are both artists and there is a lot to keep up with, sometimes I feel like Joan of Arc on a crusade! It's my dream to take the show around the world having various artists from the label participate. Trax Records is special and I hope to spread the Joy that we have experienced.
What can people expect from the TRAX Records night at Nuits Fauves in Paris?
People can expect to hear that sound that established the house genre, from the people who have put their heart and soul into it. There will be classics and even some cuts that are new and as of yet unreleased. We are not fancy with huge light shows etc. We are simple, true and TIMELESS. Also Marshall, Robert, Joey and I are friends who have known each other for a long time so it's like a reunion of sorts and I believe there will be incredible magic from all of us as a result of that. Paris is very special for Trax as well. We had an office there back in 1999- 2000 and got to know people like Daft Punk and I feel that the acceptance and love from the people there had a great part in creating our legacy.
We know TRAX was one of the first labels to release house music, but you also kickstarted other genres like Acid House and Hip House. How did this happen?
I feel that House music is like the rock and roll of our generation and that it has had an effect, and been affected by, many sounds, just as rock was. There have been all kinds of collaborative sounds but I can tell you about Hip House and Acid. Afrika Bambaataaa was a mentor of mine and one day we were talking and I said what if we were to put an MC on a house beat. Bam turned to me and said YES! Hip House! So we recorded 'Fun With Bad Boys' one of my early cuts that Farley Jackmaster Funk worked on with us, and he had Prince Ikey C of Soulsonic Force Rap on it. I was there so I can authenticate that. As to Acid House I was around at the time when DJ Pierre and Phuture were working with Marshall Jefferson. I believe Phuture bought a Roland 303 Bass Machine and from what I'm told, played around with the knobs and got the bleepy weird sounds that came to be called Acid because of a psychedelic sound that reminded people of 60's music and acid trips.
When house music was first taking hold in Chicago, what role did TRAX, and you personally, play in spreading the sound? Did everyone embrace this new sound when they heard it?
House Music first took hold in Chicago. It was virtually a youth explosion. The root of it was really a simple origin. Jesse Saunders and Vince Lawrence needed a vocalist to sing a record called Fantasy. I was a punk rocker at the time and they heard me sing at an illegal warehouse party at The Space Place. I didn't really even like the record at the time because it was nothing like I was used to. Vince and Jesse wanted vinyl and saw the Precision Vinyl Pressing Plant sign on the highway, so they introduced me to Larry Sherman who pressed it up. One day, the party I was singing at got raided by the police and as people were being taken to jail a kid came up to me and said Frankie Knuckles is mixing your record at The Warehouse around the corner. I never heard the term mixing and I was curious, so when I went to see what that was all about. My life was forever changed because I experienced that sound and saw the dancers! Then The Hot Mix Five started playing it on the radio and all the other kids wanted to be like us, so others made records and soon the sound exploded.The name Trax came about because people did not consider what we did songs. Even though Fantasy had vocals, it did not fit the verse chorus formula. Larry couldn't spell so tracks became Trax and it was a happy accident
Can you tell us one crazy story which sums up what it was like running TRAX in the early days of house?
I remember being at Midem, the international music festival, and speaking with some people from England trying to convince them to do a distribution deal. Everyone had CD's so they could play their music. All I had were pieces of paper with titles and my enthusiasm and love for Trax, because we only had vinyl and no one there had turntables. Somehow I sold them! They agreed to do the deal before hearing it. The music worked its magic and the rest is history.
You are still releasing records and performing as Screamin' Rachael. Do you enjoy this more than the business side of running a label? How did you balance the two over the years?
I enjoy performing MUCH more than doing business! I am a studio rat too and LOVE to produce, sing, DJ, and write. There is nothing like performing in front of a crowd and the stage is my favorite place. However my inspiration was Sylvia Robinson the lady behind Sugarhill Records, home to what I consider to be the best Hip Hop label that ever existed. Sylvia did it all, and though the world credits Russell Simmons with the movement, I met her and said, 'one day I will do this for House Music'. Sylvia performed until she died and wrote and produced many disco and soul hits. I will never stop either…
It must be tempting to always look backwards when you have a history like TRAX, but what does the future hold for the label?
Actually a house must have a strong foundation both literally and figuratively. I don't spend a lot of time looking back at all, though I love the music more than I can express in words. I devoted my life to preserving it, but now I know it has its place and there is so much wonderful new music and artists we are working with. Marshall Jefferson is back with Trax and another of our original artists is also coming back to release new music, which we'll be announcing soon – watch this space! There is much to do and we will not rest on our laurels. We want to spread the love and give back to all the people of the world as much as we can. I might sound like a crazy idealist but as Margaret Mead said, "No doubt that a small group of thoughtful, committed citizens can change the world; indeed it's the only thing that ever has." That's what we did with House Music and that is what we will continue through the love and respect that our music seems to generate, equally to all.
Are you always looking for new artists? How and where do you find them these days? Is there a certain sound you want for the label?
We are always looking for new artists though they seem to find us first. I believe that what is meant to be will happen and when certain people find us we know when it's right. Sometimes I'll meet someone and have a feeling that they will have the magic we need for Trax before I even hear the music. I also still work with friends like Todd Terry, Joe Smooth, Marshall Jefferson, Curtis McClain and others… Look out for great new projects we have released like Tyler Stone's 'Tales from the East Side' and great artists and producers from around the world we are working with, such as Pour Le Plaisir, Inner Rebels, Less Hate, Carmelo Carone, Nic Sarno, Lundy, DJ Emskee, and The Dark Blue Orchestra. We NEVER look for a particular or certain sound.
Please choose 5 words that you feel best describe TRAX Records.
Now and Forever Trax Records!
TRAX Records take over Nuits Fauves in Paris on 29th July. Tickets here. For more info on TRAX Records live events contact MN2S Booking Agency.