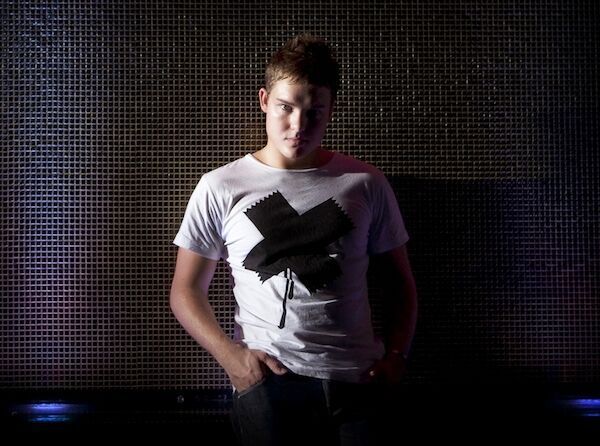 60 Seconds with… tyDi
His most daring and ambitious work to date, Australian recording star tyDi marks a huge musical evolution with brand new long-player, the visionary, grandiose Collide. At times breathtaking, sweeping and cinematographic, at others warm, lush and intimate; it harnesses the driving force of electronic music – from dark, thundering beats to soaring euphoric trance, from clambering synth melodies to crushing vocals – and fuses it with the rushing lifeblood and exhilarating energy that only incredible orchestral composition and live instrumentation can deliver.
Four years in the making and produced between the studio and the sound stage, tyDi penned the album with two-time Grammy winning producer Christopher Tin, awarded the first ever Grammy for a video game composition, Baba Yetu, and 'Best Classical Crossover Album' for Calling All Dawns. Working with tyDi, Tin blends and blurs the line between electronic and classical, bringing the expansive, dynamic sound of a full orchestra to underpin tyDi's production.
The result is an explosive piece of music, a collection of individual tracks that marry together through intelligent and precise sound design, joining an incredibly elite number of producers – BT, Hybrid, Leftfield, Mike Oldfield, Massive Attack – who have created a similar soundscape and in doing so, surpassed all expectations. Closing In delivers dreamy synths that float over soft piano melodies and dance atop majestic brass sections and quivering strings; Fallen Angel forges an intense and heavy ride through dubstep-tinged force and modern bass music. Did You Know sees tyDi revisit his trance roots, chunky synthesizers and futuristic sequencers building a digital playground while lush strings and horns paint a cinematic backdrop for London Rouge; You Don't Love Me offers a personal reflection on love lost encapsulated by a vulnerable yet uplifting vocal performance from Tori Roper, powerfully emotive against a lulling electro house beat; Gold Blooded charges open with an energetic intro of violins and live brass instruments before diving into a melodic halftime trap chorus.
Ultimately, Collide is a thing of beauty, a body of music that stirs the soul, that demands movement and commands attention, that both lingers in the delicate edges of emotion and roars into the boldest, bravest corners of humanity's musical spirit.
I House U caught up with the enigmatic producer to get his personal take on this love affair with music….
Hi Tyson, welcome to I House U!
You just released your album 'Collide' – what's the reaction to it been like?
The reaction has been absolutely amazing! Collide is my biggest project yet, it debuted at #2 on the iTunes dance charts in America, #4 in Australia and #3 in Canada. I also just found out that it made it into the Billboard charts for both 'Electronic' AND 'classical' albums… I never expected that!
You collaborated with classical composer Christopher Tin – how did that come about?
I have spent the last 10 years dreaming of an album that was a hybrid between electronic music and a full orchestra. Chris is an amazing composer, he has won two GRAMMY's for his work. I took a meeting with him and it turned out we had some mutual friends, after explaining the idea to Chris he was very excited about jumping on the project and helping make the dream a reality.
You have your roots in trance – do you think working in that genre made a crossover with classical music more possible? Compared to, say, drum n bass?
Not really, I think it was more just the matter of mixing electronic music in general with an orchestra. The new album (Collide) has a few trance songs, but also house, electro, drum & bass, ambient and progressive. We managed to make a variety of different genres blend with the orchestral section. When it comes to orchestral music I don't really think there's much it couldn't co-exist with.
Tell us about the thought process behind the album
It was a 3 year endeavour – The goal for me was simply to create the most diverse electronic album possible all blended together seamlessly with an epic orchestral section. I wanted it to feel like 'dance music + a film score on steroids' haha.
How different was Christopher's way of working to yours? Did you have any difficulties or obstacles to overcome producing together?
Honestly Chris is so talented he was able to work around any project that I threw at him. We spent a lot of time going back and forwards on ideas, but our only obstacle was deciding when the whole album was 'finished'. It's possible to keep tweaking it forever, sooner or later we had to both agree that it was perfect to release to the public.
Why did you want to do something that's not just so different, but we're guessing a ton of hard work as well?
Because music is my life, my dream and my passion. If I don't challenge myself then what's the point? I always need to push myself to make things more and more unique. Maybe it's a personal thing to me, but I just love pushing boundaries and breaking all the rules.
What do you hope to achieve with this album not just personally, but in terms of pushing electronic music forward?
For me it was all about the challenge and showing people that it's ok to break the rules. I'm hoping this project inspires more producers and composers to dream big 🙂
Which track from the album is your favourite, and why?
Probably 'Can't Look Away' – To this day I still listen to it and get chills (even though I wrote it over 2 years ago!) There's a lot of personal meaning to that song.
Do you have any plans to come over to the UK soon to perform?
I'd absolutely love to, we are currently planning a tour and hopefully it brings me your way!
What's next for you?
Well right now I'm scoring music for 2 Hollywood films, so that's keeping me extremely busy!