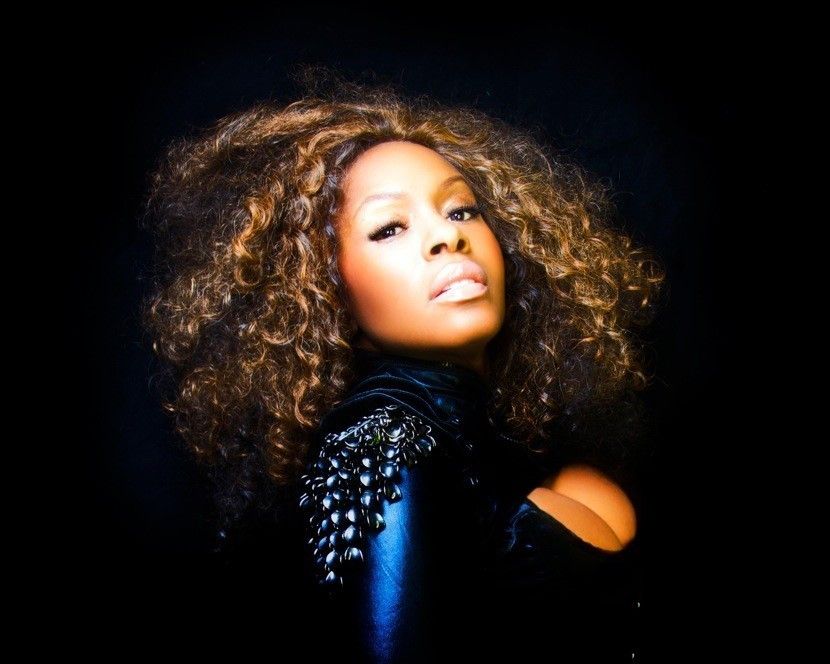 60 Seconds With… Ultra Naté
In her two decades of making music, Ultra Naté has remained a musical chameleon, embracing all kinds of sounds, from R&B, soul and disco to house and electro pop, after sashaying onto international dance floors with the club anthem, "It's Over Now". Ultra proves that artist longevity (though not common for singers of dance music) is alive and well ‹ and a real possibility for those willing to work hard for the money. Currently non-stop with her Cafe Ole summer residency at Space in Ibiza, Live shows and recording sessions, including prepping her eighth studio album, 'Hero Worship', Ultra's also been busy in the studio with Aussie wonder twins Nervo, Quentin Harris (with rock/funk project Black Stereo Faith), chart-topping EDM troubadour Chris Willis, Italy's hit maker Nicola Fasano, Baltimore's DJ Class, Destiny's Child' Michelle Williams and house music innovators, Todd Terry and David Morales.
Wearing numerous hats, Ultra's fame as a singer, flanks her other roles as songwriter, producer, DJ, label owner (BluFire and 410 Paradox Underground), club promoter and live performer. Here she talks about her influences, some unforgettable moments and what the future holds for her.

Are you looking forward to coming to play at the Groove Odyssey Sessions Vol 2 Launch Party event on August 23rd and why
I am totally looking forward to playing the party. It's been a long time since I have performed in London which used to be like my second home. It's a very special place and I have a lot of fond memories of some of the best moments of my career firmly rooted in London and UK culture in general. It's like going home to a family reunion.
Will you have any Exclusive new tracks to perform at this event and can you give us a hint of what to expect on the night. Do you still get the same buzz seeing the crowd appreciate you?
I've always been excited about performing. It's where I feel most comfortable..being in front of an audience. I have some specific songs the boys from Groove Odyssey have asked me to perform that were part of the deep house culture in London back in the day. As well as a sneak preview of the new release I think will be very fitting for this occasion at Pacha.
You are something of a legend in the annals of dance music history and what are your proudest moments and why?
My proudest moment is endless in the ability to continue to make music some 25 years later from when I first started. Being able to sustain a living and a career from something that I love doing. I write songs and see them come to life and then I'm able to perform them for audiences around the world! It's a very special gift. I never take it for granted as the music business/industry and the audiences are ever changing.
Do you have an unforgettable memory during your singing career…
I have so many memories it's hard to narrow it down to one. But being in front of audiences of thousands of people is always an amazing feeling and always sticks out in my mind. But also the random more private moments like last week receiving a letter from an 18-year-old in Russia who is a huge fan! He went on to name his favourite tracks by me, which ended up being like 15 different songs and not all of them big hits, some of the more obscure album tracks that someone who has really gotten into your catalogue would know. To be acknowledged and appreciated by someone generations apart from me is such an accomplishment and validation. It means just as much as the live audience of thousands.
A busy International performer in demand on some of the world's finest stages, where have you been performing recently and what have been the highlights
I've been quite busy this year so far. I'm in residency at Cafe Ole at Space in Ibiza for the summer and I love doing that party. Its an amazing production, the venue is beautiful and the sound is incredible so it makes my summer to be a part of this brand! Since June, I have been to Tel Aviv, Istanbul, Naples and Amsterdam in between my Monday night shows in Spain. I'll also be making my way to St. Tropez, Valencia, Barcelona and Portugal, all before I come to London in August! After the season is over it looks like I will be crossing the globe from Texas to Moscow with a pitstop in my home town of Baltimore for my Deep Sugar party's 11 year anniversary in October! Busy busy…
What are you currently working on and what's coming up for you in the next few months in terms of releases, shows etc
At the moment I have two tracks in the charts on Beatport Top 100 house. "So Glamorous" written by Samuel Sartini https://www.youtube.com/watch?v=xZ2knqxR8l and myself as well as a remix by Crazibiza of a track called "Unconditional" written by Nervo http://youtu.be/HepzeCcnqLs and initially released on my album "Hero Worship" last summer. In the pipeline I have another remix from that album of a song called "The Rush" done by Dave Harness out of San Francisco due just before the end of summer. I am also working on three new co-writes with Roger Sanchez, David Morales and Eddie Amador, and my favourite new project is my next album "Black Stereo Faith" with Quentin Harris. A more edgy rock soul affair.
How and when were you first infected by dance music? How did you get into singing?
I've been in the dance music genre since my first experience at a club in Baltimore called Odell's. It was very reminiscent of a Paradise Garage style venue. The music was infectious and the energy was magnetic, and I've been hooked ever since!
It was from this club that my first experience of singing happened, where I became friends with the newly formed Basement Boys. They were forming their production company and we started working together. The first song we wrote and started circulating on demo was "It's Over Now" which went on to be signed by Warner UK and started my career with a UK Top 20 National chart hit.
First record you ever brought? Or earliest musical memory that springs to mind.
The first records I clearly remember falling in love with were Brainstorm's "Loving Is Really My Game" and Marvin Gaye's "Hear My Dear" album. I played both endlessly. I studied the artwork and worshipped the vinyl.
Who is the most inspirational and influential person in your life and why?
My son is most influential now. He reminds me what life is all about.
You've performed all over the globe. When you're not on the road what do you enjoy doing?
I practice yoga or weight train. Chill with friends and family and read constantly in my down time. I'm a foodie also so I love to go out to eat and try new restaurants.
If you describe yourself in one way, what would that be? And is there anything fun or wacky or that we don't know about you?
I'm forever a student of my craft. Open to the experience. I have a love for helping people so I'm always reading and looking for a better more healthy way to do things and then share that information with my friends.
Throughout your whole career you've been worshipped in Europe. Do you prefer playing here or in the States?
I prefer to play wherever people appreciate my music whether that's in Europe or the States. I love doing both.
You're described as a 'legendary diva'. Can you tell us what the word diva means to you and do divas ever get nervous? And are there any perks that come with it?
Diva can be a positive term or a negative term. It depends on how it's used. In regards to me it's a term of endearment and respect. The perks are that people you work with know and understand there is a quality to what you do and they meet you in that place.
What are your plans for the future? There seems to be somewhat of a house revival going on in London, how does that compare to Baltimore?
I'm living my dream right now which is more than anyone can ask for. I plan to continue to bring music to the masses in various formats and smell the roses along the way! If there is a significant shift towards quality song based house/dance then that's fabulous! But more importantly as an artist you have to navigate the trends and evolve with them while staying consistent in order to sustain a career.
Finally, going completely off subject here, we would like you to tell us your favourite song of all time. Yes, we're leaving you with a tough one!
One of my favorite songs of all time is "Can't Fake The Feeling" by Geraldine Hunt.
Ultra Nate performs Live at the Groove Odyssey Sessions Vol 2 Launch Party on Saturday August 23rd alongside Special Guest DJs, Mr V, Joey Negro and Groove Assassin at Pacha London. For all info check out www.grooveodyssey.com and www.ultranate.com or https://twitter.com/ultranatemusic