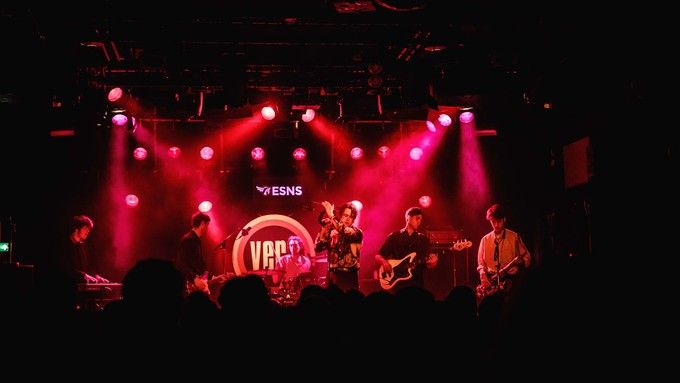 7 Reasons to go to Eurosonic
For four days every January, the small Dutch city of Groningen becomes the centre of the European music scene with Eurosonic – the festival that has its 33rd edition in 2019.
Eurosonic Noorderslag (ESNS) is like Europe's version of SXSW, while still retaining the discovery vibe of the early days of the Austin festival. ESNS is Europe's biggest showcase of rising acts – with festival bookers, labels, media and other industry figures bingeing on new bands by night and networking by day.
There is a heavy industry presence, but Eurosonic is by no means a chin-stroking music executive love-in – some 40,000 'real' punters attend the festival every year, running between dozens of venues trying to catch the next big thing.
Here are seven reasons to visit Groningen for Eurosonic
Discover your new favourite band…
Each country featured at Eurosonic sends its most promising acts to the showcase every January, so even if much of the programme is a mystery, you're a dead cert to find a future favourite act. Also, Eurosonic gets the head start on all other festivals through the year, with many veterans saying half the summer line-ups start to take shape in Groningen in January – with bookers, managers and artists meeting up and hammering out deals. But even if you're not an industry head, Eurosonic is a chance to see the festival headliners of the future in a club in the Netherlands, before they take it out to the fields. Hundreds of acts have used Eurosonic as a springboard to way bigger things, but a few standouts include The Libertines, Franz Ferdinand, Robyn, The xx, Calvin Harris, Stormzy and Dua Lipa.
The conference means it's more than a series of gigs
As Europe's most prestigious showcase festival, Eurosonic attracts the biggest industry names, from labels heads and agents to managers, festival bookers, media companies, marketing executives and PR firms. Over the four days at the Oosterport hub, delegates can attend talks, panel discussions, songwriting workshops and lectures on a huge range of topics. Topics up for discussion in 2019 include innovation in ticket technology, conservation in the culture industry, festival innovation, the future of social media and music magazines, game soundtracks and many more.
Key speakers this year include veteran manager Richard Jones, who has worked with Bjork, PJ Harvey, Spice Girls and Pixies, while the BBC's Ben Chapman will present the UK broadcaster's new integrated BBC Sounds media platform. And even outside the official events, during the festival, every side room, table or edge of a couch has some hook-up going on between delegates. The conference programme also includes the European Festival Awards — a chance to look back on the innovators who have helped shape the year in live music.
The range of venues is staggering…
With hundreds of bands playing hundreds of gigs over four days, expect performances in a wide range of places, from historic venues to pop-up spaces. As well as iconic rock and pop venues like Vera, there's been a chance in the past to watch intimate performances in tiny pubs, basement clubs, radio studios, grand theatres, pool halls, an outdoor market, conference halls and a 17th century church.
Groningen is a party city all year round – it just doubles down at Eurosonic…
Groningen is a student town, and over a quarter of its 200,000 citizens go to college. The average age for the whole city is 35, and you're never more than a few steps away from a pub, venue or coffee shop, and there's no official closing time. The Dutch will also party no matter the weather – On the second day of Eurosonic 2018, Dutch authorities issued a code red storm warning, with hundreds of flights cancelled and all public transport suspended. Still, venues were packed, and it was comically reassuring to see punters sprinting around in the hail, snow and wind trying to find underground venues on Google Maps.
The Noorderslag Dutch takeover…
Groningen's huge conference centre De Oosterport acts as the festival hub, and for the first three days it's a hive of networking, panel discussions, lectures, debates and industry meetings. However, on the Saturday, organisers decide there's been enough talking and the industry heads are cleared out to make way for the festival-within-a-festival Noorderslag – an all-Dutch music showcase.
The spectacular event runs from the evening to the early hours, with a huge atrium stage and gigs happenings in 10 conference halls where deals have been sealed in the previous few days.
Explore a vibrant graphic art culture…
One of the main festival hubs is Vera – Groningen's most famous club, that has hosted iconic acts on the rise, such as Joy Division, Slayer, Nick Cave, the Cure and even U2. Vera also functions as a graphic design and art collective, with striking one-off gig posters in the windows and limited edition collector's item posters hanging in the halls as a permanent exhibition. You can also marvel at thousands of flyers, stickers and comic book art plastered to the walls.
If this whets your visual art appetite, the GRID Grafisch museum is an amazing place for a time-out from the festival. GRID is a museum devoted to the history of graphic design, printing and bookbinding. It runs regular exhibitions, but as an added bonus the resident craftsman and historian Peter Meijer will give you a guided tour of the permanent collection of vintage printing machines.
Go crate-digging…
As a city with such a rich musical legacy, Groningen has an amazing selection of record shops to visit during some festival down-time. The White Stripes got their big break when John Peel heard their album De Stijl in the cult record shop Platenworm, then brought it home and rinsed it on the radio. Platenworm is sadly now closed (but trading on discogs), but plenty of other vinyl emporiums will be supporting ESNS bands as well as showcasing their impeccably-curated collections. Standout record shops include Plato, with its historic shop-front, Magic Buzz for psychedelia, punk and garage rock, De Jongens van Hemmes for all your electronic music needs and the rare collectors' items at Headline. Just a few to get you started…
The festival takes place in the city of Groningen, the Netherlands, from January 16 – 19, 2019. Tickets for the festival and registrations for the ESNS conference are currently available via esns.nl.
ABOUT ESNS
ESNS (Eurosonic Noorderslag) is the key exchange for emerging European music talent, with a proven track record of helping to break new acts on the international music scene. With its first ever dual-country focus on the Czech Republic and Slovakia, ESNS stages more than 350 showcases alongside offering a full conference programme of around 150 panels and keynotes, alongside multiple networking opportunities and award ceremonies. The event attracts more than 4,000 conference delegates from all sections of the entertainment industry, including representatives of over 400 festivals.