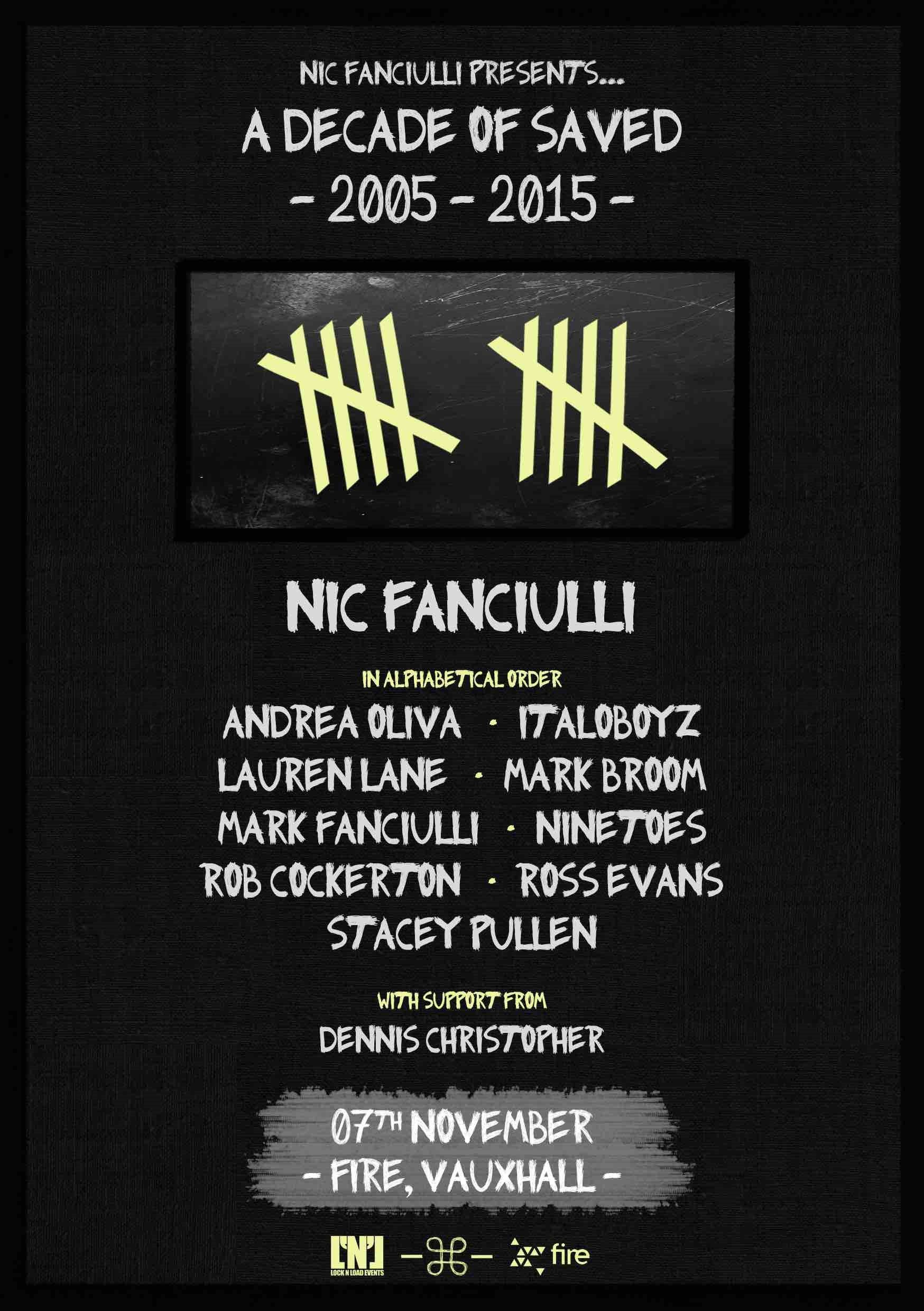 A Decade Of Saved
Ever since its inception back in 2005, Saved Records has evolved into one of the most recognizable and prolific electronic imprints of today. Having served the underground's charts and dancefloors for ten years to the highest level, label boss Nic Fanciulli is now preparing to celebrate this incredible achievement by hosting a very special party with some of his favourite artists who have helped define the label over the years. Taking place on Saturday 7th November, A Decade of Saved will see the brand return to London's Fire following their superb debut at the club back in January. Now announcing the line-up in full – Nic has carefully selected 9 DJs that alongside himself represent the ten years of Saved.
Headlining the night will of course be label-head and Saved architect Nic Fanciulli. Regarded as one of the UK's finest house music exports, the Grammy nominated producer has formed an unstoppable career through building a trademark catalogue of tech-driven sounds purposely built for the dancefloor. 2015 has already seen Nic embark on a whirlwind eight dates in ten days world tour plus performances at Amsterdam's Awakenings, Miami's Ultra Music Festival and London's South West Four amongst others. This year has also seen Nic continue to dominate Ibiza through his La Familia residency alongside Joris Voorn at Ushuaia as well as further performances for Paradise at DC10, Ants and Carl Cox's Revolution. The Social, Nic's self-curated festival has also firmly marked itself on the map, returning for a third year in a row.
Ibiza favourite and Ants resident Andrea Oliva is the first to be invited to play this special date, having proven himself as one of the world's most sought after DJs through delivering some of the most talked about sets in recent times. With an impressive six tracks on the label including his 2012 'Out of Town' EP, Andrea is a natural choice for the tenth anniversary. Most noticeably in 2015 is the release of his debut album 4313 on Objektivity, an artistic masterpiece that has helped Andrea evolve into the artist he is today.
No event celebrating the last decade of Saved would be complete without the always-cutting edge, Stacey Pullen. Over the last five years the Detroit legend has become such a strong part of the Saved family and a vital piece of the all-encompassing mix that makes Saved so admired. His uncompromising style behind the decks has ignited many a Saved party over the years, during which he always gives a snapshot of his 25-year career at the top of electronic music. Nic will also welcome Mark Broom, the man who created the very first artist album to be released on Saved to join the festivities. The techno stalwart's much lauded record, Acid House, is testament to the pioneering attitude that this prolific DJ and producer has so consistently displayed over the last two decades.
Tipped as one to watch by Fanciulli himself and BBC Radio 1's Pete Tong, Saved's very own Lauren Lane will make her debut performance at the club on the night. First cutting her teeth as a DJ in the New York House scene, Lane has relocated to L.A where she holds down a residency at the world-renowned Sound club in Hollywood.
After bursting onto the scene with 'Finder' back in 2013, Ninetoes has emerged as one of the most exciting artists currently residing on the underground scene and also joins the tenth anniversary celebrations. Quickly garnering support from a vast range of artists including Nic Fanciulli, Carl Cox, DJ Koze and Jesse Rose, the Berlin-based producer is on a fast-track to the top.
Underground favourite Mark Fanciulli also joins the bill having played an important yet defining role in the labels development over the years. With his profile growing at such rapid pace thanks to releases on Saved, Rejected and Arena Remote, we had to invite Mark back following his stellar performance at Fire through Saved's January showcase.
Having released on Saved back in 2013 whilst also appearing at multiple label events along the way, Italoboyz's charismatic and energetic sound will settle into the night's programme with consummate ease. Always in tune with their highly eclectic tastes, the boys are renowned for their fresh approach to electronic music and total disregard of boundaries or limitations.
Saved's own Rob Cockerton, a DJ who Fanciulli cites as being responsible for showing him the ropes of the trade is also on board for this landmark event. A key member of the Saved family, Cockerton has released his own productions on the label including 2014's 'Girls and Boys'. The EP gained huge popularity and was championed by the likes of Carl Cox and Marco Carola.
Ross Evans, another strong piece of the Saved close-knit family is a DJ who revels in the unbreakable sense of community amongst the imprint to bring a wild party aesthetic into the proceedings. Incorporating his house roots into a unique tech groove with cool melodies and a funk undercurrent, Ross has destroyed dancefloors as far apart as Tokyo, New York, Ibiza, London Warung, Singapore, Miami and countless others around the globe.
With so many incredible acts coming together to celebrate ten years of Saved Records, this promises to be one of the standout nights in London's 2015 clubbing calendar.
NIC FANCIULLI PRESENTS
A DECADE OF SAVED
2005 :: 2015
SATURDAY 7TH NOVEMBER 2015
FIRE, VAUXHALL
39 PARRY ST, LONDON, SW8 1RT
FULL LINE-UP
(IN ALPHABETICAL ORDER)
ANDREA OLIVA
ITALOBOYZ
LAUREN LANE
MARK BROOM
MARK FANCIULLI
NINETOES
ROB COCKERTON
ROSS EVANS
STACEY PULLEN