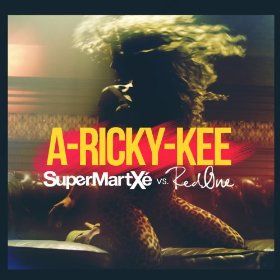 A-Ricky-Kee (SuperMartXé vs. RedOne)
The dance floor will never be the same again! The rhythm and magic behind A-Ricky-Kee is going to transport you to a place where music takes over your soul, a powerful spell from the hands of SuperMartXé on musical battle with RedOne! Just close your eyes and dance! This summer has a name: A-Ricky-Kee!
BUY NOW
Itunes – http://georiot.co/arickykeeitunes
Amazon – http://georiot.co/arickykeeamazon
Google Play – https://play.google.com/store/music/album/SuperMartX%EF%BF%BD_A_Ricky_Kee?id=B53uv6wubhtdru4gor4jidhjudm
Spotify – http://open.spotify.com/track/2o2ebycXoLYPuH1k9DjeLT
Deezer – http://www.deezer.com/album/7752821
ABOUT SUPERMARTXÉ
SuperMartxé is considered to be one of the most important global entertainment promoters. It has been awarded with numerous prizes over the course of several years because of its amazing trajectory. One of the most prestigious awards that it repeatedly received for three consecutive years was the "Best Ibiza's Session" award, given by DEEJAYMAGS. Coupled with this, it holds the "GUINNESS WORLD RECORD" for attendance.

SuperMartxé's involvement in the entertainment scene has been revolutionary. This is due, in part, to its ability to create unique events that have a sensational impact on both the media as well as the electronic dance scene, as well as because of its work alongside some of the most well-known international pop stars in the world. SuperMartxé´s ground-breaking work in the field of music innovation and discography is what sets it head and shoulders above it´s competitors.
SuperMartxé´s staging and set-design has become the standard for dance party event planners worldwide. SuperMartxé offers a once-in-a-lifetime experience through its unique shows that immerse the participants in theme-based parties involving cutting-edge clubbing technology.
Through more than two hundred and fifty parties and unique events each year, SuperMartxé´s guest celebrity list has included artists such as Paris Hilton, Dennis Rodman, Tommy Lee, Black Eyed Peas, Mohombi, Gusttavo Lima and Chris Willis, to name a few.

SuperMartxé is proud to have produced Nº 1 hits featuring the best artists in the music scene, and to have remixed some of the biggest names of the pop music world: Jennifer lopez, Nicky Minaj, Enrique Iglesias, Kate Ryan, Don Omar, Mohombi, Jonathan Mendelsohn, Gusttavo Lima, Macy Gray and Flo Rida.
ABOUT REDONE
Multiple Grammy-winning producer, musician, and songwriter, RedOne, has become one of the most successful and sought after record producers and songwriters in the world. His work has earned more than 55 international hit singles in the past three years, including 28 (and counting) #1 singles, and is continuing to watch his work garner more chart-topping accolades with Nicki Minaj, Lady Gaga, Jennifer Lopez, Usher, Quincy Jones, Enrique Iglesias, Nicole Scherzinger, Mary J Blige, Alexandra Burke, Mohombi, Cheb Khaled, Maylene Farmer and many more!
RedOne's uncanny ability to discover and break new talent has made a name for himself as one of the industry's leading and most innovative producers – known for creating new sounds and memorable melodies that help launch new artists and that revive established artists' careers. He is often credited among his peers as the "architect of sound."